The World Pool Championships
The Philippine International Convention Center (PICC)
Cultural Center of the Philippines (CCP Complex)
Roxas Blvd.
1307 Pasay City
Metro Manila
Philippines
Tel: (632) 551-7920 / 551-7415 / 551-6917
Fax: (632) 551-6372
www.worldpoolchampionship.com
www.2006worldpool.com
4-12 November 2006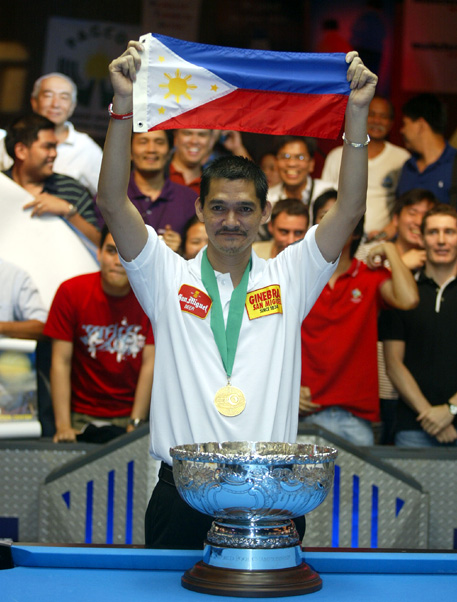 Filipino Ronnie Alcano wins 2006 World Pool Championship
Ronato Alcano is the 2006 Philippines World Pool Champion following a runaway 17-11 victory over Germany's Ralf Souquet at the PICC in Manila on Sunday night.
The 34 year from Calamba, Laguna, Philippines went into the final as an underdog against the 1996 champion but never looked in trouble as he lead throughout the alternate break race-to-17 final.
He now becomes the third Filipino following Efren Reyes in 1999 and Alex Pagulayan in 2004 to hold pool's most coveted title.
Alcano takes the trophy, the title and with it the $100,000 top prize which will surely change his life forever.
There were scenes of bedlam in the venue when Alcano completed a 1/9 combination for glory and the thousand or so people in the arena and watching on the balcony erupted in a show of national pride as one of their own became champion.
"Read More..." for the details.
For Souquet it was a bitter disappointment as he lost his second WPC final in six years. The game German was magnanimous in defeat as he praised his opponent's all-round superior play on the day.
Alcano used a precision soft break throughout and it paid dividends time and again as he bagged the wing ball and gained shape to pot the 1 ball into the centre pocket.
Souquet's luck betrayed him constantly but at times he seemed a little too conservative to gain any momentum.
The Filipino opened up a huge 8-2 lead and from there it was always going to be an uphill struggle for Souquet.
Alcano maintained his lead and the closest the German got was at 14-9 as he won three racks on the spin.
When he needed it, Alcano always had something in reserve – either a stunning pot or a tight safety – and he started to move away from his opponent.
His sole hiccup came in the 25th rack when he buckled on a 9 ball to hand the rack to Souquet. With games in hand though, Alcano took his time and his moment arrived in the 28th rack.
He locked Souquet in a snooker and when Souquet hit the 9 ball first on route to the 1 the scene was set. The balls fell perfectly for Alcano and with ball in hand he held his nerve for the most illustrious victory of his career.
Alcano very nearly didn't make it into the knock-out stages of the competition as he got off to the worst possible start in the group stages.
Two consecutive defeats left him teetering on the brink but a late win over Holland's Marcel Martens saw him scrape through as one of only two players to qualify with a single win.
Unfancied at that stage, Alcano experienced a transformation that saw his play in the single elimination knock out stages go into overdrive.
First he bust up fellow Pinoy Roberto Gomez 10-1 and then came his make or break moment as he drew national hero Efren Reyes in the round of 32.
'Calamba' rose to the occasion superbly as he quietened the crowd with an excellent 10-7 win. Next up was 2005 runner-up Kuo Po-cheng of Taiwan who fell by the wayside 11-5.
Gunning his way through the top half of the draw was defending champion Wu Chia-ching and Alcano was a big underdog for their main arena quarter-final match. He delivered the goods though as he brushed Wu aside by 11-6.
Standing between Alcano and the championship match was unknown Chinese player Li He-wen who had impressed throughout. It was a tense affair as Alcano prevailed 11-8 to set up a final against Souquet.
THE LAST 64

Ronato Alcano (PHI)

10 : 1

Roberto Gomez (PHI)

Efren Reyes (PHI)

10 : 6

Dennis Orcollo (PHI)

Kuo Po-cheng (TPE)

10 : 3

Hsia Hun-kai (TPE)

Marlon Manalo (PHI)

10 : 5

Chan Keng-kwang (SIN)

Pat Holtz (SCO)

10 : 6

Tomoo Takana (JPN)

Kevin Uzzell (ENG)

10 : 6

Chan Jung-ling (TPE)

Wu Chia-ching (TPE)

10 : 3

Corey Deuel (USA)

Wang Hung-hsiang (TPE)

10 : 5

Michael Schmidt (GER)

Lee Kun-fang (TPE)

10 : 4

Vincent Facquet (FR)

Jeff De Luna (PHI)

10 : 8

Nick van den Berg (NED)

Vilmos Foldes (HUN)

10 : 7

Ernesto Dominguez (MEX)

Luong Chi Dung (VIE)

10 : 7

Nien Rong-chih (TPE)

Thomas Engert (GER)

10 : 7

Francisco Bustmante (PHI)

Sandor Tot (SCM)

10 : 5

Charlie Williams (USA)

Li He-wen (CHN)

10 : 5

Alejandro Carvajal (CHI)

Rudy Morta (PHI)

10 : 9

Markus Juva (FIN)

Tyler Edey (CAN)

10 : 9

Thorsten Hohmann (GER)

Ricky Yang (INO)

10 : 7

Daryl Peach (ENG)

Liu Cheng-chuan (TPE)

10 : 2

Earl Strickland (USA)

Ryu Seong-woo (KOR)

10 : 7

Lu Hsun-chen (TPE)

Ralf Souquet (GER)

10 : 3

Huidji See (NED)

Yang Ching-shun (TPE)

10 : 6

Johnny Archer (USA)

Konstantin Stepanov (RUS)

10 : 6

Oliver Ortmann (GER)

Marco Tschudi (SUI)

10 : 8

Huang Kun-chang (TPE)

Lee Van Corteza (PHI)

10 : 4

Imran Majid (ENG)

David Alcaide (ESP)

10 : 7

Joern Kaplan (GER)

Rodolfo Luat (PHI)

10 : 5

Jeremy Jones (USA)

Roy Apancho (INO)

10 : 8

Andreas Roschkowsky (GER)

Chao Fong-pang (TPE)

10 : 5

Ramil Gallego (PHI)

Fu Che-wei (TPE)

10 : 7

Marcus Chamat (SWE)

Steve Davis (ENG)

10 : 7

Fabio Petroni (ITA)

Jharome Pena (PHI)

10 : 7

Louis Condo (AUS)
THE LAST 32

Ronato Alcano (PHI)

10 : 7

Efren Reyes (PHI)

Kuo Po-cheng (TPE)

10 : 7

Marlon Manalo (PHI)

Pat Holtz (SCO)

10 : 6

Kevin Uzzell (ENG)

Wu Chia-ching (TPE)

10 : 3

Wang Hung-hsiang (TPE)

Jeff De Luna (PHI)

10 : 8

Lee Kun-fang (TPE)

Luong Chi Dung (VIE)

10 : 4

Vilmos Foldes (HUN)

Sandor Tot (SCM)

10 : 6

Thomas Engert (GER)

Li He-wen (CHN)

10 : 8

Rudy Morta (PHI)

Tyler Edey (CAN)

10 : 9

Ricky Yang (INO)

Liu Cheng-chuan (TPE)

10 : 6

Ryu Seong-woo (KOR)

Ralf Souquet (GER)

10 : 8

Yang Ching-shun (TPE)

Konstantin Stepanov (RUS)

10 : 7

Marco Tschudi (SUI)

David Alcaide (ESP)

10 : 8

Lee Van Corteza (PHI)

Rodolfo Luat (PHI)

10 : 6

Roy Apancho (INO)

Fu Che-wei (TPE)

10 : 8

Chao Fong-pang (TPE)

Steve Davis (ENG)

10 : 8

Jharome Pena (PHI)
THE LAST 16

Ronato Alcano (PHI)

11 : 5

Kuo Po-cheng (TPE)

Wu Chia-ching (TPE)

11 : 6

Pat Holtz (SCO)

Luong Chi Dung (VIE)

11 : 6

Jeff De Luna (PHI)

Li He-wen (CHN)

11 : 7

Sandor Tot (SCM)

Liu Cheng-chuan (TPE)

11 : 6

Tyler Edey (CAN)

Ralf Souquet (GER)

11 : 4

Konstantin Stepanov (RUS)

Rodolfo Luat (PHI)

11 : 10

David Alcaide (ESP)

Fu Che-wei (TPE)

11 : 8

Steve Davis (ENG)
THE QUARTER FINALS

Ronato Alcano (PHI)

11 : 6

Wu Chia-ching (TPE)

Li He-wen (CHN)

11 : 7

Luong Chi Dung (VIE)

Ralf Souquet (GER)

11 : 8

Liu Cheng-chuan (TPE)

Fu Che-wei (TPE)

11 : 7

Rodolfo Luat (PHI)
THE SEMI FINALS

Ronato Alcano (PHI)

11 : 8

Li He-wen (CHN)

Ralf Souquet (GER)

11 : 10

Fu Che-wei (TPE)
THE FINAL

Ronato Alcano (PHI)

17 : 11

Ralf Souquet (GER)
RELATED ARTICLES AT WWW.PRO9.CO.UKRonato Alcano - The Philippines 2006 World Pool ChampionThe Philippines 2006 World Pool Championship - Quarters and SemisThe Philippines 2006 World Pool Championship - The Last 16 ResultsThe Philippines 2006 World Pool Championship - The Last 32 ResultsThe Philippines 2006 World Pool Championship - The Last 64 ResultsThe Philippines 2006 World Pool Championship - Final Group ResultsThe Philippines 2006 World Pool Championship - Peach Leads The WayThe Philippines 2006 World Pool Championship - Strickland WarningThe Philippines 2006 World Pool Championship - Day One SnafusThe Philippines 2006 World Pool Championship - Smiling CrosbyThe Philippines 2006 World Pool Championship - Thrilla In ManilaThe Philippines 2006 World Pool Championship - Ready for BattleThe Philippines 2006 World Pool Championship - His Highness AwaitsThe Philippines 2006 World Pool Championship - Final Five QualifiersThe Philippines 2006 World Pool Championship - Lu and BoonThe Philippines 2006 World Pool Championship - Lining and HsiaThe Philippines 2006 World Pool Championship - Qualifiers Latest The Philippines 2006 World Pool Championship - Players In and OutThe Philippines 2006 World Pool Championship - Format ChangeThe Philippines 2006 World Pool Championship - GroupsThe World Pool Championships Qualifying Criteria ExplainedAn exclusive invitation for Pro9.co.uk members from Edwin Reyes!2006 Philippines World Pool Championship Qualifying TournamentMatchroomSports announce confirmed players for 2006 WPCThe 2006 World Pool Championships