PartyPoker.net World Pool Masters 2009
Riviera Hotel & Casino
2901 Las Vegas Blvd, South
Las Vegas,
Nevada 8910909
USA
www.matchroompool.com
www.partypoker.com
Friday-Sunday 8-10 May 2009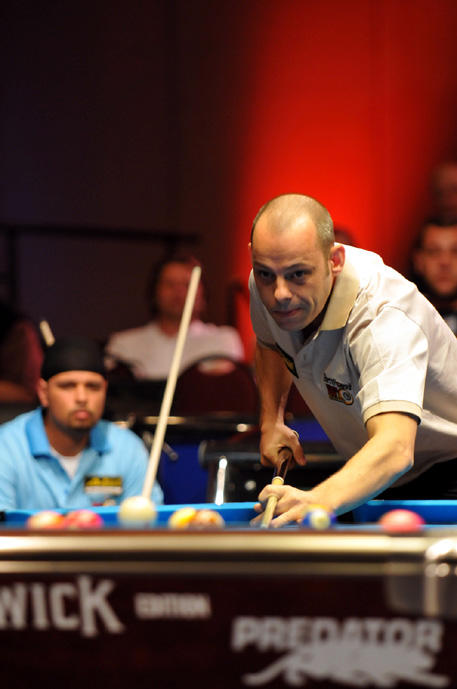 Pontefract's Darren Appleton has a better day at the World Pool Masters in Las Vegas.
All photographs used with permission courtesy of Matchroom Sport / JP Parmentier
Darren Appleton (ENG) 8-3 Raj Hundal (IND)
The final match of the afternoon session saw reigning World 10 Ball Champion Darren Appleton defeat old rival Raj Hundal of India in a match that saw the Englishman trailing in the early stages before winning eight racks on the spin to take the victory.
Hundal made a great start as he raced into a 3-0 lead; Appleton misjudged a safety on the 2-ball which cost him the opener before Hundal produced two near faultless racks.
However, Appleton took advantage of a missed pot on the 1-ball and that lead to the Englishman winning his first rack. Seconds later it was 3-2 as Appleton came up with a golden break as the 9-ball fell into the side pocket.
"Read More..." for the details.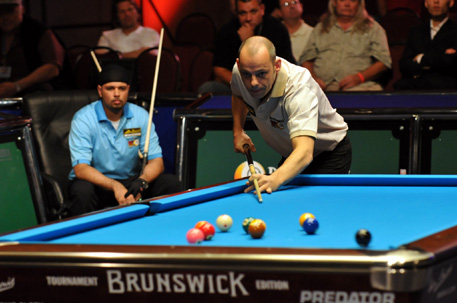 Scenes from the World Pool Masters in Las Vegas.
Appleton won his third rack in a row but then moved ahead with his fourth. The key moment came when Hundal, aiming for a thin contact on the 5-ball, missed it completely to give Appleton ball-in-hand. He capitalised and found himself in the lead for the first time.
Appleton missed a 5-7 combination to give Hundal a chance but he then failed with an attempted pot on the 8-ball into the side pocket. Appleton made it 5-3. He won the next as well and from being 3-0 down he went into a 6-3 lead.
Appleton then made it seven racks in a row in an amazing turnaround. A good break from the Englishman put him right in line for a place in the quarter-finals and there were no problems as Hundal, stuck in his seat, could only watch on helplessly.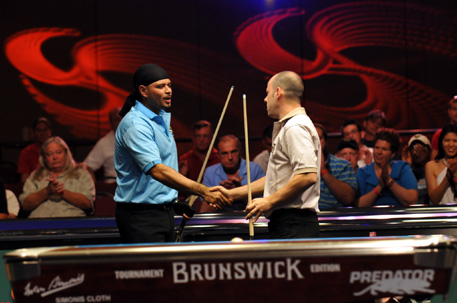 Raj Hundal congratulates Darren Appleton after their match.
"My confidence was low coming into this as I played and lost a money match against Dennis Hatch and it was the worst pool I've played in my life," said Appleton.
"It's always difficult to play a really good friend like Raj and I'd give myself seven and a half or eight out of ten. I didn't miss many balls, controlled the table and had a bunch of rolls.
"This is the first Matchroom event I've been in but I've only been playing American pool for three years so I'm happy to be in it.
"It's a race to eight, winner breaks and the last eight are all good enough to win. It's difficult to say you think you've a great chance but if I play my game and get a bit of luck then I can definitely win it.
"I've got Ralf next and it's 3-3. We've played six times, he's won three and I've won three. He just plays solidly all the time and even when he plays badly he's still difficult to beat."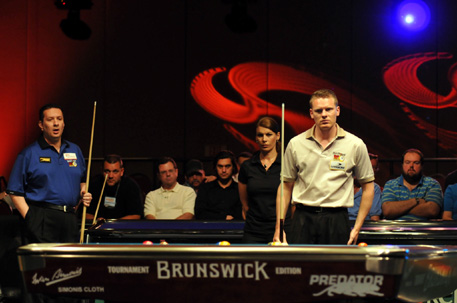 Tony Drago and Michaela Tabb watch Niels Feijen at the World Pool Masters.
Tony Drago (MAL) 8-3 Niels Feijen (NED)
Tony Drago, a winner of this event in Holland back in 2003, marched into the quarterfinals of the PartyPoker.net World Pool Masters following a comfortable 8-3 win over Dutchman Niels Feijen at the Riviera Hotel.
The speedy Malteser came into the match slightly under the weather as he struggled a little with jet lag but he showed no signs as he cashed in on some uncharacteristic errors from Feijen.
Feijen took an early lead as Drago missed the 7-ball and then left it on. Drago had a stroke of luck as Feijen's legal break was incorrectly called illegal by referee Michaela Tabb, although it didn't prove critical as Drago put Feijen back in. However, the man from Malta emerged victorious to square it at 1-1.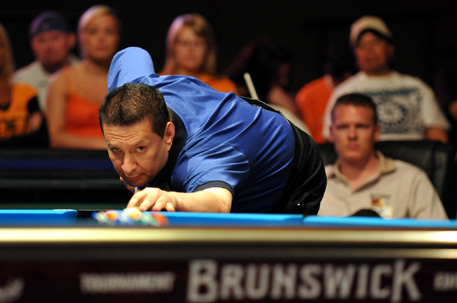 Drago led all the way from start to finish in Las Vegas.
Drago raced into a 2-1 lead and then made the most of an unforced error from Feijen when he missed the 3-ball. That made it 3-1 and he then took the next two as he made the most of some poor play from Feijen.
The Predator 10 Ball champ, stormed through the next and then reached the hill when Feijen, who was not enjoying his best game, missed the 8 ball.
A dry break from Drago got Feijen back to the table but he missed a bank attempt on the 2-ball. Drago had victory in sight but missed the red 3. Feijen cleared to get to 2-7 and when Drago scratched into the centre pocket in the next to leave his opponent a 5-9 combination, Feijen nailed it to make it 3-7.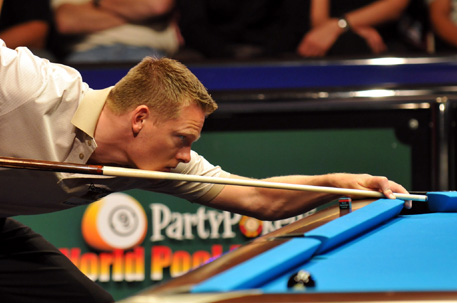 Not the best of days for Niels Feijen at the World Pool Masters in Las Vegas.
It was his last hurrah though as Feijen left the 4-ball hanging over the pocket but Drago came up short going from the 4-ball to the 6-ball. However, he later made up for it with one of the shots of the tournament, a flashing long pot on the 6 ball to gain perfect shape on the 8.
"It was good for me but very bad for Niels. I've known him a long time and don't remember him making that many mistakes for which reason I don't know," said Drago.
"I played good so I'm not taking anything from me but there were three or four racks that Niels should've won.
"I'm as good as anyone here. There are 16 players and anyone can win it. It would be great to win it again and the last time was six years ago so it is about time I won it again."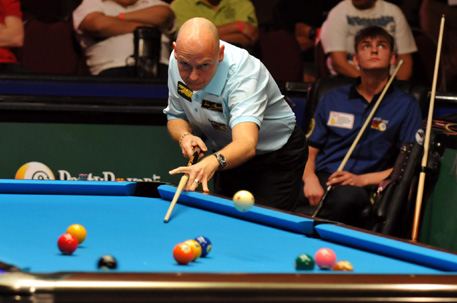 Ralf Souquet recorded the first "Golden Break" today at the World Pool Masters in Las Vegas.
Ralf Souquet (GER) 8-1 Ruslan Chinakhov (RUS)
IN THE second match of the afternoon, Masters specialist Ralf Souquet had a comfortable ride as he dispatched young Russian Ruslan Chinakhov 8-1.
Souquet, 40, has won this tournament on five occasions, the last time being in 2006, and he looked in good form against the slightly nervous Russian.
Chinakhov, 17, a silver medallist at the recent European Championships, was victim to a Souquet masterclass as he claimed just the third rack.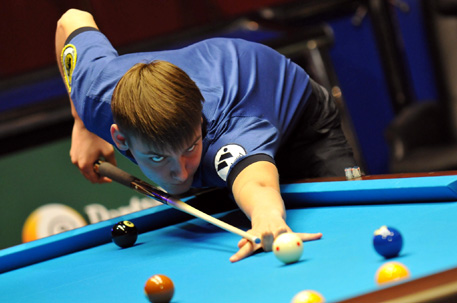 Ruslan Chinakov is only 17 years old!
The German star even recorded the first golden break of the tournament as the 8 ball nudged in the 9 in to claim the sixth rack. In the end a routine clearance took Souquet over the line and ended Chinakhov's involvement in the Masters.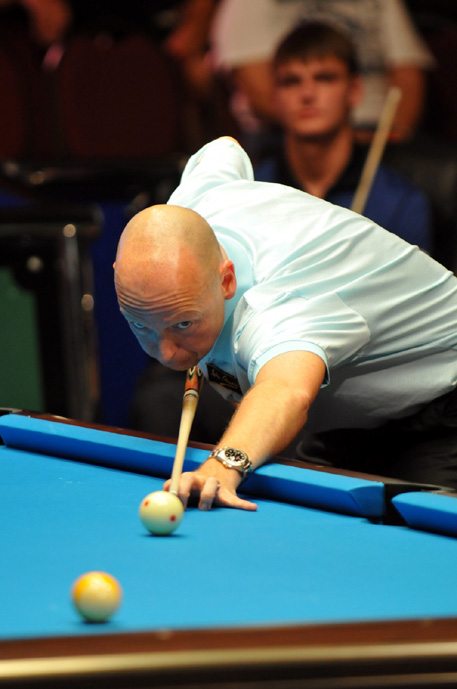 Ralf Souquet wins despite difficulties "finding my rhythm" in Las Vegas.
"It probably looked better than I felt but generally I was quite happy with my performance. If on the outside it looks good to most people then I'm happy," said Souquet.
"I didn't make many mistakes but it seemed like I had quite a hard time finding my rhythm. A win is a win and obviously happy with that but was 80 per cent happy with my performance."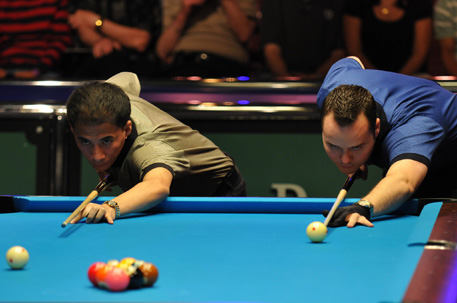 Dennis Ocullo and Tyler Edey lag for the break at the World Pool Masters.
Dennis Orcollo (PHI) 8-3 Tyler Edey (CAN)
IN THE penultimate first round match, Dennis Orcollo recorded another one sided victory as he overcame Canada's Tyler Edey, a last-minute replacement for compatriot Alain Martel, who was denied a visa.
The soft-spoken Orcollo is one of the most feared money players in the Philippines and is tournament record is outstanding and he took the first rack against the break after both players missed goes on a 2-9 combination.
They shared the next two racks before Orcollo showed his class by comfortably moving through the next two to gain a 4-1 lead.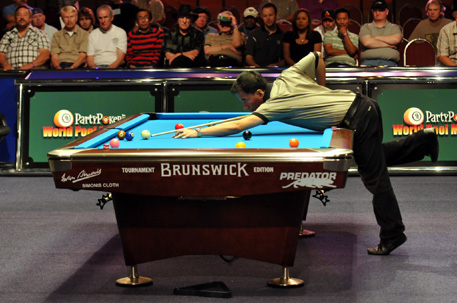 Dennis Orcollo stretching to reach the two ball in Las Vegas.
The match starts to become one-way traffic as Edey began to spend a lot of time in his chair. Even an illegal break from Orcollo didn't change the state of the match as Orcollo moved 5-1 ahead.
In the seventh game Orcollo fouled and Edey left a tight safety. But the Filipino made a superb escape shot and left a tight safety of his own. That drew a mistake from Edey as he missed his intended blue 2 target. With ball-in-hand Orcollo did the rest to go 6-1.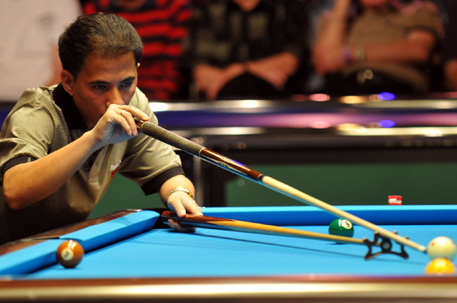 One of the rare moments when Filipino Dennis Orcollo uses the "rake".
Edey took the next as Orcollo had no luck on his break shot, but Edey quickly lost control of the table in the ninth and Orcollo moved to the hill.
Edey missed the blue 2 in the tenth but got fortunate as the cue ball ended up safe. Orcollo failed to connect with the same ball and with ball-in-hand Edey made it 7-3. An illegal break from Edey proved costly and Dennis Orcollo, as many people had expected, comfortably reached the next round.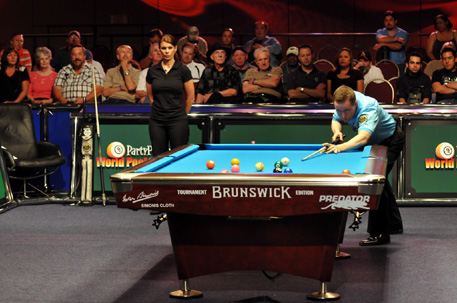 Finland's Mika Immonen breaks under the watchful eye of referee Michaela Tabb.
Mika Immonen (FIN) 8-7 Fu Jianbo (CHN)
THE LAST first round game of the 2009 PartyPoker.net World Pool Masters proved to be the best of the lot as Finland's Mika Immonen beat Fu Jianbo of China in a thrilling contest that went all the way.
Both players performed superbly it was rare mistakes that changed the flow of the match.
Immonen started the stronger as he raced into a 3-0 lead. He made a 2-9 combination in the first, a break and run in the second, and a 3-9 combo to seal the third.
Fu won the next two before Immonen restored his two rack lead. The Chinese won the next two including a golden break – the third of the competition – to leave them tied at 4-4 at the halfway stage.
These two had met in the final of the 2007 World Cup of Pool and it was Fu who had prevailed for Team China in a hill-hill thriller.
They traded racks right up until they reached the hill at 7-7. Fu had a real chance to win the match but failed to get the cue ball far enough across the table and was forced to attempt a difficult 5-6 combo to stay at the table.
He missed and Immonen coolly mopped up the table to make his way to the quarter finals.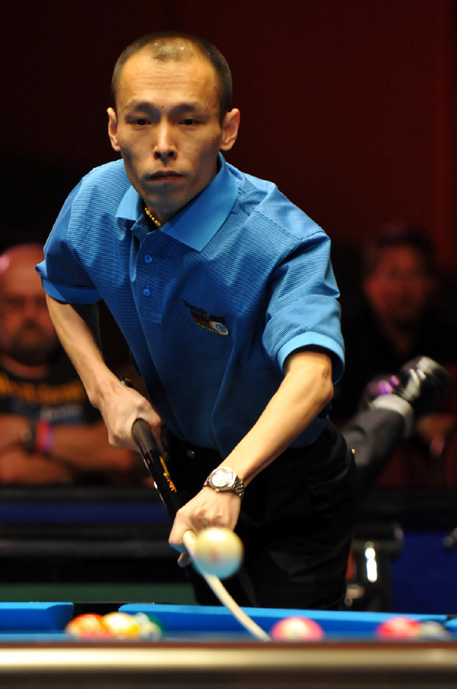 A study of the powerful break shot utilised by China's Fu Jianbo.
"It was very tough and very nerve wracking. I thought I had a pretty good start as I was 3-0 up but then I deserted my own game plan and he sneaked back into the game," said Immonen as he enjoyed a post match glass of wine.
"I had to dig deep and he got a golden nine so the rolls were going his way. I had to fight my way back into the game but I stuck in there and made some pretty intense run outs - my heart was really pounding.
"It was fantastic to beat him and I owed him a beating since he beat me in the World Cup of Pool final. I thought about that before and I had a score to settle with him.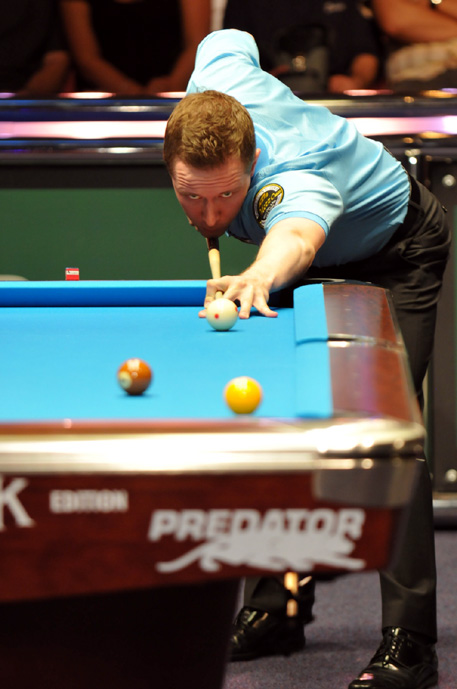 Mika's top notch fundamentals clearly displayed as he lines up the one ball.
"He is technically a very sound player but my pool experience helped me through some really tricky racks. I'm really surprised he missed that 5-6 combination and we both made a mistake in the final rack.
"I thought I was going out, especially when he bumped into the five off the three to make the combination easier but he played a bad shape on the combination and the fortune went my way."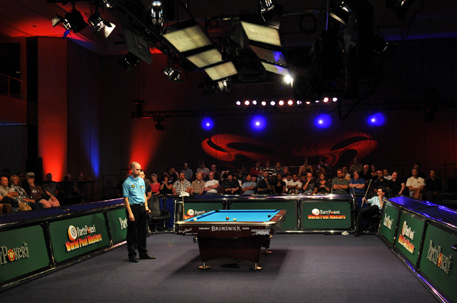 Nick van den Berg considers his options under the hot TV lights in Las Vegas.
Nick Van Den Berg (NED) 8-5 Johnny Archer (USA)
HOLLAND'S NICK van den Berg became the first player through to the semi-finals of the PartyPoker.net World Pool Masters as he held off the challenge of Johnny Archer to claim an 8-5 victory at the Riviera Hotel in Las Vegas.
It was nip and tuck for the first ten racks before van den Berg pulled away in the closing stages. The Dutchman opened up an early 2-0 lead but returned the table to Archer when he scratched in the third game.
They shared the next two racks as van den Berg lead 3-2, before Archer, who had not been in front yet in the match, scratched in the sixth and van den Berg moved two racks ahead for the third time in the match.
Archer though is nothing if not a fighter and he claimed the seventh for 3-4 after the Dutchman left the 3 ball on. Archer had not won two successive racks but that run ended in the eighth as van den Berg once again scratched to give the Scorpion ball-in-hand and that made the score 4-4.
Van den Berg, though, restored his lead in the ninth rack thanks to a 3-9 combination but Archer refused to buckle as he levelled the match at 5-5.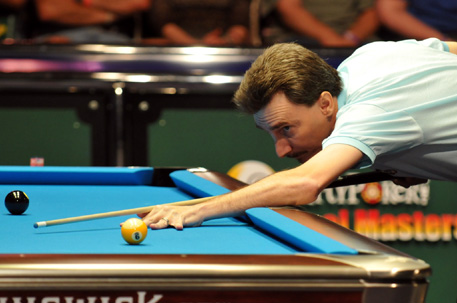 The USA's Johnny Archer in action at the World Pool Masters in Las Vegas.
An illegal break from Archer handed the initiative back to van den Berg and he took full advantage to take the lead for the fifth time.
Archer got to the table in the next but misjudged a safety attempt and left the 5-ball out in the open. He was furious with himself and his mood didn't lighten as Van den Berg moved to the hill at 7-5.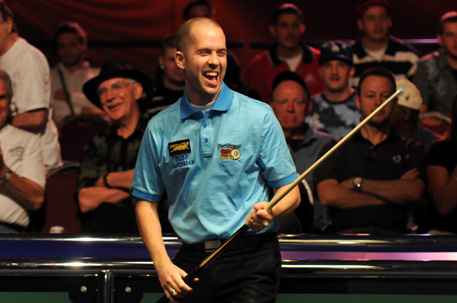 Van den Berg celebrates being the first player into the World Pool Master's Semi-Finals.
A good break and van den Berg was eyeing up a potential match-winning 2-9 combination. He got it fractionally wrong but the 9-ball clipped the 3-ball and fell into the side pocket. He punched the air as he secured an impressive 8-5 victory and became the first man into the semi-finals.
"I last played in the World Pool Masters two years ago and finished third when I got beaten by Thomas Engert. I was happy to get third but this time I want to win it," said van den Berg.
"Lately I'm playing like I have nothing to lose and before I was very happy with every win but didn't care about winning a tournament.
"I'm delighted I won this match but it wasn't that good a match. I was up 3-1 and had a couple of chances to do more but I didn't. He kept scratching on the break so I got my chances. The crucial point was when he scratched at 4-4.
"At 7-5 I got lucky with that 9-ball but sometimes you need some luck to win. I now play Tony Drago, who I know very well, or Shane van Boening and I've never played him before."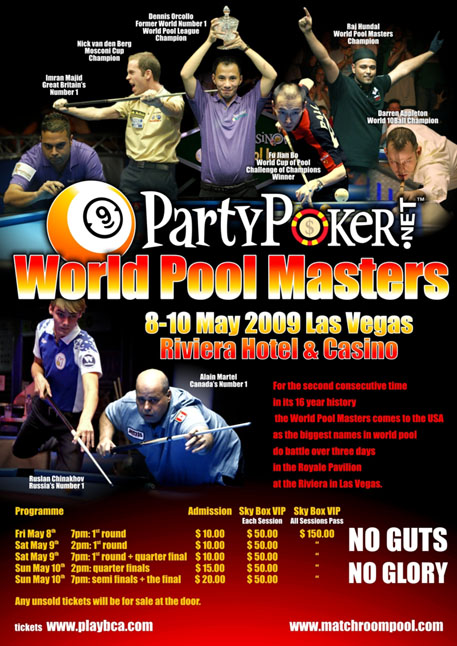 2009 PARTYPOKER.NET WORLD POOL MASTERS 2009

THE LAST 16

Nick van den Berg

8 : 2

Alex Pagulayan

Johnny Archer

8 : 2

Imran Majid

Shane Van Boening

8 : 2

Yu Ram Cha

Tony Drago

8 : 3

Niels Feijen

Ralf Souquet

8 : 1

Ruslan Chinakov

Darren Appleton

8 : 3

Raj Hundal

Dennis Orcollo

8 : 3

Tyler Edey* (Repl. A. Martel)

Mika Immonen

8 : 7

Fu Jianbo
2009 PARTYPOKER.NET WORLD POOL MASTERS 2009

THE QUARTER FINALS

Nick van den Berg

8 : 5

Johnny Archer

Shane Van Boening

0 : 0

Tony Drago

Ralf Souquet

0 : 0

Darren Appleton

Dennis Orcullo

0 : 0

Mika Immonen
2009 PARTYPOKER.NET WORLD POOL MASTERS 2009

THE SEMI FINALS

Nick van den Berg

0 : 0

---

---

0 : 0

---
2009 PARTYPOKER.NET WORLD POOL MASTERS 2009

THE FINAL

---

0 : 0

---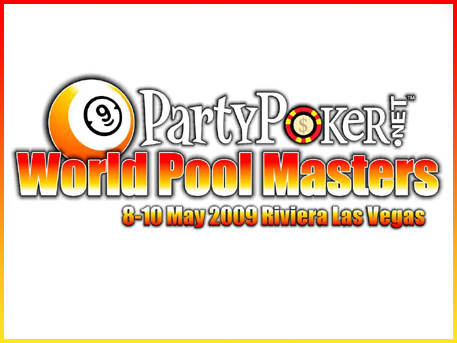 RELATED ARTICLES AT WWW.PRO9.CO.UK2009
2009 PartyPoker.net World Pool Masters - Day 2 Results and Photos!
2009 PartyPoker.net World Pool Masters - Day 1 Results and Photos!
2009 PartyPoker.net World Pool Masters - New Matchroom Pool Website
2009 PartyPoker.net World Pool Masters - Yu Ram Cha Takes on the Men
2009 PartyPoker.net World Pool Masters - Martel out, Edey in
2009 PartyPoker.net World Pool Masters - Johnny Archer interview!
2009 PartyPoker.net World Pool Masters - Shane Van Boening interview!
2009 PartyPoker.net World Pool Masters - Raj Hundal interview!
2009 PartyPoker.net World Pool Masters - Tickets available now!
2009 PartyPoker.net World Pool Masters - Draw and Schedule Announced!
2009 PartyPoker.net World Pool Masters - Back at the Riv!

2008
ALEX PAGULAYAN is the 2008 PartyPoker.net World Pool Masters Champion
Majid and Drago out - Immonen sole European in World Pool Masters
Majid, Immonen and Drago through at PartyPoker.net World Pool Masters
Engert, Muratore and Gray eliminated at PartyPoker.net World Pool Masters
PartyPoker.net World Pool Masters Site Starts Today
PartyPoker.net World Pool Masters 2008 - Draw announced
Final Names Added to Starting Line Up
2008 PartyPoker.net World Pool Masters Announced

2007
TV Schedules for the PartyPoker.net World Pool Masters 2007
PartyPoker.net World Pool Masters 2007
Challenge the Champions! Side Event - World Pool Masters 2007
WIN TICKETS AND HOTEL ACCOMMODATION!!!
WIN FREE TICKETS to the PartyPoker.net World Pool Masters
PartyPoker.net World Pool Masters - Tickets
Draw announced for PartyPoker.net World Pool Masters 2007
Players announced for 2007 World Pool Masters
Check out the Pro9.co.uk Calendar for more tournament dates.