The Top 5 Coolest High Tech Pool Tables in the World
High Tech or High Art?
Uber Cool or Sub Zero?
Classy or Classic?
Pro9 takes it's annual look at the latest designs
Wednesday 4 February 2009
The Royal custom pool table
www.luxury-billiards.com
The Top 5 Coolest High Tech Pool Tables in the World
It seems as if there are more designs for pool tables than there are for cars or houses, or perhaps architects start out designing pool tables before they more on to bigger things, but for some reason, we can't stop marvelling at their gorgeous creations like "The Royal" (shown above) from Luxury Billiards.
Technological miracles, design masterpieces, modern materials, excessive electronics... Pro9 has got them all in this year's look at the coolest pool tables in the world, with a slant on the high tech!

"Read More..." for the details.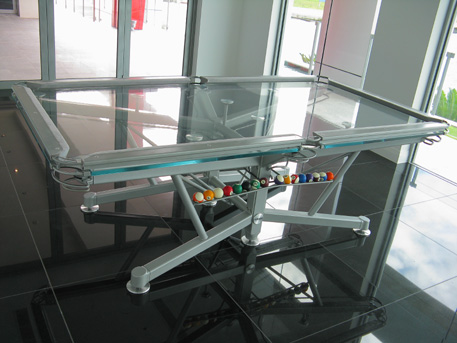 Nottage Designs: Glass Pool Table
www.nottagedesign.com
A glass top? Yes... The table bed is the heart of a Billiard table. The G-1™ features a world class first innovation, replacing traditionally-used slate with an 8ft, ¾" toughened Starphire™ glass, which assures incredible flatness, consistency and exceptional clarity.
The most exciting technological development in Billiard table engineering is the Vitrik™ transparent playing surface, which beautifully emulates the rolling resistance of traditional worsted wool felt playing surfaces. The surface creates a stunning "floating on air" effect as balls glide smoothly and quietly, and retains the same roll characteristics over it's entire lifetime.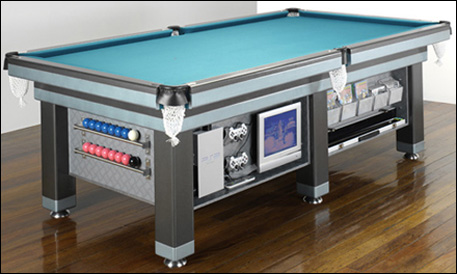 Heiron and Smith: Executive Pool Table / LCD / PS2
www.heironsmith.com.au
This beauty is the flagship of the range made by Australia's Heiron and Smith. It's 8 foot by four foot and features Italian slate, handmade pocket nets, and the world's finest cloth, but the best is yet to some. Built for the techie-mad, the table also features a side-mounted LCD TV, stereo with flat-panel speakers, PlayStation 2, storage racks, and even a mirrored bar.
The Aramith Fusion Pool Table
www.fusiontables.com
It doesn't look particularly high-tech does it, especially with the natural wood finish, but integrating a steel Space-Frame for a super-slim design offers the strength and stability required to carry a top quality slate playing surface while keeping the sleek European look to a dining table. The Fusion technological feat was to design a dual purpose table with only a 4½" thick horizontal platform that can hide quality slate pool table with all its accessories, and a unique solution was created for the pockets. Using hi-tech nylon stretch cloth with memory, the patent pending pockets stretch out when they collect balls, and revert to their 1/8" / 3 mm thickness after the game.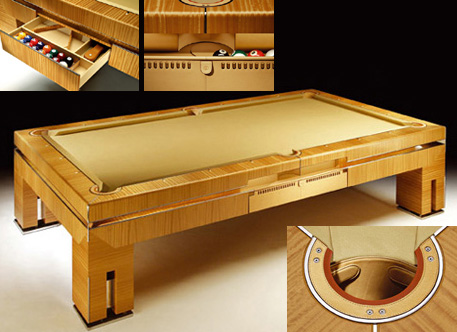 Tresserra Bolero Pool Table
www.tresserra.com
The Tresserra Bolero Pool Table hails from the exquisite Jaime Tresserra Collection in Paris, France, with a no compromise attitude to the design and beauty of it's creations. Constructed of Ceylon Lemon wood, the table has precision engineered stainless steel fittings with pockets in clay coloured "Ertalon" and beige Vaquetilla leather and is sympathetically upholstered with "Iwan Simonis" 860 Gold coloured baize. The whole package includes all the necessities including a sumptuous leather ball tray and colour co-ordinated chalk, and protective cover.
Enjoy the article? Here's a few things you can do now...
Visit our online store, The Pro Shop, for the best pool equipment and gadgets!
Rack up a high score with our fun pool game, but beware, it's addictive!
Visit our library for the best in billiard books!
Check out our comprehensive links directory of pool players and cue makers.

...Or you can just join us for a chat in the Pro9 forums. Thanks for visiting us, and come back soon as we'll be holding one of our super Pro9 "Give-Aways" in the next few days!