GB9 Midlands Classic
Rileys American Pool and Snooker - Solihull
Hobs Moat Road
SOLIHULL
West Midlands
B92 8JN
www.rileysltd.com
www.gb9balltour.com
Over 100 photos from this event - available now!!!
Main
-
Challenge
-
Pro
- Download the Final Standings (.pdf files)
Fri/Sat/Sun 1-3 February 2008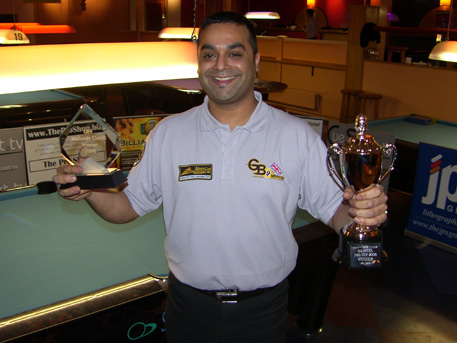 Imran Majid with a brace of trophies from the GB9 Midlands Classic.
Majid wins first GB9 Pro Cup AND GB9 Main Tournament at Midlands Classic
This was a very successful and profitable weekend for Londoner Imran Majid as he eventually scooped up both of the winner's trophies for the two events he entered, along with the winner's cheques too.
A small hours win over Phil Burford in the final of GB9 Pro Cup event gave him his first trophy, but he said he was most proud of his main event trophy as this was achieved after a tough day on Saturday. Amongst the players in the 128 man high-quality field was the UK's new World Champion Daryl Peach, along with Euro Tour champions, and several Mosconi Cup players.
As usual Pro9 was there reporting all the news from the event with articles and prompt results as well as photographs from Solihull - thanks to all the people who came to say hello to us on The Pro Shop stand.
"Read More..." for the details.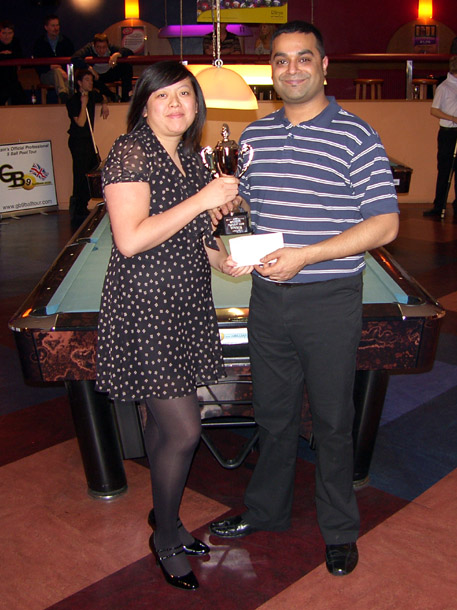 Tournament Director Shirley Ang hands Pro Cup winner Imran Majid his trophy.
Majid wins first GB9 Pro Cup at GB9 Midlands Classic
Imran Majid looked relaxed and in control in the final as he led all the way to the one-sided 11-4 victory, but the story is really just as much about his young opponent. Phil Burford was probably a bit disappointed with the eventual result after making such an heroic dash through the toughest draw imaginable, a feat requiring wins over World Pool Champion Daryl Peach AND WPC Semi-Finalist Karl Boyes along the way.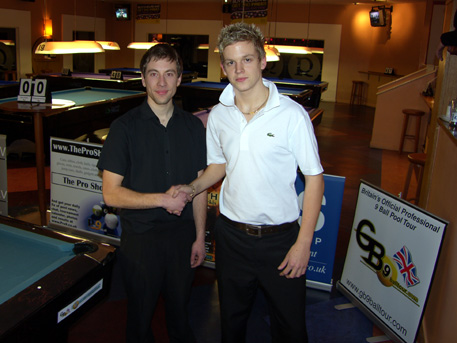 Bradley Parker and Thomas Ainsworth-Smith shake hands before the Challenge final.
THE STATS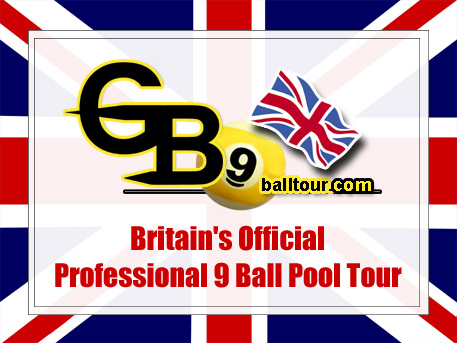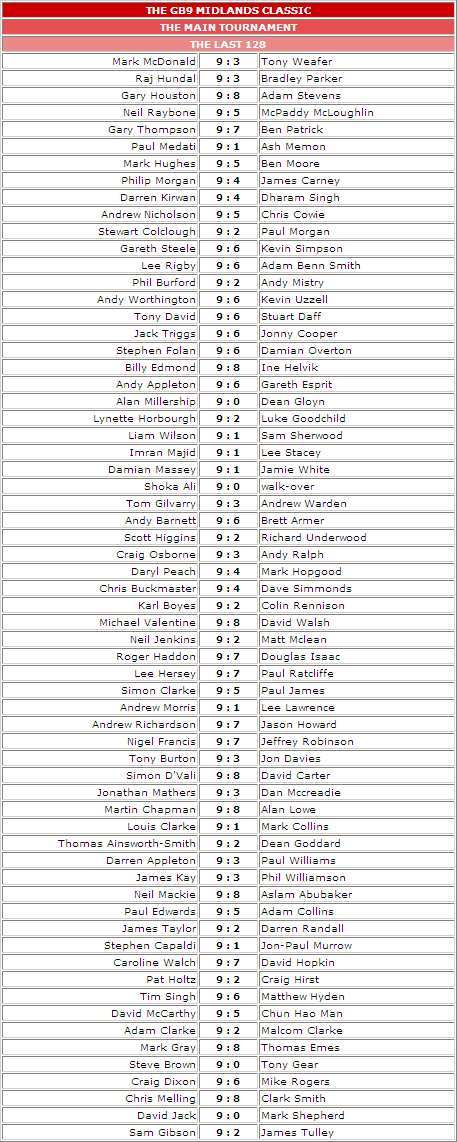 THE GB9 MIDLANDS CLASSIC

THE MAIN TOURNAMENT

THE LAST 64

Raj Hundal

9 : 4

Mark McDonald

Gary Houstoun

9 : 2

Neil Raybone

Paul Medati

9 : 3

Gary Thompson

Philip Morgan

9 : 6

Mark Hughes

Andrew Nicholson

9 : 3

Darren Kirwan

Stewart Colclough

9 : 3

Gareth Steele

Lee Rigby

9 : 7

Phil Burford

Andy Worthington

9 : 5

Tony David

Stephen Folan

9 : 8

Jack Triggs

Andy Appleton

9 : 4

Billy Edmond

Lynette Horsburgh

9 : 7

Alan Millership

Imran Majid

9 : 5

Liam Wilson

Damian Massey

9 : 2

Shoka Ali

Andy Barnett

9 : 5

Tom Gilvarry

Craig Osborne

9 : 2

Scott Higgins

Daryl Peach

9 : 3

Chris Buckmaster

Michael Valentine

9 : 3

Karl Boyes

Neil jenkins

9 : 6

Roger Haddon

Lee Hersey

9 : 1

Simon Clarke

Andrew Richardson

9 : 6

Andrew Morris

Tony Burton

9 : 3

Nigel Francis

Jonathan Mathers

9 : 5

Simon D'Vali

Martin Chapman

9 : 4

Lois Clarke

Darren Appleton

9 : 2

Thomas Ainsworth-Smith

James Kay

9 : 3

Neil Mackie

James Taylor

9 : 8

Paul Edwards

Stephen Capaldi

9 : 2

Caroline Walch

Pat Holtz

9 : 4

Tim Singh

Adam Clarke

9 : 6

Dave McCarthy

Mark Gray

9 : 5

Steve Brown

Chris Melling

9 : 7

Craig Dixon

David Jack

9 : 4

Sam Gibson
THE GB9 MIDLANDS CLASSIC

THE MAIN TOURNAMENT

THE LAST 32

Raj Hundal

9 : 6

Gary Houstoun

Philip Morgan

9 : 6

Paul Medati

Andrew Nicholson

9 : 4

Stewart Colclough

Andy Worthington

9 : 7

Lee Rigby

Andy Appleton

9 : 8

Stephen Folan

Imran Majid

9 : 1

Lynette Horsburgh

Andy Barnett

9 : 7

Damian Massey

Daryl Peach

9 : 6

Craig Osborne

Michael Valentine

9 : 0

Neil Jenkins

Andrew Richardson

9 : 5

Lee Hersey

Jonathan Mathers

9 : 2

Tony Burton

Darren Appleton

9 : 4

Martin Chapman

James Kay

9 : 2

James Taylor

Stephen Capaldi

9 : 7

Pat Holtz

Mark Gray

9 : 3

Adam Clarke

Chris Melling

9 : 4

David Jack
THE GB9 MIDLANDS CLASSIC

THE MAIN TOURNAMENT

THE LAST 16

Raj Hundal

9 : 5

Philip Morgan

Andy Worthington

9 : 1

Andrew Nicholson

Imran Majid

9 : 3

Andy Appleton

Daryl Peach

9 : 1

Andy Barnett

Michael Valentine

9 : 7

Andrew Richardson

Darren Appleton

9 : 7

Jonathan Mathers

James Kay

9 : 8

Stephen Capaldi

Mark Gray

9 : 8

Chris Melling
THE GB9 MIDLANDS CLASSIC

THE MAIN TOURNAMENT

THE QUARTER FINALS

Raj Hundal

9 : 2

Andy Worthington

Imran Majid

9 : 5

Daryl Peach

Darren Appleton

9 : 7

Michael Valentine

Mark Gray

9 : 7

James Kay
THE GB9 MIDLANDS CLASSIC

THE MAIN TOURNAMENT

THE SEMI FINALS

Imran Majid

9 : 6

Raj Hundal

Mark Gray

9 : 7

Darren Appleton
THE GB9 MIDLANDS CLASSIC

THE MAIN TOURNAMENT

THE FINAL

Imran Majid

11 : 10

Mark Gray
---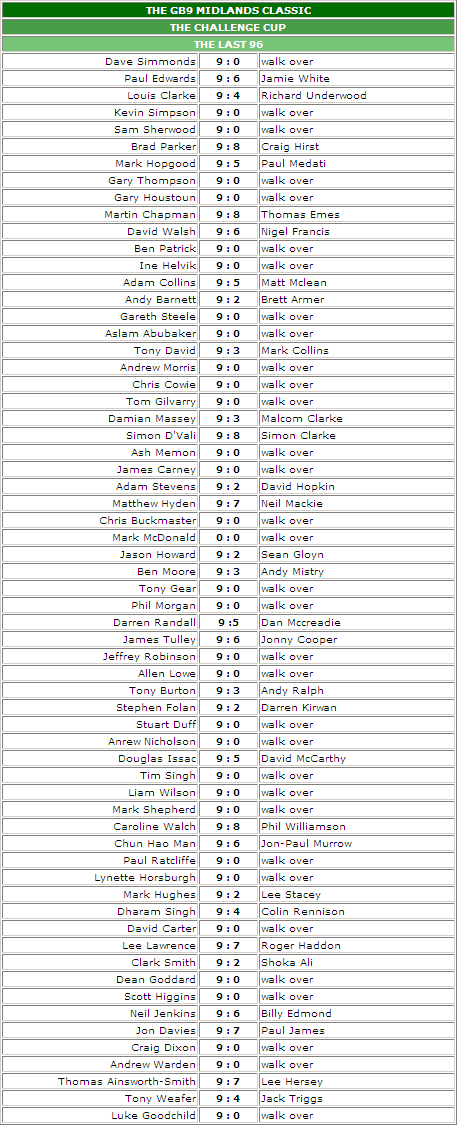 THE GB9 MIDLANDS CLASSIC

THE CHALLENGE CUP

THE LAST 64

Dave Simmonds

9 : 8

Paul Edwards

Kevin Simpson

9 : 7

Louis Clarke

Brad Parker

9 : 2

Sam Sherwood

Mark Hopgood

9 : 4

Gary Thompson

Martin Chapman

9 : 7

Gary Houstoun

David Walsh

9 : 1

Ben Patrick

Adam Collins

9 : 7

Ine Helvik

Andy Barnett

9 : 4

Gareth Steele

Tony David

9 : 8

Aslam Abubaker

Chris Cowie

9 : 4

Andrew Morris

Damian Massey

9 : 2

Tom Gilvarry

Ash Memon

9 : 8

Simon D'Vali

James Carney

9 : 1

Adam Stevens

Chris Buckmaster

9 : 5

Matt Hyden

Jason Howard

9 : 7

Mark McDonald

Ben Moore

9 : 4

Tony Gear

Philip Morgan

9 : 1

Darren Randall

Jeffrey Robinson

9 : 2

James Tulley

Tony Burton

9 : 3

Allen Lowe

Stephen Folan

9 : 1

Stuart Daff

Andrew Nicholson

9 : 5

Douglas Isaac

Liam Wilson

9 : 6

Tim Singh

Caroline Walch

9 : 8

Mark Shepherd

Chun Hao Man

9 : 7

Paul Ratcliffe

Mark Hughes

9 : 2

Lynette Horsburgh

Dharam Singh

9 : 8

David Carter

Andy Appleton

9 : 6

Lee Lawrence

Clark Smith

9 : 4

Dean Goddard

Neil Jenkins

9 : 8

Scott Higgins

Craig Dixon

9 : 5

Jon Davies

Thomas Ainsworth-Smith

9 : 4

Andrew Warden

Luke Goodchild

9 : 6

Tony Weafer
THE GB9 MIDLANDS CLASSIC

THE CHALLENGE CUP

THE LAST 32

Kevin Simpson

9 : 8

Dave Simmonds

Brad Parker

9 : 4

Mark Hopgood

David Walsh

9 : 3

Martin Chapman

Andy Barnett

9 : 6

Adam Collins

Chris Cowie

9 : 2

Tony David

Damian Massey

9 : 1

Ash Memon

James Carney

9 : 5

Chris Buckmaster

Ben Moore

9 : 3

Jason Howard

Philip Morgan

9 : 1

Jeffrey Robinson

Tony Burton

9 : 3

Stephen Folan

Andrew Nicholson

9 : 7

Liam Wilson

Chun Hao Man

9 : 8

Caroline Walsh

Dharam Singh

9 : 8

Mark Hughes

Andy Appleton

9 : 6

Clarke Smith

Neil Jenkins

9 : 4

Craig Dixon

Thomas Ainsworth Smith

9 : 3

Luke Goodchild
THE GB9 MIDLANDS CLASSIC

THE CHALLENGE CUP

THE LAST 16

Brad Parker

9 : 7

Kevin Simpson

David Walsh

9 : 6

Andy Barnett

Damin Massey

9 : 7

Chris Cowie

James Carney

9 : 8

Ben Moore

Tony Burton

9 : 8

Phil Morgan

Chun Hao Man

9 : 3

Andrew Nicholson

Dharam Singh

9 : 8

Andy Appleton

Thomas Ainsworth-Smith

9 : 6

Neil Jenkins
THE GB9 MIDLANDS CLASSIC

THE CHALLENGE CUP

THE QUARTER FINALS

Brad Parker

9 : 8

David Walsh

Damian Massey

9 : 7

James Carney

Tony Burton

9 : 1

Chun Hao Man

Thomas Ainsworth-Smith

9 : 6

Dharam Singh
THE GB9 MIDLANDS CLASSIC

THE CHALLENGE CUP

THE SEMI FINALS

Brad Parker

9 : 3

Damian Massey

Thomas Ainsworth-Smith

9 : 4

Tony Burton
THE GB9 MIDLANDS CLASSIC

THE CHALLENGE CUP

THE FINAL

Thomas Ainsworth-Smith

11 : 10

Brad Parker
---
THE GB9 MIDLANDS CLASSIC

THE PRO CUP

THE LAST 32

Daryl Peach

9 : 4

Mike Rogers

Andy Worthington

9 : 6

Adam Clarke

Phil Burford

9 : 5

Steve Brown

Lee Rigby

9 : 4

Stephen Capaldi

Darren Appleton

9 : 3

Damian Overton

Mark Gray

9 : 3

Alan Millership

Karl Boyes

9 : 1

James Taylor

Kevin Uzzell

9 : 7

Michael Valentine

Jonathan Mathers

9 : 8

James Kay

David Jack

9 : 5

Neil Raybone

Craig Osborne

9 : 5

Raj Hundal

Chris Melling

9 : 5

Paddy McLoughlin

Paul Williams

9 : 6

Stewart Colclough

Pat Holtz

9 : 7

Adam Benn Smith

Sam Gibson

9 : 4

Gareth Esprit

Imran Majid

9 : 1

Andy Richardson
THE GB9 MIDLANDS CLASSIC

THE PRO CUP

THE LAST 16

Daryl Peach

9 : 6

Andy Worthington

Phil Burford

9 : 6

Lee Rigby

Mark Gray

9 : 5

Darren Appleton

Karl Boyes

9 : 2

Kevin Uzzell

Jonathan Mathers

9 : 2

David Jack

Craig Osborne

9 : 7

Chris Melling

Paul Williams

9 : 6

Pat Holtz

Imran Majid

9 : 7

Sam Gibson
THE GB9 MIDLANDS CLASSIC

THE PRO CUP

THE QUARTER FINALS

Phil Burford

9 : 6

Daryl Peach

Karl Boyes

9 : 6

Mark Gray

Criag Osborne

9 : 3

Jonathan Mathers

Imran Majid

9 : 7

Paul Williams
THE GB9 MIDLANDS CLASSIC

THE PRO CUP

THE SEMI FINALS

Phil Burford

9 : 7

Karl Boyes

Imran Majid

9 : 8

Craig Osborne
THE GB9 MIDLANDS CLASSIC

THE PRO CUP

THE FINAL

Imran Majid

11 : 4

Phil Burford
Visit the official tour website: www.gb9balltour.com
The GB9 Ball Tour is sponsored by:


And the GB9 Ball Tour is promoted by: