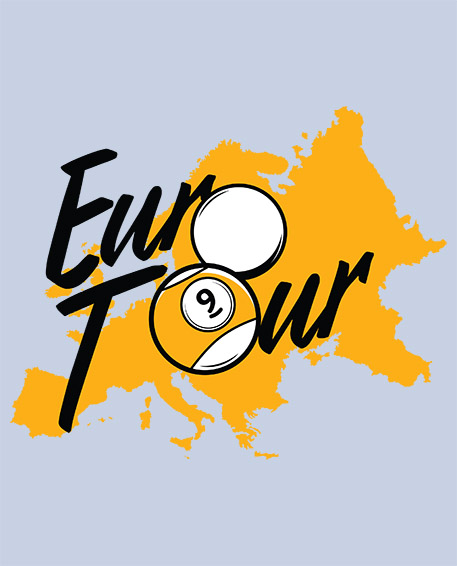 Click the image to view the full size poster - use "back" to return here.
New Logo and Prize Fund Increase for the Euro Tour in 2022
With the EPBF's Euro Tour series entering its 31st year, it is the longest running 9-ball pool tour in the world. Having already paid out several millions in prize money over the years, the Euro Tour has increased the prize fund for 2022 from 228,000 Euro to 270,000 over the six tour stops. The winners at each event will now trouser €6,000 as their reward while beaten semi-finalists will pick up a cool €3,000 euros.
EPBF President Gre Leenders said, "With the launch of the Live TV Project, the step to increasing the prize money is a logical one. We try to increase the value of the Euro Tour every year and it says enough that the Euro Tour is entering its 31st year.
"The cooperation with Matchroom Multi Sport will also give the EuroTour an extra boost so that the prestige of the Euro Tour will increase even more."
With the live broadcast of the Euro Tour semis and finals scheduled in 2022, it is another indication of where the Tour is heading and to launch the new era, a new Tour logo has been designed and implemented.
David Morris, IBPF President said, "The old logo had stood the test of time, and it really was a great logo. We didn't want to lose the identity of the old logo which was tricky, but we found a great young designer in Croatia who provided us with a fresh new update, keeping the old at heart. I'm very pleased with the result and hopefully the players and fans will like it too."
The 2022 EuroTour season gets underway with the Dynamic Billard Lasko Open in Slovenia from February 25-28 and registration is open for all participants at www.epbf.com
For more information and scheduled dates, check out the EPBF website or contact the EPBF press office at press@epbf.com
Enjoy the article? Now try this...



View Pro9's front page!

Chat about this article in our forums.

Visit The Pro Shop to see new cues and gadgets.

Check out the Pro9.co.uk calendar for details of more events.