EPBF Eurotour Veldhoven Open 2018
Hotel & Conference Center NH Koningshof
Locht 117
5504 RM
Veldhoven
Netherlands
www.epbf.com
www.eurotouronline.com
www.kozoom.com
Thursday-Saturday 2-4 August 2018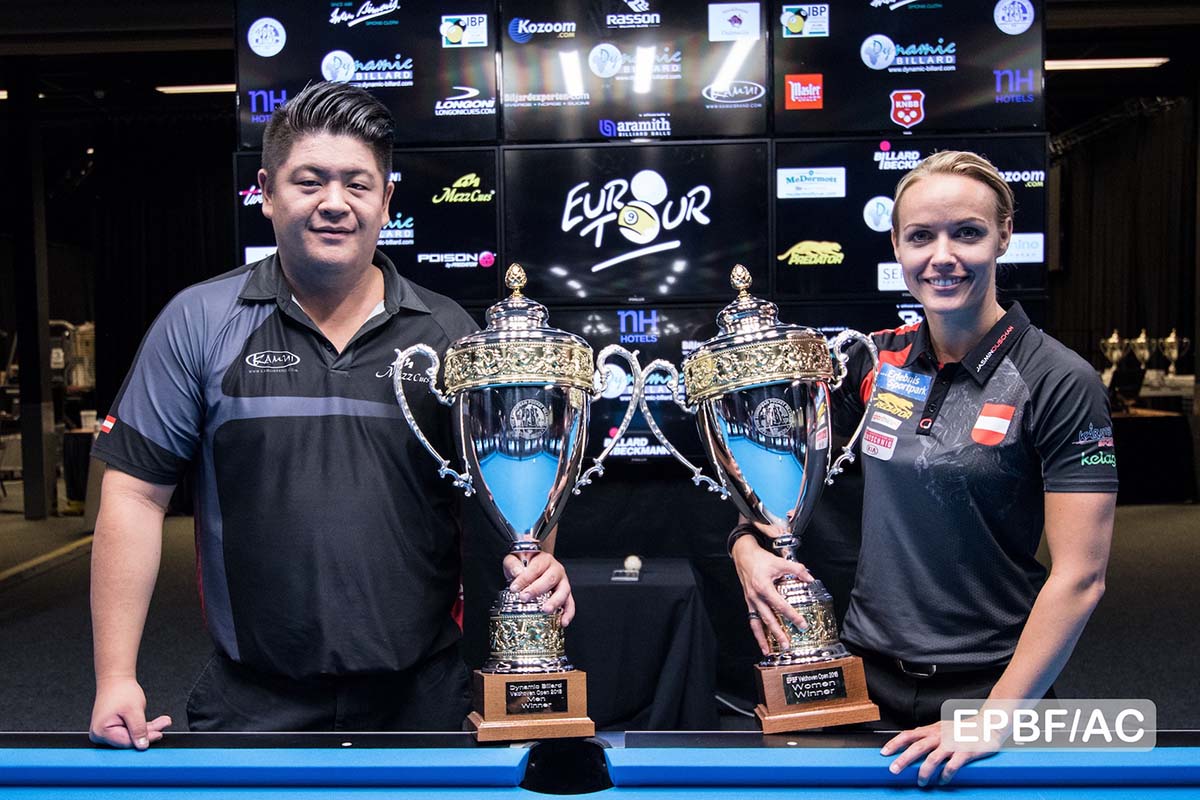 Mario He and Jasmin Ouschan
Click the image to view the large photograph - use "back" to return here.

Ouschan and He win the Euro-Tour events in Veldhoven
Jasmin Ouschan (AUT) and Mario He (AUT) went all the way to glory and pocketed the victories in their respective tournament.
In the men's event, the Dynamic Billard Veldhoven Open 2018 Euro-Tour, Mario He defeated Eklent Kaci with 9:8 after a thrilling final match. In rack #3, Mario He forced Kaci to commit a foul and got ball in hand. But all of a sudden he found himself snookered behind the 6-ball when the 5-ball was on. He had completely misjudged the positioning of that shot. However, Mario He went for his jump stick and pocketed the 5-ball with a tremendous jump-shot over the whole table, having position for the next ball and running the rack to get to a 2:1 advantage over Kaci. The match went along with both players taking racks in turn. It was pretty striking that both played really accurate and only committed mistakes when the opponent forced them to. Balls were always pocketed into he center of the respective pocket. They both were full of self-confidence and optimism. It was Eklent Kaci in rack #15 who missed an easy 2-ball. He played it on the edge of the corner pocket and allowed Mario He to come back to the table though he could have scored to point into his account, going on the hill first. But instead, Mario He won that rack and got to the hill first, putting a hell of a lot of pressure on Kaci. But he wouldn't be Eklent Kaci if he couldn't stand the heat.

Share this article on FaceBook
"Read More..." for the details.
Quarter-final match: Marc Bijsterbosch NED v Eklent Kaci ALB
The Albanian performed very calm and scored to make the match hill-hill at 8:8. It was Mario He to break. He had a ball pocketed and a tough shot on the 1-ball. But he fired that ball in without hesitation. Then, the layout was quite makable for him. He pocketed all remaining balls and deservedly won a very high class final match against Eklent Kaci with 9:8.
Top Eight Men
1. Mario He AUT
2. Eklent Kaci ALB
3. Niels Feijen NED
3. David Alcaide ESP
5. Konstantin Stepanov RUS
5. Maksim Dudanets RUS
5. Marc Bijsterbosch NED
5. Kim Laaksonen FIN
The women's final was played between Jasmin Ouschan and Oliwia Czuprynska. Czuprynska had to overcome Sara Rocha (POR) in the semi-final this morning. The outcome of that match was totally open since Rocha really played up to her limits in this event. Czuprynska managed to get a 4:2 lead over Rocha, but the Portuguese struck back and even overtook Czuprynska on the fast lane, conquering 5:4 intermediate advantage over Czuprynska. After that, the batteries of Rocha seemed to have burned out. Czuprynska took the next three racks and won the semi-final with 7:5, booking her seat in the final match. Jasmin Ouschan had her semi-final match against Tamara Peeters-Rademakers (NED). That encounter ran quite smoothly for the favoured Austrian. Ouschan achieved a comfortable 7:3 victory over Peeters-Rademakers and booked her seat for the final match. The final match started out quite even. Both contestants performed rock solid and the was displayed on the scoreboard. After 5 racks, Ouschan had a thin 3:2 lead over Czuprynska. In rack #6, Ouschan missed a long 9-ball and gave Czuprynska a chance to tie the score at 3:3. But Czuprynska also missed and Ouschan did not give her a second attempt and instead scored herself to turn the score 4:2. Form that moment on, Czuprynska had totally lost her rhythm and momentum. As so often, Ouschan dominated the table to her liking. The mistake that Czuprynska made in rack #6 broke her neck and Ouschan grew strong from it. In the end, the finals result displayed on the scoreboard was 7:3 in favour of Ouschan.
Top Eight Women
1. Jasmin Ouschan AUT
2. Oliwia Czuprynska POL
3. Sara Rocha POR
3. Tamara Peeters-Rademakers NED
5. Natalia Seroshtan RUS
5. Martine Christiansen NOR
5. Eylul Kibaroglu TUR
5. Marharyta Fefilava BLR
That concludes the coverage of the Dynamic Billard Veldhoven open and the EPBF Veldhoven Open for Women.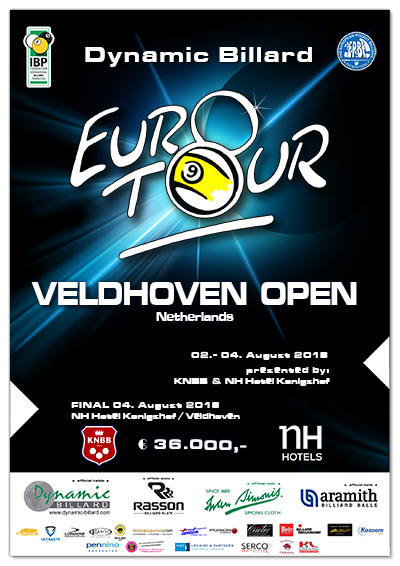 Enjoy the article? Now try this...

Chat about this tournament in our forums.
Visit The Pro Shop to see what's new in cues and gadgets.