The French Open by Predator
Replay Billard
6 rue des Moines St Martin
94360 Bry-sur-Marne
France
www.replay-billard.fr
www.ebilliard.tv
www.billiardport.com
- scoring
Saturday-Sunday 4/5 November 2017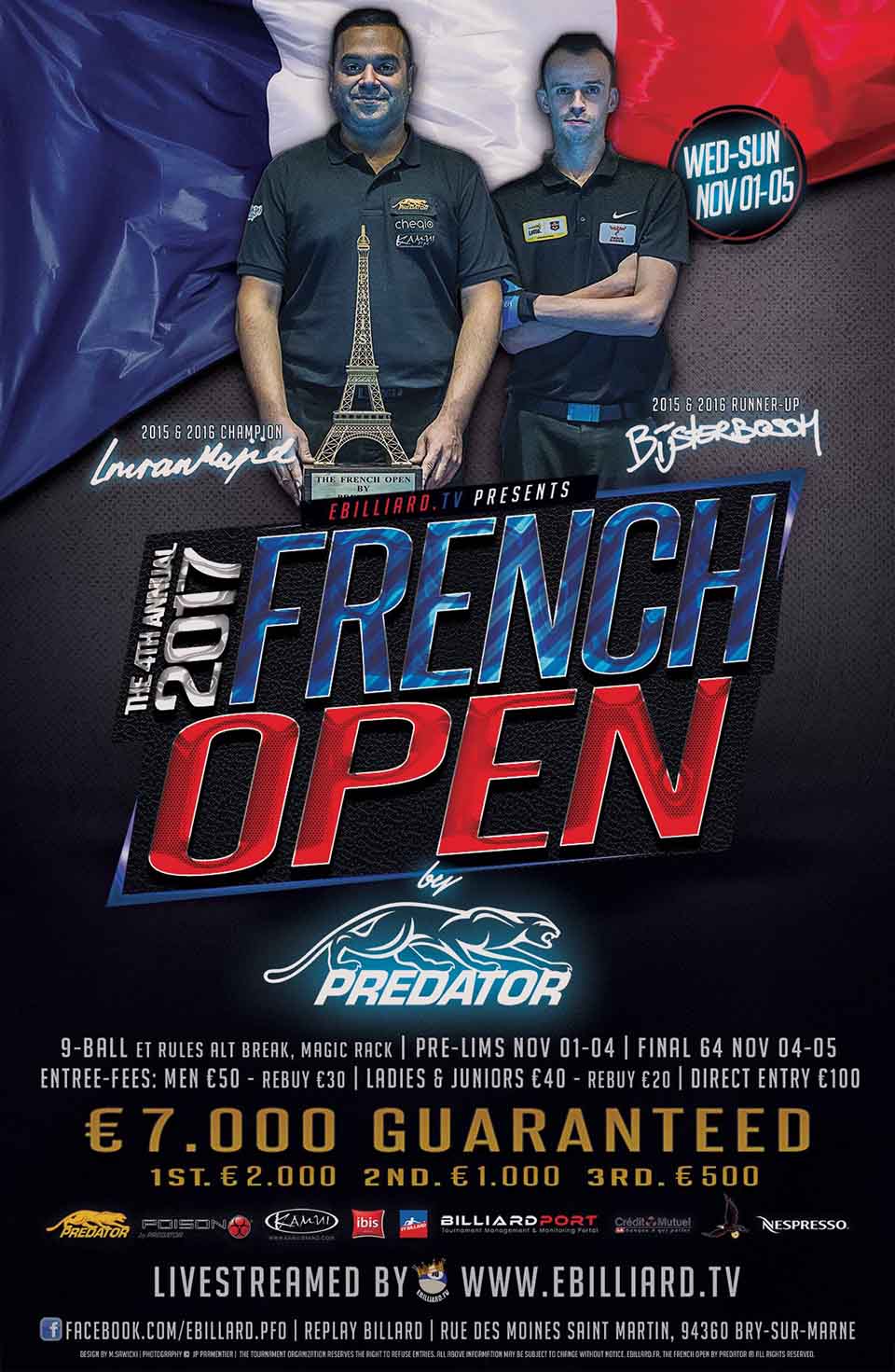 Click the image to view the full size poster (use "back" to return here)
9-ball fever in Paris for French Open weekend
The 4th edition of the French Open by Predator gets underway this Saturday in Paris, France, following several days of qualifying rounds. Over 100 players have registered to do battle at the Replay Billard club, but only one can emerge to claim the title of 2017 French Open champion and the winner's cheque of 2000€.
As ever, this 9-ball event is to be streamed live and for free by tournament organisers Ebilliard.tv. You can follow selected matches from the TV table through to the final on Sunday. In addition to the main event, a special mixed doubles charity match is organised for Friday evening, presented by Kamui Brand.
2017 French Open by Predator preview
A strong international field is ready to compete for the big prize, including Marc Bijsterbosch, a two-time runner-up at this event in 2015 and 2016. Since narrowly missing out on the French Open crown to Imran Majid last year, Bijsterbosch has won his first European Championship in the men's division, taking down the 10-ball title in March 2017. He also added a silver medal in 8-ball at the same championships and will be among the main contenders this weekend.

Share this article on FaceBook
"Read More..." for the details.
Click the image to view the full size poster (use "back" to return here)
Despite some injury setbacks this year, Neils Feijen still ranks 3rd in the Eurotour rankings, a testament to his consistency at the very top level. In his first appearance at the French Open, the 2014 9-ball world champion will be expected to go deep into the business end of the tournament, if not all the way. Parisian pool fans will certainly be out in strong numbers to watch the Terminator in action live.
Feijen is not the only former world champion at this year's French Open, as his fellow countryman Huidji See won the 10-ball World Championship in 2011. While See is less of a regular on the pool scene these days, he is still a formidable opponent who absolutely has the potential to win the event. With a terrific trio like that representing the Netherlands, as well as other young stars like Tim de Ruyter and Ivo Aarts, there is a strong chance we could see a Dutch winner of the French Open for the first time.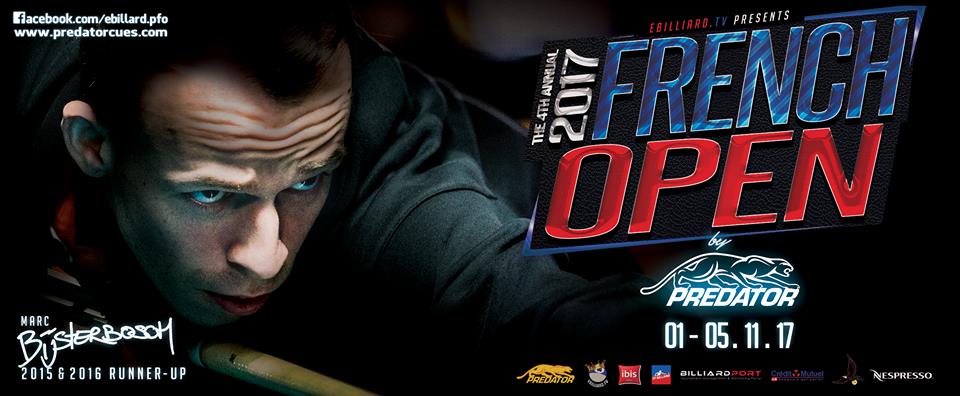 Click the image to view the full size poster (use "back" to return here)
Of course, the best French players will be out in force too, including French number one Stephan Cohen. The seasoned veteran has been winning national titles across multiple disciplines for many years. He is the reigning French champion in both 9-ball and 10-ball, so is perhaps the best candidate for a winner from the host country.
Other top French players include Alain da Costa and Fabio Rizzi, the current national champions in 14.1 and 8-ball respectively, as well as François Cottance and Alex Montpellier, who have both previously represented their country at the World Cup of Pool.
As ever, it will come down to who brings their best game to the table, with a weekend of top action in store at France's premiere 9-ball event.
THE FRENCH OPEN

EVENT HISTORY

THE WINNER'S LIST

2014

Karl Boyes R.Up Vincent Facquet (FRANCE)

GBR

2015

Imran Majid R.Up Marc Bijsterbosch (NED)

GBR

2016

Imran Majid R.Up Marc Bijsterbosch (NED)

GBR

2017

--- ---

---
Mixed doubles charity event
To support the Play for P.I.N.K. campaign for breast cancer research, Kamui Brand presents a special multi-discipline charity event taking place at Replay Billard on the eve of the French Open main event.
Elise Qiu, the recently crowned Dutch ladies' champion in 14.1 and French number three Alex Montpellier will team up to face Swiss partners Ronald Regli and Yini Gaspar.
The format will be short sets in 8-ball, 9-ball, 10-ball and 9-ball banks. If the score is tied after 4 sets, a shootout will take place to determine the winners.
All visitors and online viewers are welcome to help promote this good cause. Donations to the Breast Cancer Research Foundation can be made in person at the venue or online at
http://www.playforpink.org
.
Venue:
Replay Billard
6 rue des Moines St Martin
94360 Bry-sur-Marne
France
Live stream times:
Friday 3rd November from 7:30 pm CET – Mixed doubles charity event
Saturday 4th November from 8:00 am CET – Group F qualifying round
Saturday 4th November from 3:00 pm CET – Main event Day 1
Sunday 5th November from 9:00 am CET – Main event Day 2
Tournament brackets:
http://www.billiardport.com/page_tour_profile?tour=741
Youtube:
https://www.youtube.com/user/EBILLARDFR
Facebook:
https://www.facebook.com/ebillard.pfo/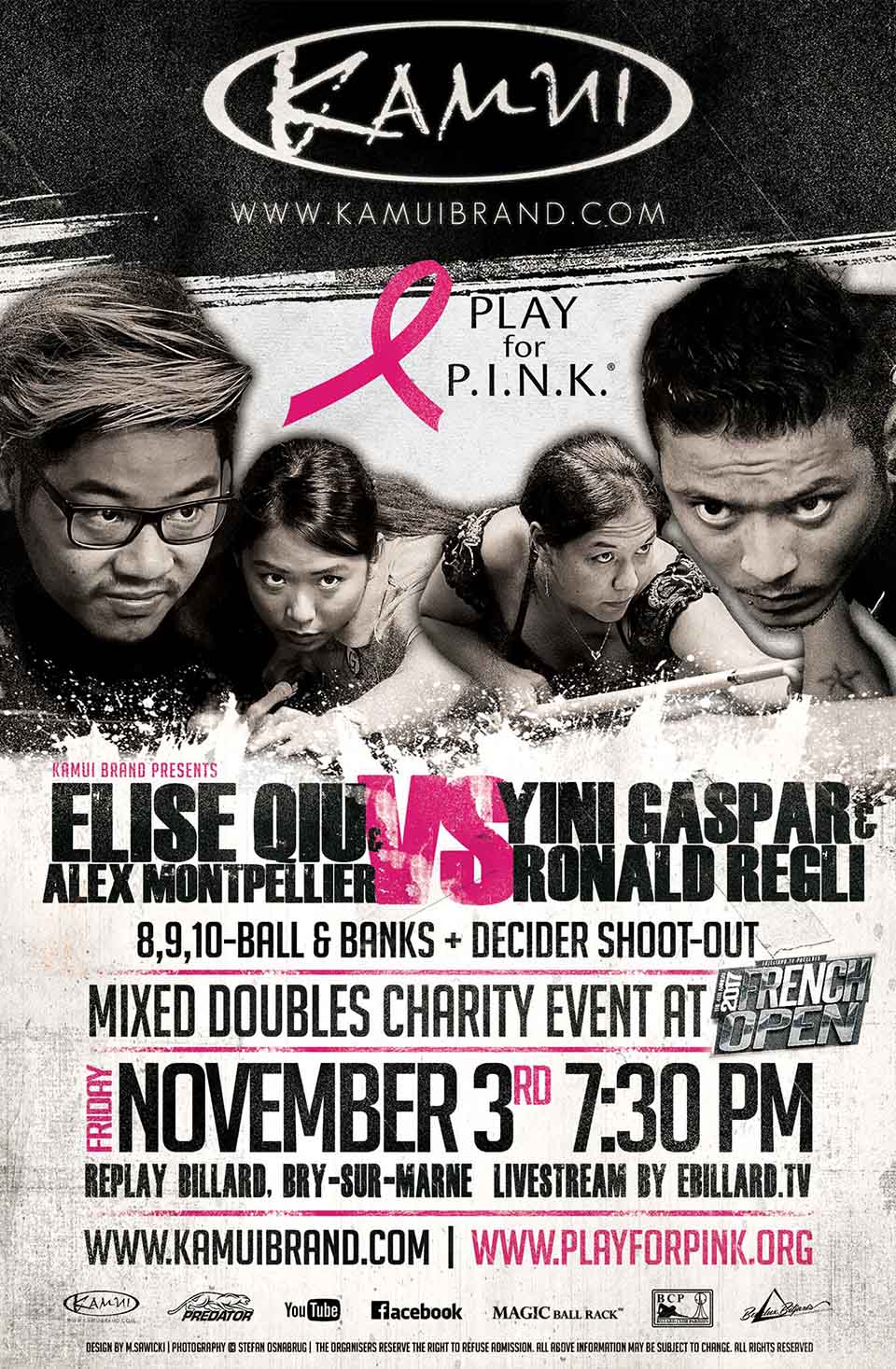 Click the image to view the full size poster (use "back" to return here)
Enjoy the article? Now try this...
View Pro9's front page!
Chat about this article in our forums.
Visit The Pro Shop to see new cues and gadgets.
Check out the Pro9.co.uk calendar for details of more events.