Full Name - Robin Bell Dodson
Lives - California, USA
Titles/Achievements - 2009 induction into WPBA Hall of Fame
- 2005 induction into BCA Hall of Fame
- 1998 WPBA Twin Cities Classic
- 1995 WPBA Denver/Detroit/Atlanta Classics
- 1994 & 1995 Gordon's Championships
- 1994 WPBA San Diego/Atlanta Classics
- 1992 US Open 9 Ball Championship
- 1992 Brunswick Challenge Cup
- 1992 McDermott Masters
- 1991 Brunswick Munich Masters
- 1991 Big Island Classic
- 1990 & 1991 WPA World 9-Ball Champion
- 1989 WPBA National 9 Ball Championship
- 1986 Cleveland Open (Spring and Fall)
- 1985 Resorts International Open
- 1984 Great American Classic
- 1984 Caesar's Tahoe Classic
- 1983 Miller Lite World Series of Pool
- 1979 California Women's State Champion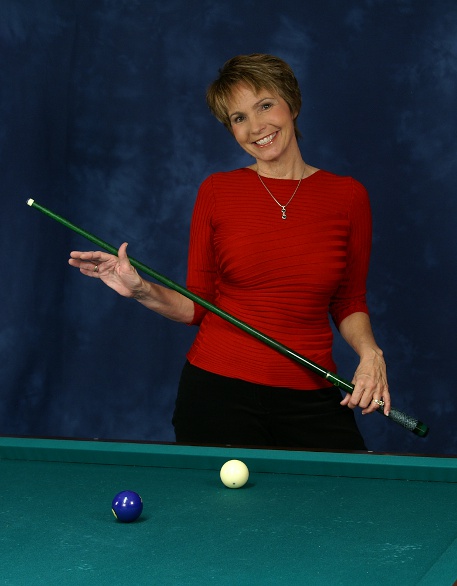 Photographs courtesy and © Pool & Billiard Magazine - thank you Mary Kenniston.
www.RobinDodson.com
Robin "Bankroll" Dodson shares her amazing story!

Pro9
Robin, you must have the most incredible "rags to riches" biography of all pool players, how old were you when you started playing pool. Why pool, and not some other game? Do you think you had a natural gift, or did you have some urgent need to compete and win, or did you just enjoy playing so much that you got so good?

Robin
"As a kid, I was a natural athlete with great eye-hand coordination & always involved in sports in school. Down the street from where we lived was a place called Westminster Family Billiards. As a young girl sneaking up on my 13th birthday, I thought this would be a great place to meet some cute guys, so one day I wandered in. Self-conscious & trying to blend in with the crowd, I picked up a cue, fell in love with the game & the rest is history! Being a natural, I never really had any formal instruction – I just watched the other players & tried to copy what they did – spending hundreds of hours on the table. I always had a desire to win – it didn't matter at what…my goal was always to WIN. I ate, slept & drank pool in my teenage years so I had hours & hours of practice under my belt before I ever entered the pro arena. "
"Read More..." for Pro9's exclusive interview with Robin Dodson.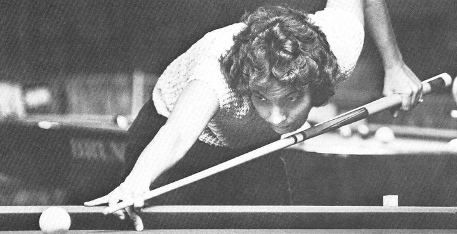 Pro9
Did you receive any professional coaching or did you have a mentor who helped you in those early years?

Robin
"I never had any formal professional coaching or lessons – I learned from everyone. I was lucky enough to be able to watch & learn from some of the best players in the world of that time – Cole Dickson, Larry Lisciotti, Ronnie Allen, Keith McCready, Johnny Ervolino, Jim Rempe – the list goes on & on. During the late '60s & early '70s, southern California had all kinds of action. Great players from all over the country would come to Los Angeles to play in the World Straight Pool Championships. After hours, they'd show up at the famous Billiard Palace in Bellflower and the action would go on for days. Some of the guys would stay for weeks or months & you never knew who was going to walk in the door. So that's where I was – 16 years old – sitting & watching the best players in the world! I remember thinking that life just couldn't get any better! A few other young players & I would crawl under "Big Bertha," the very tight 6x12 snooker table, when we got tired & fall asleep until the next round of action started. Young & shy, I didn't ask why the players would shoot the shots they way they did – I just watched, remembered & when I could get on a table, practiced the shot over and over again until I owned it…without the complete knowledge – individually, shot by shot - just raw talent & determination."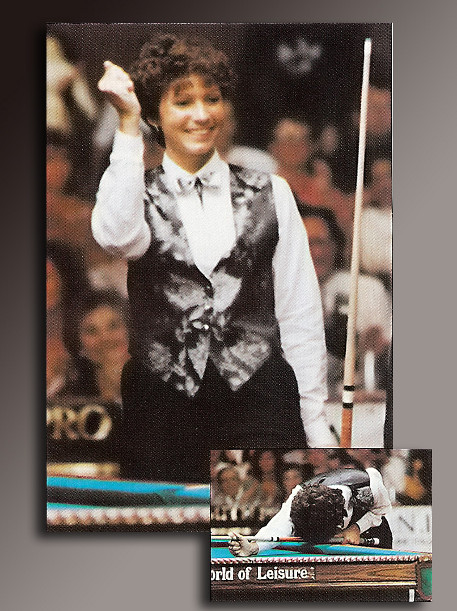 Pro9
You really did rack up a lengthy list of tournament titles and and an amazing array of achievements - do you have a particular one that is special as a stand out?

Robin
"Well, there's two! The first one was an amateur event – the '83 Miller Lite World Series of Pool – held in Las Vegas. Over 700 women came from all over the US to compete for a first place prize of $10,000! All of my kids were there to watch & they just flew out of the bleachers when I won! They were young and it was the coolest thing ever to see them so excited for me. And needless to say, each had a wish list in hand! The second one is when I won my first world title in 1990. My mom had become a HUGE fan and traveled with me to Bergheim, Germany. When we were leaving Germany, a very proud mom made sure everyone in Frankfurt Airport knew that her daughter had just become the world champion! Mom has since passed away but the memories from that tournament will stay with me forever. "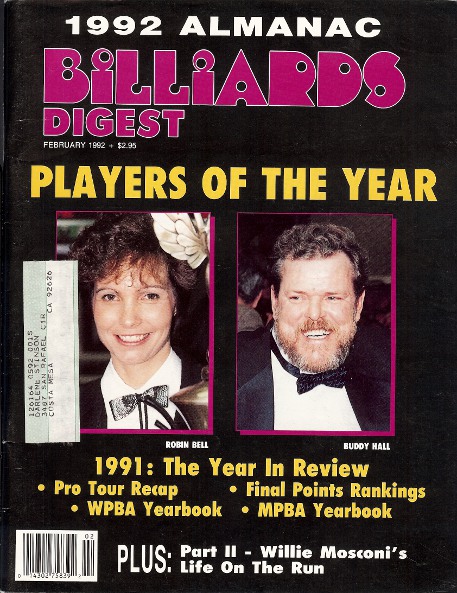 Pro9
In 1991 you were awarded Billiard Digest Player of the Year alongside a bearded but youthful looking Buddy Hall - what cues were you using back then, and what do you think of the high amount of new technology and construction advances incorporated into modern pool cues, and in your opinion, are these genuine improvements that give good players an advantage, or just marketing smoke and mirrors?

Robin
"At that time, I used a Helmstetter and I loved it! No endorsement - I used it for free – that says something about the cue. I played with it for years. Eventually, I did get an endorsement from thingy and it was great to finally meet the man who built my cue. He made another cue to fit my own desires and specifications & I still have it today along with the one I bought so long ago. I've set them both aside for my kids. As for the cues today, I love Judd Custom Cues & McWorter Custom Cues. Those are the two that I used on tour after I retired my Helmstetters. I think cues today have a much better feel - so yes, custom cuemaking has evolved and the cues of today are excellent!"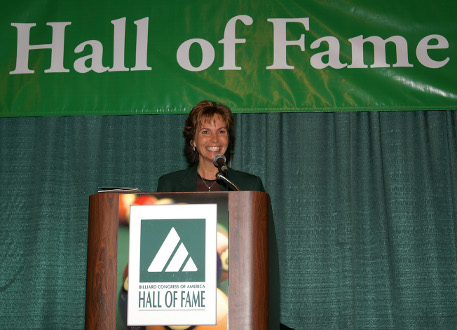 Pro9
We don't have a strong understanding of the "Hall of Fame" concept in Europe, we simply don't have anything particularly comparable. What we DO understand is that it is a very special and rare honour. Can you tell us what it means to you, how did you find out you were going to be inducted, and how did you feel about it. You were inducted in the "Greatest Player" category - was anyone else inducted that year?

Robin
"Cool story…I was called by Steve Ducoff from the BCA Board and he told me I had been nominated for the Hall of Fame. I said, "Wow!" and got really excited. Then Steve said, "Would you like to know who you're up against?" I hadn't thought of that! I said, "Sure." He mentioned someone who had passed away and I had never heard of and then said a name I knew very well – Earl Strickland. As soon as he said Earl, I began thinking, "I'm done!", but I was honored just to be noticed. I told my kids that I had been nominated but also told them that would probably be about as far as it would go. They told me they thought it was very cool just to be nominated. Two weeks passed & the phone rang – it was Steve. I have to admit, I had already dismissed the possibility of being inducted so when I heard his voice, I had absolutely no idea why he was calling again. When he told me I had won the vote, I couldn't believe it!!!. I was inducted into the Hall of Fame along with Mike Massey in the "Meritorious Player" category. Being in the BCA Hall of Fame is an honor that is so amazing – it's the icing on the cake. Yes, I had many great wins but to be recognized as one of the greatest players of my generation was a big WOW for me. I still proudly wear my Hall of Fame ring…and I LOVE IT!!!"

Pro9
I heard you were called "Bankroll" Bell in certain parts, how did that name come about?

Robin
"The WPBA tournament director, Steve Tipton, was very connected to the WPBA players – he became like one of the family. As he got to know us, he began handing out nicknames based on our various attributes and characteristics and using them when he introduced us to the fans. Ewa Laurance became "The Striking Viking," Vivian Villareal became "The Texas Tornado," LoreeJon Hasson became "The Queen of the Hill," Belinda Calhoun became "The Texas Belle," Mary Kenniston became "Nightmare" and I got the nickname "Bankroll." Why? I always seemed to rise to the top when there were large purses. I wasn't afraid to win the cash…I was focused."

Pro9
Did you really earn $400,000 in career earnings? How would that compare to tournament prize funds we have nowadays.

Robin
"This is the question that makes me wish my mom had lived by a golf course instead of a pool room! Twenty years on the Pro Tour - 28 major wins…sure doesn't seem like a whole lot of earnings. What does that average out to? $20,000 a year? And that was with about 15-20 major events a year! Obviously, we played for the love of the game – it definitely wasn't for the money. As far as comparing prize funds from then to now, sadly, I really don't see much improvement. We had first prizes of 6, 10, even 20 thousand dollars for those 15-20 major events a year! Today, the women have fewer events with similar first prizes and since they have few events in the US, higher expenses to travel overseas. After I retired from the pro tour, I started in the retail/wholesale business and have enjoyed every minute of it…calling stores and talking to owners who knew my name…I became an instant salesman! It made my life and business so much easier having my career first as a champion player and BCA Hall of Famer. "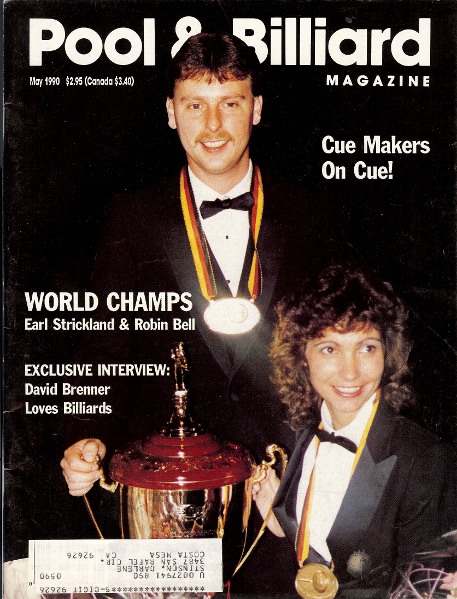 Pro9
Did you ever gamble at pool, or was it strictly tournaments only?

Robin
"When I was coming up, I did gamble but you have to understand - I was young, poor and female. At that time, it was a rarity for a girl to be in the pool rooms let alone play for money. I didn't have much to gamble with but I did play for what I had. It was nothing compared to the huge amounts bet at the Billiard Palace….I could only dream of the day when that would be me. I was a kid in a world way out of my class but it was all LIVE and I enjoyed every second of it. Once I started playing on the pro tour, I didn't gamble any longer. "

Pro9
I bet you have a fair few tales to tell... Did you have any close scrapes along the way?

Robin
"I've had more than my share...but you'll have to wait for my book! However, the guys at the pool room all kind of "adopted" me becoming like my big brothers and looking out for me. The pool players were family and I have nothing but great memories from those days."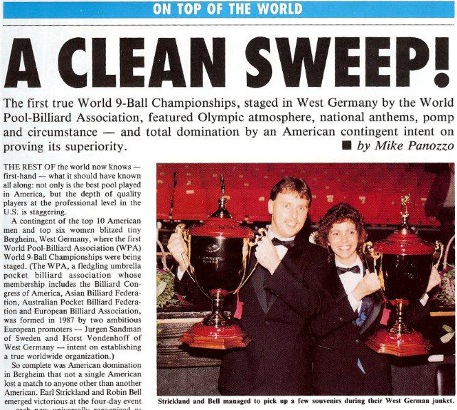 Pro9
The politics of pool in the UK is very complicated... Has pool in America ALWAYS been plagued with politics too... What were the big issues in the 90's in America for instance?

Robin
"I think our sport has always been plagued with bad decision making & a lack of major sponsor dollars. Having little money to speak of always left us using volunteer help – usually not businessmen but players. Players who really just wanted to play pool were forced by necessity into a realm they really knew little about. For the show to go on, somebody had to do it. In 1993, the board members of the WPBA managed to put together, with industry sponsorship, the WPBA Classic Tour. We had about 10-12 events per year in addition to specialty events like the world championships & others for almost twenty years but that has dwindled to virtually nothing today. The male pros have had several player organizations and have had a few tours but they have only a few tournaments a year now also. Pool in America is on life support…It's very sad to see how many players spent their whole lives in the game and end up with nothing other than a "see you around" at the end of their careers…very sad, indeed."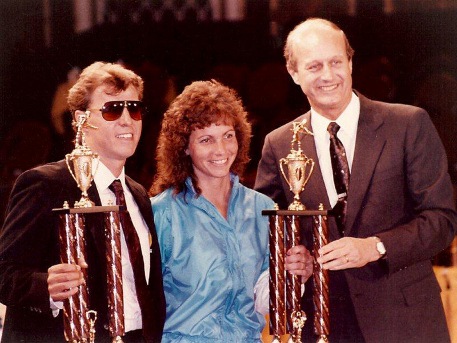 Pro9
Does history just repeat itself in your opinion - have you seen it all before?

Robin
"No, I think the players have improved so much it blows me away! I watch the ladies today and I think, "YIKES! Sure glad they weren't around in my day! They would have robbed me!" I would love to see corporate America get behind our sport. That is what we all have dreamed about for years. Although I don't compete any longer, I have to say, "I LOVE POOL PLAYERS!" I love everything about the game and how about the live streaming?!!! I'll hook up to the stream and jump into the chat room. I can't wait to sit down, relax and sweat a great pool match! I have zero regrets. When it's all said and done, pool was and still is the game for me. Pool players are the best!"

Pro9
You are also famous for your own line of cues, the Frog and the Tadpole... Were you the first player to get their own range of cues like this? Was that your own idea? How did this come around?

Robin
"No, other players had their own lines of cues before I did. One day, the owner of the Frog and Tadpole jump cues approached me and asked if I would endorse them. At that time, I didn't even know how to jump and thought it kind of odd that he would ask me to be the player to endorse them. Once he showed me how to use them, you couldn't keep my mouth shut! Maybe that's why he picked me! LOL However, at that time, my heart was more into competing than selling. The owner of the cues was not in the billiard industry – he just developed the Frog and the Tadpole and about a year later, he walked away and gave the company to me. I continued to grow the Frog and the Tadpole into what they are today."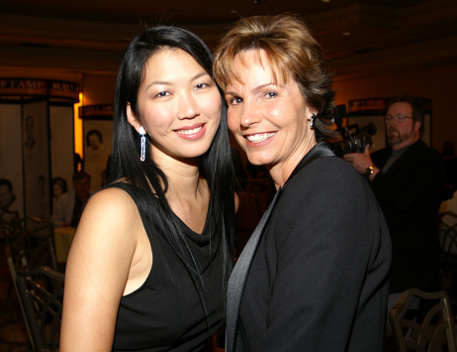 Pro9
Did you have to be creative like this because there weren't any sponsors and backers 15 years ago, or did you have sponsors?

Robin
"It was just my nature…I loved making money so when I wasn't playing pool, I was selling products. My first business venture was Robin Bell Sportswear. I'd set up a booth at the different events and when I wasn't playing a match, I'd be in my booth selling pool clothing – cool jogging suits (many players LOVED them – I did too!), shirts, hats and other stuff. After I started winning, I did get a few sponsors to get me back and forth to the events. Nothing to live on though – I had to win and, thankfully, I did my share of that."

Pro9
Have you got any tips for players wanting sponsorship?

Robin
"It is very tough in our industry. Most of the businesses are small & they're struggling just like everyone else. If you can't find a sponsor in the billiard world, I'd suggest looking outside our industry. If you land a sponsor, make sure you speak up about their product. You must be able to show your worth. Make them see why you would be good for them…not just the other way around. I only endorsed what I liked – if I didn't think it was a good product, I passed. When I endorsed a product, I loved it and found it easy to talk about."

Pro9
What else have you done, business-wise, in the pool industry previously?

Robin
"I owned Robin's Pro Shop for a little while – it was in a pool room – and also gave lessons. In fact, my first student, Roy, became my husband! I always wonder if he was playing position on me!!! In 1995, we closed the Pro Shop and moved the business to our home. I still give lessons and I have to say, I have so much more knowledge now that I teach compared to when I competed. Years ago, I also started setting up a booth at some amateur events in Vegas like the BCA and APA Nationals to the sell the Frogs and Tadpoles. Not very many players knew how to jump so I'd show them how. If they could follow through and break a rack of balls with at least four balls hitting a rail, I could teach them how to jump! Once I showed them the technique, I'd make the sale. And, boy, did they love it the first time they jumped over the ball! For over fifteen years, I've taught thousands of players how to jump. Sometimes, the players would have a flaw in their mechanics and it was my job to find the problem so I've become an expert at teaching the shot. Needless to say, I have sold thousands of jump cues!"

Pro9
Have you got anything new happening on the Robin Dodson "production line" so to speak?

Robin
"Yes, Roy and I have just finished my first instructional DVD called "Mastering The Jump Shot." Sometimes, to help the sales of the Frog and the Tadpole, I'd do a little demonstration showing a player how to jump & they'd record it on their cell phones. I did this for a few potential buyers to sweeten the sale. After doing it about eight times, the seed was planted. I started thinking about doing a video for ourselves. I started praying and asking the Lord how we could get it done. Next thing I know, my husband tells me that if he could buy all the "toys" he needed (new computer, camera, tech stuff), he would make the DVD! I told him to go for it! Sure sounded like an answered prayer to me and that is how "Mastering The Jump Shot" evolved. Roy has worked for five months on our DVD – working his day job and then coming home to his new night job – learning and taking classes. I'm in awe of his many talents. I'd do what I do in front of the camera, explaining step-by-step what I have learned about the jump shot from all my years of teaching it. The jump shot is easy if you know how – it only takes about two minutes to teach someone to jump, but "Mastering The Jump Shot" has 42 minutes of instruction. I've used the extra time to teach what happens after the ball jumps, aiming, position play, etc. plus 14 more minutes of extras like photos & career highlights. I share all of what I have learned throughout my years of experience and I'm very proud of how it turned out. I charge $75 an hour to teach – "Mastering The Jump Shot" sells for $29.95. It's a great deal for players who want to add another weapon to their arsenal."

Pro9
So I guess it would be fair to say there aren't many who know more about jumping than you...

Robin
"I don't claim to be the best jumper but I will match up with anyone teaching the shot!"

Pro9
What with you having your own range of jump cues, and instructional videos too... But is the jump shot REALLY that important in pool anyway?

Robin
"It's VITAL! I hear players all the time saying, "Forget the jump shot." WHAT! ARE YOU KIDDING ME? Think about it – whenever someone takes out a jump cue, EVERYONE stops what they're doing to watch! It's a great shot when it's hit or the ball is made! Every player should make sure to bring to the table all the equipment available and be prepared for every shot. In "Mastering The Jump Shot," I get into the pro's knowledge of how to decide when and when not to jump. You won't always jump but you won't always kick either! Having the equipment you need and knowing how to use it can elevate your game to its highest potential. YES!!! IT'S THAT IMPORTANT! Knowing how to jump will bring your game up another level!"

Pro9
Surely it's only one shot, and there are always alternatives using the rails for instance?

Robin
"It's the shot that can make the difference between giving up ball in hand or selling out and losing the game or making the hit and winning the game! It's a HUGE shot that everyone SHOULD and CAN master!"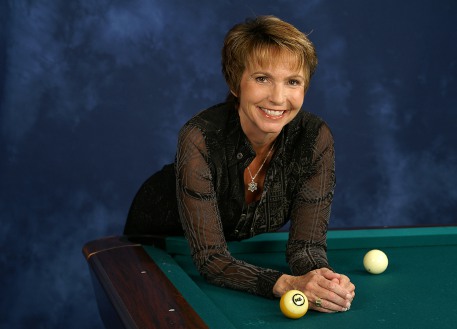 Pro9
Have you got any tips for players just starting out - perhaps considering a career in pool?

Robin
"Sadly, I have to say that, for most, pool is a tough way to make a living. Very few people in this world can survive just playing pool, so be sure to go to school. Find a career that makes money and you can still have your passion for pool. My son is an actor but his passion is music. Years ago, he would say, "I act to make money – I play music because it is my passion." Couldn't have said it better myself… "

Pro9
Have you coached any of the top players in the world today regarding the jump shot?

Robin
"Yes, I have taught many players – mostly those on the WPBA Tour. I've worked with Jeanette Lee, LoreeJon Hasson, Dawn Hopkins, Helena Thornfeldt, Monica Webb – lots of others…I have helped a few of the men on the pro tour. My favorite was George SanSouci ("Ginky"). I had set up a booth at Allen Hopkins' Super Billiards Expo and George was playing in the Players Pro Championship. He stopped by my booth and we started chatting and he told me he had no idea how to jump a ball. In minutes, I had him jumping ball after ball and I offered to give him a Frog. He thought it was the cue – he wanted my demo! The funny part was that he didn't have room for it in his case so he carried it back and forth to each match – stopping by my booth for a refresher! He was grinning like a kid in a candy store! George went on to win the tournament – I think it was his first major win & I like to think I had just a little part in it! Mika Immonen has watched me teach the jump shot for years and asked me for a copy of the DVD a few months ago. I had to tell him it wasn't finished yet. I was honored that he would ask and the next time I see him, I'll be handing him one! All I can say is - I DO know this shot and I CAN teach it"

Pro9
Why now, after all these years, did you decide to make an instructional DVD?

Robin
"Good question…As many people know, I am a Christian – have been for many years. One day, I was having my morning coffee with the Lord and I had a BIG question for him. I asked, "Lord, why 'World Champion'? Why 'Hall of Fame'? How do you want me to use these things you have given me? What is your next plan for me?" It wasn't long before I got an answer…I had a dream about opening a non-profit Christ-centered pool room. We started the ball rolling and although the desire was there, the timing just wasn't. Instead, we decided to start a Christian pool league. We formed our first league at our church four years ago and it is now at a place where it needs a home base. I know "Mastering The Jump Shot" grew out of my time that morning. Since God gave me the idea, He is my partner. Fifty percent of the profits from the sale of "Mastering The Jump Shot" will be set aside and used to one day open the doors to "Nehemiah's," a Christ-centered pool room. My desire is to provide a place for people from churches all over southern California to come & enjoy the game of pool. The league has been a great way for people to get connected and build lasting friendships with other Christians. I have so many friends from the past thirty years – because of pool. "Mastering The Jump Shot" has turned out sooooooooo much better than I could ever have imagined and I know it's because we didn't do it alone! I can't wait to see what God has planned for me next! "

Pro9
Who of the current crop of big guns do you think has the best skills when it comes to getting air underneath the cue ball?

Robin
"Shawn Putnam OWNS the jump shot…no one on the planet even comes close!"

Pro9
Who is your favourite current European pool player?

Robin
"My favorite European player is also the one of I have known the longest – Ralf Souquet. His game is awesome and he's a perfect gentleman! Of course, there are many others too…Europe raises great champions!"

Pro9
Robin, thank you so much for time, we really appreciate you sharing your story and thoughts with us.

Robin
"You're very welcome! It's an honor for me to be featured on your website - thank you for the opportunity. And I'd like to add my famous last words: START JUMPIN'!!!"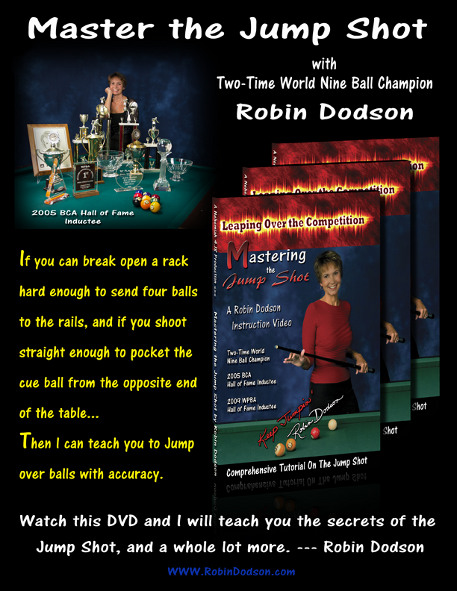 www.RobinDodson.com



Robin Bell Dodson was talking to Big Dave Knight
Enjoy the article? Now try this...
View Pro9's front page!
Chat about this article in our forums.
Visit The Pro Shop to see new cues and gadgets.
Check out the Pro9.co.uk calendar for details of more events.