WPA World 9 Ball Championship - Doha 2010
Qatar Billiards & Snooker Federation
Al Muntazah Street
Doha
Qatar
www.wpa-pool.com
www.qbsf.info
Download the brackets from the Group Stages
- Small .xlsx file
www.qbsf.info/w9bc2010/scores/page.php
- Live Scoring
www.alkass.net/live.aspx
- Live Streaming Video
CLICK HERE FOR PHOTO GALLERY
- New!
CLICK HERE FOR PHOTO GALLERY OF THE FINAL
- New!
Download the WPA Ranking List (includes this event)
- Small .xls file.
29 June - 5 July 2010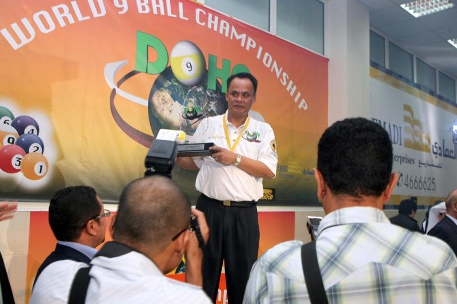 Finally, Bustamante wins the World Pool Championship!
All photographs appear courtesy of Farid Abdulwahab - many thanks!
Francisco Bustamante Wins World Crown
Francisco Bustamante has finally put the demons from the past to rest and has won a world championship. He defeated Kuo Po-cheng of Taiwan today 13-7 at the World Pool Championships in Doha, Qatar to finally be known no longer as the finest player not to have won a World Title.
To truly appreciate the significance of this feat you must go back to 2002 when Bustmante also played in the finals of the WPC against Earl Strickland. The evening prior to the final match word came from Manila that Bustamante's daughter had taken ill and died. Bustamante, crushed, was told that he need not play the final, that all would understand. He considered this, but his wife somehow reached him and convinced him that their child would have wanted him to continue the fight.

"Read More..." for the details.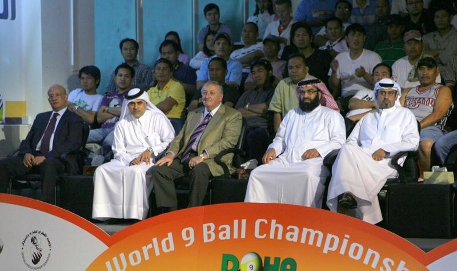 The spectators watching the final of the World Pool Championship in Qatar


Francisco Bustamante stretches to make an awkward long shot.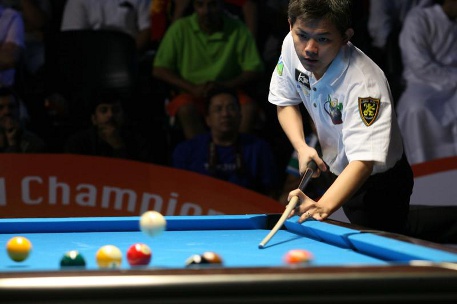 Kuo Po-Cheng gets some power into his break during the final.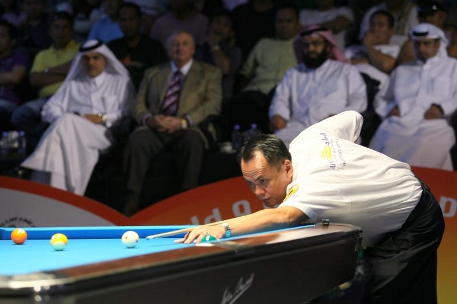 Bustamante in action in the final at the World Pool Championship in Qatar
And he did. In one of the bravest moments that our game has ever witnessed Bustamante took the stage while the crowd around him wept. Word had spread through the morning and the sight of this man continuing the battle after the hand that fate had dealt him was simply stunning.
He lost to Strickland that day, but won the hearts of every pool fan in the world. And since that moment we have been waiting, with him, for this. Today he defeated Antonio Lining 11-5 to re-enter the Final Arena and then put away Kuo Po-cheng, the man who has been in the quarter, semi, or final match of a WPC more times than any other player without a win.
Antonio Lining and Johnny Archer share the third place honors.

Kuo Po-Cheng receives his trophy from WPA President Ian Anderson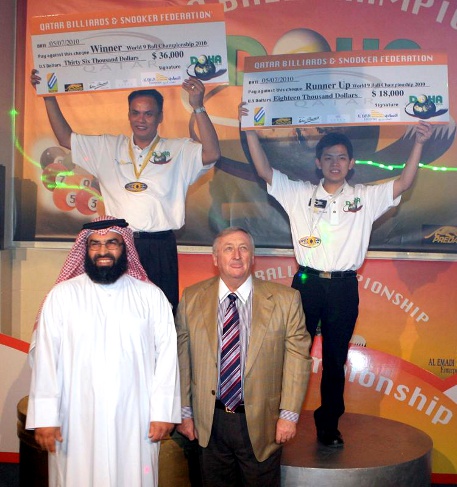 The finalists celebrate with their enormous pay cheques!
---
DAY 5 - WORLD POOL CHAMPIONSHIP
---
Four Men Left With A Shot at Greatness in Doha
We are down to the final four in Doha at the WPA World 9-Ball Championships. The four men left from the filed of 128 who began the week are Johnny Archer of the USA, Kuo Po-Cheng of Taipei, and Filipino countrymen Antonio Lining and Francisco Bustamante. As luck would have it Bustamante and Lining will face one another on July 5th and so one of them will be in the finals and one will finish in a tie for third place. Our other semi-final, of course, will find Johnny Archer doing battle with Kuo Po-Cheng.
These four all had tough paths to get to this point. Kuo Po-Cheng lost his very first match of the event (to Thomas Engert 9-5) and then went on a tear through the one-loss side to make it through to the final 64. Once there he knocked out John Morra 11-9, Ibrahim Bin Amir 11-10, Yang Chin Shun 11-9 and former World 9-Ball Champion Ronnie Alcano 11-5.
Johnny Archer may truly lay claim to a tough draw in the round of 64. His first foe was Efren Reyes. This one gave the fans all they could ask for as Archer avoided the Magician's spell and emerged with an 11-10 win. Then he took out Bruno Muratore (11-7) and Jason Klatt (11-8 ) before gaining his seat in the semi's by defeating Sandor Tot (11-6).
Francisco Bustamente, the sentimental favorite here, really had to hoe a tough row to get this close to the goal. His very first match was against Fabio Petroni and he took that one 9-7 before dominating the super-tough Tohru Kuribayashi 9-6. Then Bustamante really caught a stride and went past Oliver Ortmann 11-2, Ko Pin Yi 11-8, Marlon Manalo 11-6 and finally Francisco Felicilda 11-5.
Antonio Lining had a tough start as well. He had to get by Corey Deuel and he did so in a close match that wound up 9-7 in his favor. Then he just set his game on cruise control and skated through Khalid Al Kamale 9-5, Lee Poh Soon 11-6, Nguyen Phuc Long 11-6, and Dimitri Jungo 11-8. Making that final step into the fab four was a high jump. Oliver Mendenilla took Lining all the way to double-hill before Lining grabbed the final table to win 11-10.
It can only get more exciting from here. One of these four is only two wins away from a World Championship!
---
DAY 4 - WORLD POOL CHAMPIONSHIP
---
World 9-Ball Field Whittled to 32!
Normally the round of 64 is when the cream begins to rise to the top. But there are so many excellent players in Doha this week that some of that cream is being pushed aside and left on the floor. It is a case of immovable objects meeting irresistible forces. Something has to give.
As an example you certainly expect Efren Reyes to be around for the next round. And you expect the same of Johnny Archer. But those two met on the baize today and one of them had to be eliminated. That would be Reyes. Archer won their battle 11-10 and Reyes is left to seek a chessboard or a nice meal to console himself.
Likewise, Charlie Williams fell 11-9 to Scott Higgins and Oliver Ortmann was handled roughly by Francisco Bustamante 11-2. Ko Pin Yi is apparently deciding to live up to his potential as the former junior superstar simply glided past Ernesto Dominguez 11-3. Lee Van Cortezza had the misfortune of running headlong into Tony Drago and Drago wasted no time in sending him home 11-7.
Perhaps the greatest surprise of the day is that the two players considered by most pundits to be the best in the world, Ralf Souquet and Mika Immonen, both got handed their walking papers today. Souquet fought the good fight but still succumbed 11-9 to Vinancio Tanio. Lee Chenman, however, smothered Immonen 11-3 in a match that must have left the iceman in shock and awe.
Dennis Orcullo, who just won the World Pool Masters a few short weeks ago, is licking the wounds that Bruno Muratore inflicted with an 11-7 victory that leaves Muratore now to face Johnny Archer.
The action today reduced the field from 64 men down to 32. At the end of tomorrow there will only the sweet sixteen. And every one of those men will know that a World Title is within grasp. For some the arm will grow clumsy. For others the spirit will rise within and they will leap to the challenge and fight for the honor. There is a champion among the names left aboard the bracket. Pick your favorite and see if the golden ring lands upon his finger.
---
DAY 3 - WORLD POOL CHAMPIONSHIP
---
Group Stages Winding Down in Doha
Six of the sixteen groups have now completed play and all of the winners rounds are now complete so we know that the seeded players for the redraw into the final rounds.
This has been a very hard fought tournament to this point and there are notable casualties. In addition to Peach, Majid and Appleton, we can now add the names of Thorsten Hohmann, Karl Boyes, Huidji See, Fabio Petroni, Niels Feijen and Rodney Morris to the list of top players who will not be in the final rounds. They are being eliminated by some new names, so there is a new crop of players making their statements in Doha this week. Morris was beaten by Chan Kang Kwang. Feijen fell to Youseff Jatar and Petroni lost to So Shaw.
There is room for more stars to fall from the sky. There will be a do or die match tomorrow between Yukio Akakariyama and Thomas Engert. Another between Jeong Young Hwa and Chris Melling. Jason Klatt has to face Mark Gray and Radoslaw Babica will be firing at Alain Martel. Corey Deuel is not safe. He faces seasoned player Antonio Gabica. And Ricky Yang has to get past David Alcaide. Only one of each of these pairings can survive, so it will be a day of drama in Doha tomorrow.
Top 32 Seeds Already Determined
1 Chang Jung Lin TPE
2 Ronnie Alcano PHI
3 Masaaki Tanaka JPN
4 Mika Immonen FIN
5 Tony Drago MLT
6 Hayato Hijikato JPN
7 Yang Ching Shun TPE
8 Ko Pin Yi TPE
9 Lu Hui Chan TPE
10 John Morra CAN
11 Stephan Cohen nothing
12 Nitiwat Kanjanasri THA
13 Hanni Al Howri UAE
14 Dennis Orcollo PHI
15 Christian Reimering GER
16 Scott Higgins GBR
17 Raymund Faron PHI (UAE)
18 Konstantin Stepanov RUS
19 Johnny Archer USA
20 Antonio Lining PHI
21 Oliver Medenilla PHI (UAE)
22 Sandor Tot SRB
23 Ibrahim Bin Amir MAS
24 Shane Van Boening USA
25 Francisco Bustamante PHI
26 Alen Cuarcero PHI (KUW)
27 Vinancio Tanio PHI (UAE)
28 Craig Osborne GBR
29 Dimitri Jungo SUI
30 Israel Rota PHI (QAT)
31 Dang Jinhu CHN
32 Francisco Felicilda PHI (KSA)
---
DAY 2 - WORLD POOL CHAMPIONSHIP
---
Bad Day for Champs at World 9-Ball
Sometimes being a World Champion puts a big target on your back. Defending Champion Daryl Peach will not repeat his feat as he has gone two and out in Doha and his countryman and former World 10 Ball champion Darren Appleton shared that fate.
Peach lost his matches to Israel Rota of Qatar and Artem Koshovoj of the Ukraine, Appleton lost first to Jason Klatt of Canada and then to Taqi Moustafawi of Algeria. Today was mostly a day for the one-loss side to weed itself, but four men have made it through the winner's side without a loss and so have graduated from the group stages into the final rounds. They are Shane Van Boening of the USA, Ibrahim Bin Amir of Malaysia, Lui Hui Chan of Taipei and Scott Higgins of Great Britain.
Imran Majid had a bad stay in Doha. Another two and out victim, he lost to two very fine players in the form of Mariusz Skoneczny of Poland and Bruno Muratore of Italy. Most of the other big names are still alive, but there are many more one-loss matches to be played so some of them will no doubt bite the dust and never reach the last stage.
Play resumes on Thursday and we will keep you updated as to the fates of all the players.
---
DAY 1 - WORLD POOL CHAMPIONSHIP
---
WPA World 9-Ball Championships Begin Second Stage
The WPA World 9-Ball Championship has now begun the second stage in Doha, Qatar at the headquarters of the Qatar Billiard and Snooker Federation (QBSF). The first round of the group stage matches began today. Each contestant is in a group that contains four other players and they will play down inside those groups until there are only two players left on both the winners side and on the one-loss side. Those 64 players will then progress to the championship round of play.
The first day is usually one of surprises ands we had a few today. Already on the one-loss side of the bracket are such champions as Imran Majid, Marlon Manalo, Thorsten Hohmann, Ernesto Dominquez, Fabio Petroni, Kuo Po-Cheng, Oscar Dominquez, Daryl Peach, Jeff De Luna, Efren Reyes and Ralf Souquet. In most tournaments that field would be the cream of the final sixteen!
THE STATS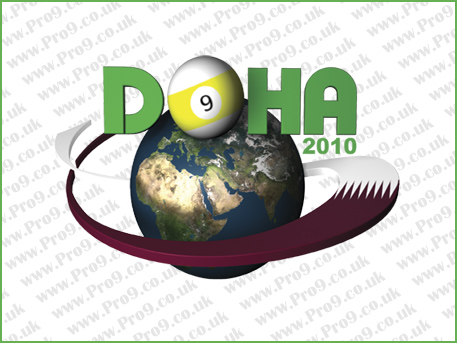 2010 WPA WORLD POOL CHAMPIONSHIPS

DOHA - QATAR

THE LAST 64 DRAW

Chang Jung Lin (1)

9 : 11

Jeff De Luna

Francisco Felicilda (32)

11 : 7

Bashar Hussain

Raymund Faron (17)

11 : 8

Artem Koshovoj

Scott Higgins (16)

11 : 9

Charlie Williams

Lu Hui Chan (9)

8 : 11

Marlon Manalo

Shane Van Boening (24)

11 : 7

Joven Alba

Francisco Bustamante (25)

11 : 2

Oliver Ortmann

Ko Pin Yi (8 )

11 : 3

Ernesto Dominguez

Tony Drago (5)

11 : 7

Lee Van Corteza

Craig Osborne (28 )

11 : 4

Antonio Gabica

Oliver Medenilla (21)

11 : 9

Yukio Akakariyama

Nitiwat Kanjanasri (12)

11 : 4

So Shaw

Hanni Al Howri (13)

2 : 11

Nguyen Phuc Long

Antonio Lining (20)

11 : 6

Lee Poh Soon

Dimitri Jungo (29)

11 : 9

Joussef Jalar

Mika Immonen (4)

3 : 11

Lee Chenman

Masaaki Tanaka (3)

11 : 8

Alain Martel

Israel Rota (30)

8 : 11

Jason Klatt

Johnny Archer (19)

11 : 10

Efren Reyes

Dennis Orcollo (14)

7 : 11

Bruno Muratore

Stephan Cohen (11)

9 : 11

Mariusz Skoneczny

Sandor Tot (22)

11 : 5

Marcus Chamat

Vinancio Tanio (27)

11 : 9

Ralf Souquet

Hiyato Hijikata (6)

11 : 9

Liu Haitao

Yang Chin Shun (7)

11 : 7

David Alcaide

Alen Cuarcero (26)

6 : 11

Nick van den Berg

Ibrahim Bin Amir (23)

11 : 9

Chan Keng Kwang

John Morra (10)

9 : 11

Kuo Po-Cheng

Christian Reimering (15)

11 : 9

Carlo Dalmatin

Konstantin Stepanov (18 )

9 : 11

Toru Kuribayashi

Dang Jinhu (31)

11 : 9

Chris Melling

Ronato Alcano (2)

11 : 6

Muhammad Zulfikri
2010 WPA WORLD POOL CHAMPIONSHIPS

DOHA - QATAR

THE LAST 32

Jeff De Luna

10 : 11

Francisco Felicilda

Raymund Faron

11 : 10

Scott Higgins

Marlon Manalo

11 : 7

Shane Van Boening

Francisco Bustamante

11 : 8

Ko Pin Yi

Tony Drago

8 : 11

Craig Osborne

Oliver Medenilla

11 : 9

Nitiwat Kanjanasri

Nguyen Phuc Long

6 : 11

Antonio Lining

Dimitri Jungo

11 : 8

Lee Chenman

Masaaki Tanaka

10 : 11

Jason Klatt

Johnny Archer

11 : 7

Bruno Muratore

Mariusz Skoneczny

6 : 11

Sandor Tot

Vinancio Tanio

5 : 11

Hayato Hijikata

Yang Chin Shun

11 : 9

Nick van den Berg

Ibrahim Bin Amir

10 : 11

Kuo Po-Cheng

Christian Reimering

11 : 6

toru Kuribasyashi

Dang Jinhu

7 : 11

Ronato Alcano
2010 WPA WORLD POOL CHAMPIONSHIPS

DOHA - QATAR

THE LAST 16

Francisco Felicilda

11 : 8

Raymund Faron

Marlon Manalo

6 : 11

Francisco Bustamante

Craig Osborne

9 : 11

Oliver Medenilla

Antonio Lining

11 : 8

Dimitri Jungo

Jason Klatt

8 : 11

Johnny Archer

Sandor Tot

11 : 7

Hayato Hijikata

Yang Chin Shun

9 : 11

Kuo Po-Cheng

Christian Reimering

6 : 11

Ronato Alcano
2010 WPA WORLD POOL CHAMPIONSHIPS

DOHA - QATAR

THE QUARTER-FINALS

Francisco Felicilda

5 : 11

Francisco Bustamante

Oliver Medenilla

10 : 11

Antonio Lining

Johnny Archer

11 : 6

Sandor Tot

Kuo Po-Cheng

11 : 5

Ronato Alcano
2010 WPA WORLD POOL CHAMPIONSHIPS

DOHA - QATAR

THE SEMI-FINALS

Francisco Bustamante

11 : 5

Antonio Lining

Johnny Archer

10 : 11

Kuo Po-Cheng
2010 WPA WORLD POOL CHAMPIONSHIPS

DOHA - QATAR

THE FINAL

Francisco Bustamante

13 : 7

Kuo Po-Cheng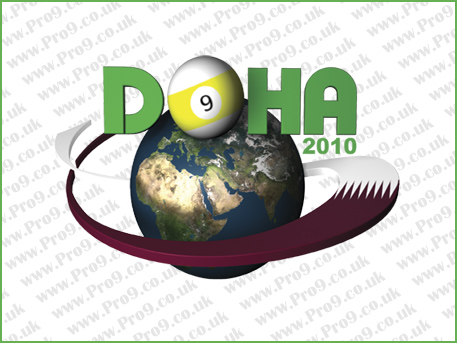 2010 WPA WORLD POOL CHAMPIONSHIPS

DOHA - QATAR

THE PRIZE FUND

1st

$ 36,000

2nd

$ 18,000

3rd ~ 4th

$ 10,000

5th ~ 8th

$ 6,000

9th ~ 16th

$ 4,000

17th ~ 32nd

$ 2,500

33rd ~ 64th

$ 2,000

65th ~ 96th

$ 500

97th ~ 128th

$ 0

TOTAL PRIZE FUND = US $250,000 (-5% WPA Sanction Fee)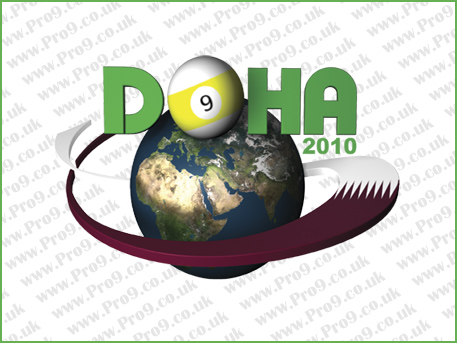 Chat about this tournament here.