Full Name - Daryl Peach
Date of Birth - 8th March 1972
Born - Wakefield, Yorkshire, England
Lives - Blackpool, Lancashire, England
Titles/Achievements - 2007 World 9 Ball Champion
- 2010 World Team Champion (GB)
- 2009 International 9ball Open Champion
- 2009 International 8ball Open Champion
- 2007 Mosconi Cup Winner
- 1995 Mosconi Cup Winner
- 1995 World Masters Champion
- 3 x Eurotour Winner
- Eurotour Current ranking No.1
- Highest World ranking No.2
- Winner of over 40 UK ranking events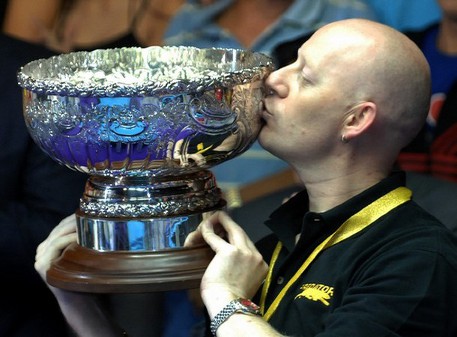 On the eve of the World Championships, we interview the defending champion!

Pro9
It's always a privilege to get a chance to ask the questions that I think everyone want's to know, and the first thing I always want to know when I meet a World Champion is, where does the drive, the ambition to succeed come from? What was your childhood like, was there something there that you think sparked this passion, this desire, or even your need to win?

Daryl
"That's a good first question! When I was a kid, my dad always encouraged me to play as many sports as possible, whether it was Snooker, or Cricket, I was always involved and enjoyed every minute. I think this must have been where I got my love for competing, which I think is something you need to be a real success in sports. Now-a-days, even if I'm in the pub with friends playing darts, or anything where competing is involved, I always want to win with a passion. It doesn't matter who I'm playing against, it might even be my Dad, but I always want to win. It's something that I am very passionate about, and very proud of, and I have my Dad to thank for this."
"Read More..." for Pro9's exclusive interview with Daryl Peach.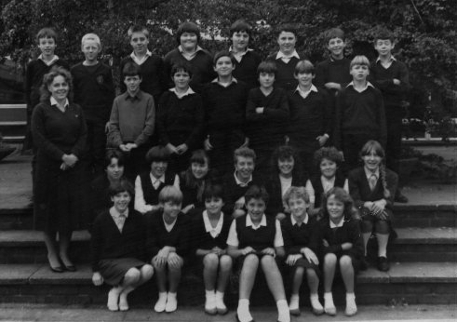 Pro9
How did you start playing cue-sports, and what sort of encouragement did you receive in the early years?

Daryl
"I started playing snooker at the age of 6 when my parents bought me a 6 foot table for Christmas. I improved very quickly on the table, but when I lived in Yorkshire my real passion was for rugby league. I played for Yorkshire school boys until the age of 13. This was when we moved to Blackpool, and rugby league got put on the back burner for one reason or another, and I really got into snooker. I started practicing every day straight after school at my local club, and before I was 15 years old, I had made over 200 century breaks. I started winning junior events, and carried on to playing Pro-ams, and eventually turning Pro in the early 90's. My parents were always behind me 100%, and it was a devastating time for them when I told them that I was going start playing American Pool instead, mainly because I wasn't earning enough money at snooker.
It didn't take long for my parents and myself to realise that I had made the right move, I won the first 3 UK ranking events that I entered, and also won the World Masters and a Mosconi Cup winners medal, both in my first year as a pro!"

Pro9
Daryl, Its been a great year for you up to now, what do you put this down to?

Daryl
"Well, to be honest, I'm not 100% sure why I have been playing so well, because I have hardly practiced at all since my local club closed down in February. But for the little bit of practice that I have had over the past few months, I have to thank Maria and her staff at Stephen Hendry snooker & pool club in Preston for letting me practice there, and also Louis Callaghan who is a friend and fellow pool player who has a table at his house, he also has let me practice there. So as you can see, I have not been putting my normal 2 hours practice per day in, in fact it's been more like 1 or 2 hours per week at the most!
But I always try to look at the positive side to everything, and with this it's the fact that I am definitely fresh for each event that I play in.
One thing that I will say though, is, that I will be having a brand new custom built table delivered to my house very soon, which will be from one of my main sponsors, Diamond Billiards. I have had a room built onto my house which is absolutely fabulous. Once my table arrives, not only will I be practicing a lot more, but I will be running Coaching schools, and also using the room as a show piece to sell Diamond tables over here in the UK."

Pro9
We have all heard in many previous interviews with you about your fabulous World 9 Ball title, but how does it feel to be a double world champion after winning the World Team Cup?

Daryl
"It was an awesome feeling when we won the World team Championships in Hannover back in February. It was similar to when I won the World 9 Ball Championship in that we beat the best along the way, Germany, China, and to top it all off, the Philippines in the final. I really enjoy the team events, you get a chance to play alongside the guys that you are trying beat all year round, but for me it's all about the buzz and the pressure of world class team play. Luckily for me, my team mates that I played alongside in this event are some of the best in the game, and I am sure they feel the same about me!"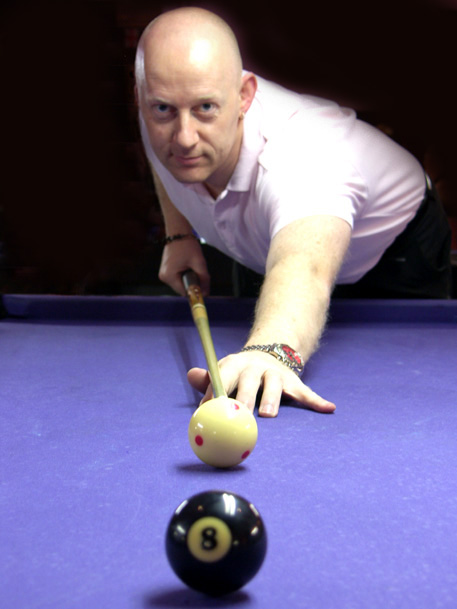 Pro9
Carrying on from your last comment, how do you see the British game in general, past present, and future?

Daryl
"Well in the past, even though I personally had some success early on in my career winning the 95 World Masters and also a Mosconi Cup win in the same year, I always felt that the British players were looked upon as a bit of an "easy touch" from overseas players. This in my eyes was somewhat true, because we were new to American pool. What they didn't realise though, was that it was only a matter of time before we caught them up, and even overtook most of them, which is what we are seeing now-a-days. It's a real nice feeling knowing that Great Britain are now a real force in World Pool now, and I feel that I am one of the players that has helped make this happen by raising the bar in British pool time after time over the years, and therefore raising the whole standard in Great Britain. You only have to look at the Eurotour Rankings to see this… We are starting to dominate now. We have one of the best, and toughest national tours around, and I can only see British pool getting even better in the future."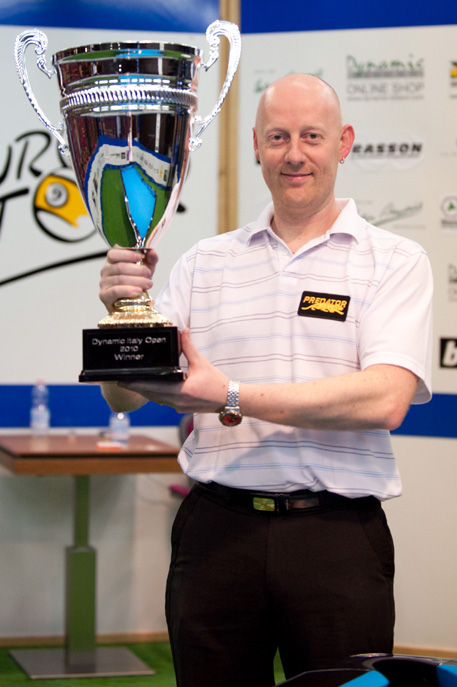 Photograph © EPBF / Bethan Louise Sage - & used by Pro9 with express permission.

Pro9
Talking about Eurotour rankings, you are now the number 1 ranked player, this must be another major feather in your cap?

Daryl
"Yes it is, especially because this was my main goal for this season. I have won 2 out of the last 5 Eurotour events, and feel that I fully deserve to be where I am…..at the top of the rankings. I was disappointed in the last event in Germany because the joint in my cue stick came apart, which in turn meant it was impossible to play to my usual standards with it. It's something that you never could expect to happen, but it just goes to show that you never know what's around the corner."

Pro9
So this must mean that you are in the shake up for this year's Mosconi Cup?

Daryl
"Well, since the back end of last year I have won many events, from GB9 Ball Tour events to Eurotour events, and from European Open events to World events. But as I said in the last question, my main goal for this year was to reach the number 1 spot on the Eurotour rankings, and the main reason for this goal was to get into the European Team for the Mosconi Cup. I have been lucky enough to play on the winning side twice before, and for me, it's the greatest pool event in the world, and every European and American player wants to be a part of it. This year promises to be extra special because it will be held in London. I will simply keep doing what I am doing, and try to win every match I play."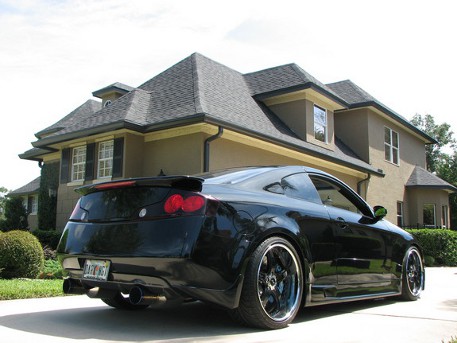 Daryl is a keen driver, his cherished Nissan Skyline is capable of 0-60 in 4.9 seconds.

Pro9
What do you do outside of pool, do you have any other interests, both business or leisure?

Daryl
"Well, I enjoy property development. I don't get carried away by doing more than I can handle, I just buy one place at a time and wait until its finished before I move onto the next one, but I am going along quite nicely. This also fits my lifestyle more because I am away with my pool so much.
In my spare time I love playing golf, I play off a handicap of 8, which I think I could get down a fair bit if a had chance to play more. I also enjoy singing on Karaoke when I get chance, and basically having a few beers with friends. I also own half of a race horse (front half lol), it's just started racing and even though it hasn't won either of it's first 2 races, it's definitely turning a few heads. Keep an eye out for it, it's called Colamandis."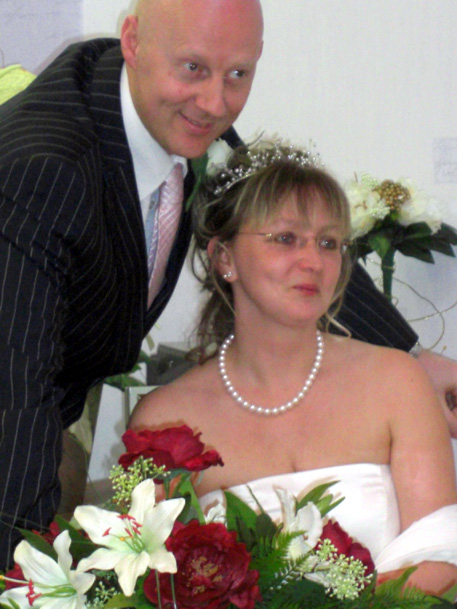 Pro9
And you've recently started a family - do those sleepless nights affect your focus?

Daryl
"Not at all, Ellie (my daughter) is an absolute angel, all the credit for that goes to my wife. Maybe there were a few sleepless nights in the early days when she was born, but now she is 3 years old and sleeps well. "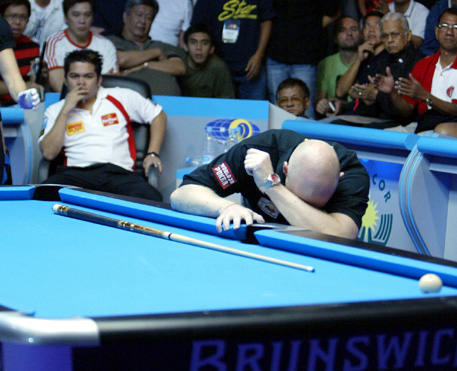 Pro9
You will soon be defending your World 9 Ball crown in Doha, Qatar, how do you feel about that?

Daryl
"I am over the moon to finally get the chance to defend my title. I think the defence of a big title is something that every true champion deserves, but until now I have been denied the chance due to politics in our game. I am a little annoyed about this, but once again, on a positive note I have had 2 and a half years of invites to many great tournaments around the world through being world champ, instead of the usual 1 year's invites! But I am really excited about defending my title in Doha, I have been there a couple of times before and it's a great place with great people."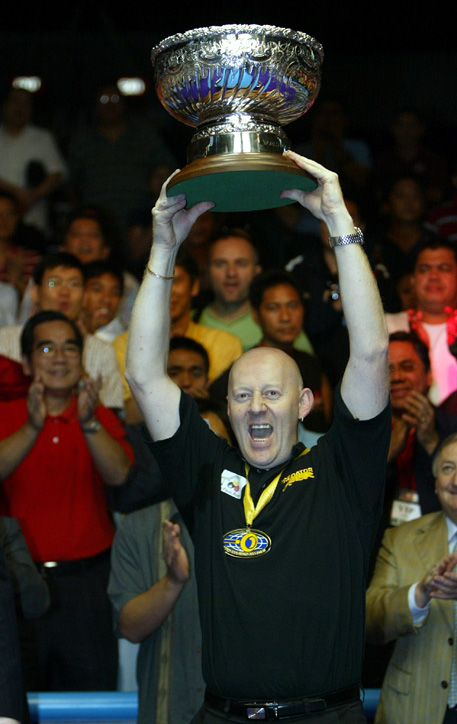 Click the picture to view the full size photo, use the back key to return here.



Daryl, it has been an absolute pleasure as always,
and thank you for your detailed views and insight into our beautiful game.
Enjoy the article? Now try this...

Chat about this tournament in our forums.
Visit The Pro Shop to see what's new in cues and gadgets.
Check out the Pro9.co.uk calendar for details of more events.