WPA World 9-Ball Championship 2010
Qatar Billiards & Snooker Federation
Al Muntazah Street
Doha
Qatar
Tel: 974-435-6099
www.wpa-pool.com
www.QBSF.info
www.nycgrind.com
25 June - 5 July 2010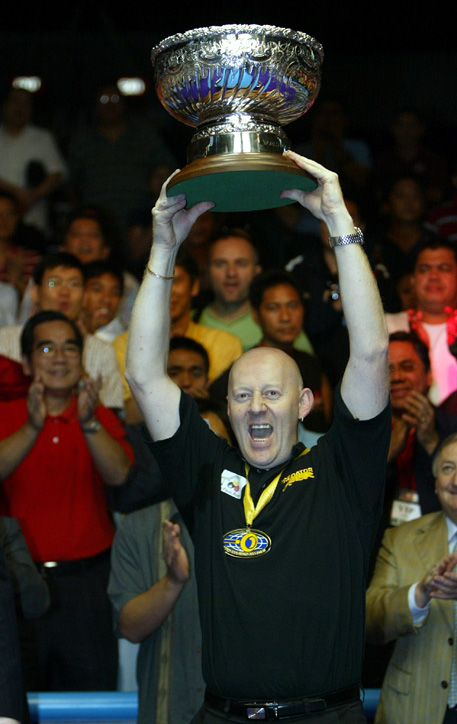 2008 World 9 Ball Champion, Daryl Peach from Blackpool.
Photo courtesy of Lawrence Lustig at Matchroom Sport.
Article kindly reprinted here with express permission from www.nycgrind.com
Exclusive Interview from Geoff Conway
One man who cannot wait for the World 9-ball Championships to come round in early July 2010 is Daryl Peach from Blackpool, England. Daryl, who won the prestigious title in Manila back in 2007, has had to wait until 2010 because of organizational changes within the governing body to finally get his chance to try and make it two in a row in Doha, Qatar, on July the 5th, the final day of the event.
Along with Daryl, there will be a plethora of World Champions both past and present, all trying to take down this title. You can read the press release with more details on this monumental event on AZbilliards. One man in particular will be the runner up in 2007 Roberto Gomez from the Philippines, who emotionally broke down in front of his home crowd, and was made to watch the trophy being lifted in the air by a jubilant Mr. Peach.

"Read More..." for the details.
I asked Daryl during an interview in May at the World Pool Masters in Las Vegas just what his goals were for this year, and he said, "My main goal is to make this year's Mosconi Team, and my results to date this year will hopefully make this possible. Of course winning back to back World 9-ball Championships would be the icing on the cake, and will definitely help me claim my place on the Mosconi Cup team."
Below is an in-depth answer from Daryl Peach to my question, "What did winning the World 9 Ball Championship mean to you back in 2007, and how did it change your life in any way… and finally, what would it mean to you to pull off back to back wins in this discipline." (Winning back to back has never been done in recent years.)
Daryl Peach: World 9-ball Champion
"Like all pool players, when I first started to compete, I wanted to be 'World Champion'. All start, many fall, but I was lucky enough to fulfill my ultimate dream. I started playing pool back in 1995 at the age of 23, after playing snooker since I was virtually in nappies (diapers). I knew that my eye for pocketing balls was as good as anyone's, and I proved this by winning the World Masters in my 1st year as a pro pool player, and then following it up with a Mosconi Cup win. But looking back, the pro game was not as star-studded with exceptional talent as it is now, and although those big wins for me at the time were superb achievements, I understand now that they were more like "potting wins" where I simply just pocketed more balls than anyone else.
Nowadays, you can't win tournaments by just pocketing balls, you have to have a great safety game, kicking game, and break shot, and obviously, you have to be able to pocket balls exceptionally well. But the most important thing that every player who is striving to win events needs, especially at top pro level, is loads of bottle (guts), and immense concentration skills. Over the years, I learned to improve and apply these skills until I could compete at a world class level. So, in November of 2007 at the Araneta Coliseum in Manila, Philippines (where Ali vs Frazier fought the "Thriller in Manila"), I achieved my ultimate dream….I became the World 9 Ball Pool Champion. And just to make things even sweeter for me, I did it in the "Home of Pool", where the world's greatest talents hail from…and this was the main reason why everyone wanted to win this event more than any other.
In the early rounds, I battled hard to qualify for the Final 64 players, where I happened to draw the reigning World Champion, Ronnie Alcano, from the Philippines. This was the match that made me realize that I could go all the way, as I played near perfect, coming out the 10-6 winner. I didn't want to get ahead of myself though, as this was how many great players have fallen by the wayside in past years. I, then followed this up by beating a tough Lee Kun-Fang, who was runner up in 1997 by a score of 10-7. Next was Harold Stolka of Germany by 11-4, which set up a massive game against Francisco Bustamante.
Fans watching on TV around the world, along with were 4,000+ in the arena for this match, were not disappointed. This match produced one of the most intense, nerve-trembling matches ever seen, and I am so proud to have been part of it…and even more proud in the way I held my nerve to win 11-10. I went on from this huge match with my confidence at a high to beat 2003 World Junior Champion Vilmos Foldes 13-3 in the semi final… and all of a sudden I was there, in the final of the World 9-Ball Championship! The night before the final, I remember only getting about 2 hours sleep, but it didn't matter because the adrenaline pumping through my veins kept me more than awake.
In front of over 7,000 spectators in the famous arena, and millions watching around the world on live TV, I beat Roberto Gomez of the Philippines 17-15 in a real knee-trembler. I remember after an emotional prize ceremony, being rushed off to do 30 or 35 interviews for different TV, radio, magazine, and newspapers, and even though I think I did a good job of this… the fact was that what I had achieved had not really sunk in yet. Not until I was on the plane on my way home where I had time to think, did I realize fully what had just happened……I had won the hardest tournament to win in the history of pool… and its an extra sweet feeling knowing that nobody can ever take that away from me!
I got to Manchester airport in the UK where there were TV cameras waiting for me, along with many family and friends. For the next few weeks, all I seemed to do was make many interviews and appearances on UK TV channels… I quickly learned that this was part of the deal of being a World Champion. So basically, it changed my life immediately in a pool sense, but as a person, I still am, and will always be the same Daryl Peach.
Apart from my second Mosconi Cup winning appearance six weeks later, my form dipped badly. This bad lull went on for around nine or ten months, and the only explanation that I have for that is that I put too much pressure on myself to win more and more titles. Luckily for me, I learned to overcome this, and have been playing very well ever since, and in fact since then, I have become a World Team Champion along with my fellow GB teammates (February 2010) in Hanover, Germany.
Daryl Peach with his champion teammates Darren Appleton (front), Karl Boyes, Mark Gray, and Imran Majid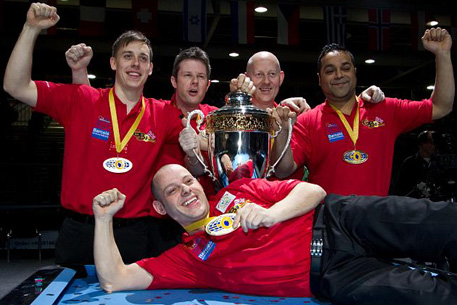 Daryl Peach with his champion teammates...
Darren Appleton (front), Karl Boyes, Mark Gray, and Imran Majid
Photo © Markus Hofstätter/Touch Magazine - used by Pro9 with express permission.
Because of the confusion surrounding the World 9-ball Championship since I won it back in 2007, I have not had a chance to defend my well earned title. It's hard to describe how this has made me feel, but probably annoyed and frustrated are the best two words.
Now, all this has changed because I will get chance to defend my title in Doha, Qatar, in July 2010, which I am extremely excited about. I am looking forward to this event so much, as I feel that I have been hard done by, for not getting the chance to defend my title earlier.
Do I rate my chances of successfully defending my title? Absolutely! I am playing better than ever at the moment, and just to prove this, I have won the last two GB9 events in the UK this year, and more importantly, I have won 2 of the last 4 Eurotour events, on a tour that is probably the toughest in the world, with every reigning World Champion playing on it, along with many former World Champions, too!
One thing that I do know, is after playing in Qatar on more than one occasion, that they will put on a superb event…an event that everyone will want to win, for one sole reason…..because it's the World 9-Ball Championship!"
We at NYCgrind.com wish Daryl and all of the other entrants in this event the best of luck, and ask you to stay tuned at the end of June for detailed coverage of the World 9 Ball Championship. Plus some insights from the present champ, Mr. Peach on his progress through the event.
Geoff Conway - Pool Junkie

NYC Grind is dedicated to bringing new talent to light, and making a positive contribution to the world of pool and beyond. If you enjoyed this article and would like to see more of the same, you might like to check out their website at www.nycgrind.com
Enjoy the article? Now try this...

Chat about this tournament in our forums.
Visit The Pro Shop to see what's new in cues and gadgets.
Check out the Pro9.co.uk calendar for details of more events.