EUSA Billiards Cup 2010
Baribal Billiard Club
Tartu Highway 63/Hermanni 1
Tallinn
Estonia
Email:
info@eusabilliardscup.com
www.eusabilliardscup.com
www.eusa.eu
www.epf.ee
www.easl.ee
www.baribal.ee
www.revalhotels.com
10-13 August 2010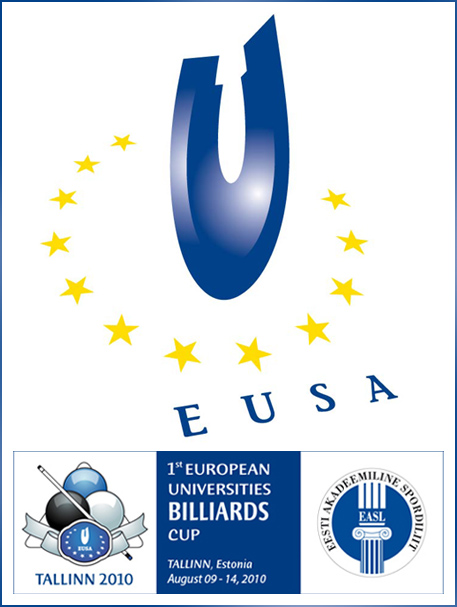 University Teams invited to EUSA Billiards Cup 2010
We are glad to invite University teams to represent your country at 1st European Universities Billiards Cup 2010. Tournament will take place from 9 to 14 August 2010 in Tallinn, Estonia.
Entries
Deadline for General Entry form is 16.06.2010
Each University team may enter with a minimum of one (1) and a maximum of five (5) men's athletes , a minimum of one (1) and a maximum of three (3) women's athletes and a minimum of one (1) and a maximum of four (4) officials. A Head of the Delegation must be appointed. In one team at least half of the players must be from one University.
"Read More..." for the details.

Programme
09. August 2010 Arrivals, Accommodation
10. August 2010 Arrivals, Accommodation, Trainings, Technical meeting.
11. August 2010 Preliminary rounds.
12. August 2010 Preliminary rounds.
13. August 2010 Finals. Closing ceremony.
14. August 2010 Departures.
Accommodation
All participants will be accommodated in 4 stars class Reval Park Hotell & Casino hotel standard class rooms. All rooms have free wireless internet, bath or shower, minibar, multi-channel TV, climate control, Iron etc. Hotel is situated about 10-15 min walk from Historical center of the city and approximately 750m away from Baribal billiards club (event venue).
Fee
50 € per person per night for each member of delegation during tournament dates (5 nights). Participants have also pay EUSA entry fee in amount of 10 € per person per tournament. A deposit of 100 € shall be payed to Organizing committee together with General entry form. 50% of participation fee shall be payed with Quantitative entry form (deadline 09.07.2010) and balance upon arrival during accreditation for the tournament.
Fee includes accommodation, full board, entertaining programmes.
Awards
Winner will be named as European Universities Cup champion. Medals shall be awarded to the first three participants. Tournament prize money is 5 000 €, prize structure will be announced after the draw. Each participant will receive memory gifts from OC. Special gifts from tournament sponsors and partners.
Contact
Official web site: www.eusabilliardscup.com
Contact Person: Artjom Beresnev
Mobile +372 555 474 55 email:
info@eusabilliardscup.com
Do not hesitate to contact me with any questions.
Welcome to Tallinn !

Enjoy the article? Now try this...

Chat about this tournament in our forums.
Visit The Pro Shop to see what's new in cues and gadgets.
Check out the Pro9.co.uk calendar for details of more events.