The Pressure Room
featuring Rico Diks
LIVE - On stage
Underbelly of Hoxton
11 Hoxton Square
London
N1 6NU
United Kingdom
Tel: +44 207 613 1988
Tube: Old Street
www.underbellyhoxton.com
www.thepressureroom.com
www.myspace.com/thepressureroom
www.facebook.com/thepressureroom
20.30pm Friday 5 May 2010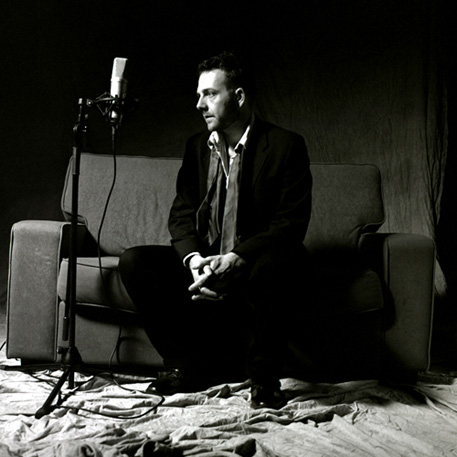 Free album for everyone at Album Launch Party in London!
Yesterday the Poolkrant office received the debut album of The Pressure Room, fronted by Rico Diks. With the live stream of the European Championships on the screen and Rico's music in our ears we got homesick to yesterday's and were asking ourselves if Rico got homesick as well...time for an interview. How are things with Rico Diks, ex-pool professional, musician, front man of The Pressure Room, living in London, England.
Interview used with kind permission from Dave Goldstein at www.poolkrant.nl

Rico, its Sunday afternoon. Any ideas who the winners of the European Championships are?
Yes, I followed a lot of matches via the live stream. I haven't played a serious game for about half a year, but I do still have an interest in pool and a lot of fun when playing the game.
What did you think of the European Championships?
The tapped-in racks are disastrous for the sport. So many balls easily flying in off the break, that's not healthy anymore. In the 8-ball tournament, after every break the tables were unnaturally wide open and with all the balls in the middle of the table. I was itching to play but not in this format. Alternate break and tapped in sh1t, let's call the beast by it's name, is disastrous for the more skilled player. Nick and Niels can't ever show their high gear in this format, something which is normally their strength, because after one rack you have to sit down again. There are a lot of players who are unable to run four racks but you don't have to anymore. Run a rack and sit down is all that's required. It totally changes the sport. 10-ball is a game where you'd normally see a lot of tactics, kicks, and safeties. Now according to official tournament statistics an average of 3.2 balls were sunk on the break and it wasn't 10-ball anymore but 7 or often 6-ball.
The 9-ball tournament was even worse; I saw breaks where 6 balls flew in off the break.
Exactly, that's not fun anymore, then it becomes a very simple run out game and this will cost the more skilled players. But hey, the EPBF runs a very tight tournament schedule and that's why they've done this initially: the matches have to finish at a certain time. They've manipulated the sport, which may be good for their commerce but it's bad for the sport. I find it all a bit sad to be honest. It's all become very tame and not exciting at all anymore.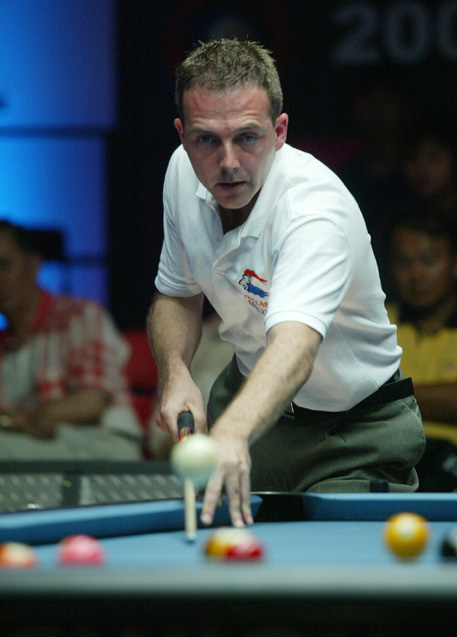 Still you were itching to play though?
Yes, normally 10-ball, without the tapped-in balls, is so much fun. You need a lot of parts of your game in good working order but in this format? No thanks. For me and I think for a lot of the players, the EC's were much cooler tournaments to play about 6 years ago. Then you still had the National Team event during the last days which made the tournament go out with a bang. You're playing for your country and for your team mates which feels great. Now there's a separate team event by the EPBF where hardly anybody shows up.
Do I hear criticism towards the EPBF?
Well...
You're retired; you can say anything you like now.
Hahaha. Well, in my opinion they've manipulated the sport with the tournaments and the formats. I don't think it's a good development for the sport.
When the International Pool Tour ended you stopped indefinitely right?
I actually stopped playing a year before that. When the IPT came around, I tried to qualify because this tour was really looking good and I succeeded straight away. Then I played the IPT tournaments and it went really well. It was very sad the IPT ceased to exist. No other compatible tour has sprung and I don't see this happening in the near future.
Do you still give coaching?
Yes definitely, I teach and entertain corporate, private parties at pool halls. I get booked by Rileys, The Elbow Rooms and have been in contact with the Ten-Pin bowling chain to maybe work together in the near future.
Do you earn a living from it?
Almost. There are times when I live from month to month, from rent to rent. This doesn't necessarily bring peace of mind but when it does work out and by doing the things I love, it feels really good. At the end of the day I live off of music. Not in a financial way but there are other ways of calculating 'what you live from'.
The last thing most people in Holland know about you musically, was the band Amigdela. What happened since?
That band came to a natural end. I still see them regularly. In the last 6 months of Amigdela I got to know another musician Matt Nasir, during an open mic night in Covent Garden, where he played guitar and anyone could play with him. He asked me if I knew anything by Radiohead. Man I know everything by Radiohead!
We played that night which was amazing. Then he asked me if I wanted to record my vocals on a few songs he'd made. During those recordings we came up with lots of new ideas and a few of those now appear on the album. After that we found a few other musicians and that's how the The Pressure Room was born. It's been a long process but now our first 'document' is finally here. It's the first documentation of what I love to do and really want others to hear. The creativity that Matt and I have together is definitely the foundation of the band.
What took you so long?
Matt is a professional musician and get's booked by other bands as well. He has toured with Andy Yorke, the brother of Thom Yorke who is the singer in Radiohead. He's currently on a world tour with Frank Turner. He travels all over the world to earn his living.
Look, we're not 16 anymore so we can't just get together every night and play. Most of the time we have to compare agenda's and arrange our playing and recording time this way.
Did the recording happen in different stages?
Exactly. First the drum tracks, then the bass, piano, guitar…. And last the vocals. After that all those tracks have to be mixed separately and then together which can take anything from 10 to 30 hours per song. It's a process which we might do different next time. We could also rent a house on the hill, for a week, without any agenda's and nobody leaving. This will probably create a whole different energy.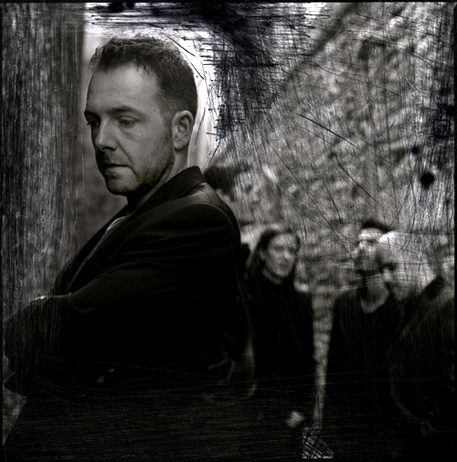 I have listened to the album a few times now and it's really amazing! You guys really create a unique sound.
Thank you! Of course there's always the question; 'Who do you sound like?' and that's fair enough. I then often say we sound like Radiohead, Coldplay, Muse, those kind of bands but actually we don't sound like any of 'em and I like it like that. With our music we can be played on Radio 1. We can blow the crowds at arenas or festivals away, I honestly believe that's true. There are a lot of good bands everywhere but we will be noticed.
You will have to do some serious promoting then.
We do and we are. Our only goal at the moment is to be heard all over the world. Our managers are having meetings with record companies etc as we speak and soon you can also find us on Itunes, LastFM those kind of platforms. Even though a lot of music gets spread online, we still printed CD's. There is still a market for this. It's still nice to have an actual physical CD, just to look at the artwork, read the lyrics etc.
Where can people buy the CD?
On our new website, www.thepressureroom.com. You can buy the CD for £10 and it'll be delivered to your door. Apart from that we're designing T-shirts for ladies and men. They're going to look great so even if you're not a fan it'll be a very nice shirt to wear.
What are your plans for the near future?
Promoting of The Pressure Room and to make sure the album gets heard all over the world. I'm positive that if for instance 100 people heard the album, the majority would think; 'that sounds pretty cool'. Besides this we're booking live shows now, promoting online etc. I'm also trying to get Matchroom sports and ESPN STARsports to use our music for their programmes which they've done before
When's the album launch party?
We've just booked it and it'll be Wednesday the 5th of May 20.30 at the 'Underbelly' in Hoxton Square. We're going to make it a night to remember! I'd advise anybody who likes music to come down that night because we've got something we want to show everyone.
Great isn't it? Making music.
For me it's the best thing there is, next to family and friends
I've got two favourite songs, Somersault and Southside. Do you have any favourites yourself?
I'm honestly very happy and proud of all the songs but it's true that Somersault is a nice summary of who we are and what we sound like. And that song has stood the test of time as well.
When are you coming to Holland?
I still get to go to Holland quite often but when I come it's usually for 1 or 2 days. I want to come for a longer period soon.
Great, then we can shoot some pool! To see if you can still play ha ha!.
That sounds great. Let's.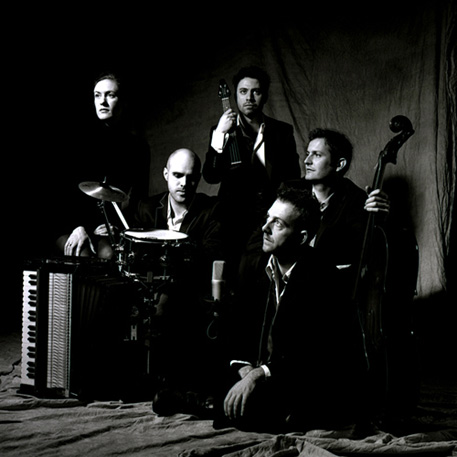 The Pressure Room - Wide of The Mark
Copyright and TM: Low Octave Records & Autarch Music Publishing, 2010
Rico Diks is the absolute front man of The Pressure Room. The interesting rhythms, hypnotising piano riffs, violin and cello's: they all work together to support the poetic lyrics by lead singer Rico Diks.
Influences by Radiohead, Muse, Elbow, Incubus are noticeable but in no way does the music seem to spring from these influences. A unique sound with a unique singer. www.thepressureroom.comMore articles at Pro9 about The Pressure Room: An interview with Rico Diks by Dave Goldstein from Poolkrant.nl The Pressure Room to perform at legendary Marquee Club The Pressure Room perform another great Central London gig tonight! The Pressure Room performing TONIGHT in Central London Rico Diks band The Pressure Room to perform at The Bull and Gate Rico Diks band The Pressure Room to perform at Leonard's EC1
Enjoy the article? Now try this...

Chat about this announcement in our forums.
Visit The Pro Shop to our range of Mezz cues and gadgets.
Check out the Pro9.co.uk calendar for details of more events.