BWPPA Ranking Event No.1
Rileys American Pool and Snooker Club - Birmingham
21-22 Essex Street
Birmingham
West Midlands
B5 4TR
Tel: 0121 666 6811
www.bwppa.org
www.rileysltd.co.uk
Saturday/Sunday 20/21 February 2010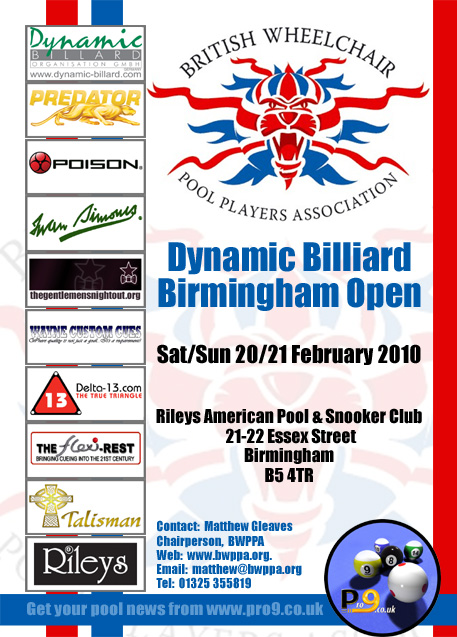 British Wheelchair Tour kicks off with new two day format
There's a very exciting year in prospect for Britain 's wheelchair pool players as tour organisers have restructured the tour and the best news is, it's not too late to join.
The tour can now welcome players of widely ranging ability with a new two division structure that means that non-professional players can battle amongst themselves in a new "Challenge" division as well as having the opportunity of matching themselves against the elite players on the tour.

"Read More..." for further details!
OVERVIEW
In 2010 the BWPPA will be offering to its members a four stop tour utilising a new dynamic format. Each weekend of pool will consist of two tournaments. A main ranking event spanning the Saturday and Sunday and a Challenge-Cup event on the Sunday.
Challenge Cup
This is an open event to all wheelchair players who do not qualify for the second days play of the main event. The event will single elimination. At the end of the season the top two Challenge Cup ranked players will receive a prize from our sponsors.
Main Event
The main event will be used to derive all UK rankings – the number 1 player on the main event will be known as the UK 's number 1 wheelchair player. Will start on the Saturday after the registration and players meeting at 10.30am. The quarter finals will be held on the Sunday at 10.30 am and the semi final will be held on the Sunday at 12.30 pm and the final will be held on the Sunday at 2.30 pm.
Main Event will be double elimination until the semi-final stage. All races in the winners side will be to 7 racks. All races in the one loss side will be 7 racks. The top 8 ranked players being seeded.
FORMAT Saturday
10 am Registration and Players meeting.
Main UK Ranking Event (open tournament) – Double elimination races to 7 racks.
Sunday
Main Event, Quarter final, Semi final and Final - Single elimination races to 7 racks.
Challenge Event – Open to all players who did not qualify for day two of the main event.
Entrance Fee
Entrance for each event will be £25 plus a one-off compulsory annual membership of £10 per season payable at first event attended. Entrance for the top 8 ranked players is £40 plus £10 annual membership.
Players who are playing in a BWPPA event for the first time entrance is free but £10 BWPPA annual membership is still required.
Dress Code Applies
Collared shirt (or Collared polo T Shirt) Dark trousers, shocks and shoes. N0 JEANS, CARGO PANTS OR TRAINERS. MEMBERS MUST WEAR SUPPLIED TOUR SHIRTS FOR THE MAIN EVENT AND ANY BWPPA PRIZE PRESENTATIONS.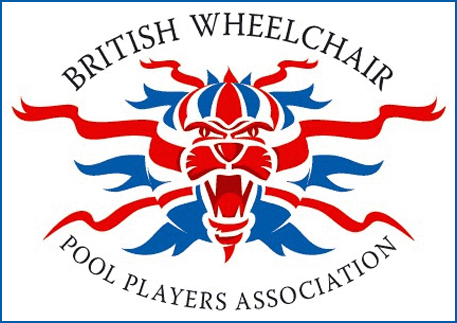 Check out the Pro9.co.uk Calendar for more tournament dates.