2010 Open de Paris
Cercle Clichy Montmartre
84, rue de Clichy
75009
Paris
Club Tel: +33 1 48 78 32 85
Contact Tel: David Bare +33 6 08 72 02 30
www.lcb94.fr
www.academie-billard.com
www.opendeparis.fr
Saturday-Sunday 16-17 January 2010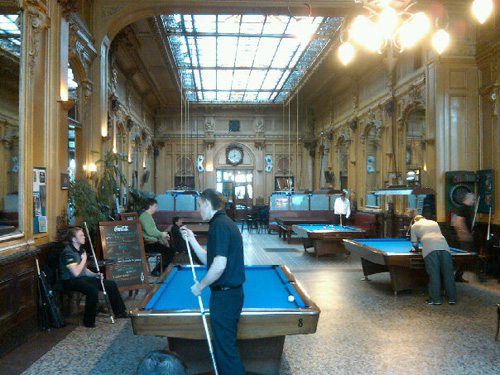 Photo © Çakti Aswan - & used by Pro9 with express permission.
2010 Paris 9-Ball Open Championship
France's Vincent Facquet has topped the field in Paris after two day's play spread over two clubs in Paris this weekend, finally beating Britain's Karl Boyes in the final by the slimmest of margins with an 11-10 score.
As usual, the opening rounds of The Paris Open were held at the Leader Club Billard 94 in Sucy-en-Brie, and then finals were held in the beautiful environs of the Cercle Clichy Montmartre.

"Read More..." for the details.
THE 2010 OPEN DE PARIS

PLAYER LIST

Jean-Paul ALAFORT
Cakti ASWAN
JP AVEAUX
Morad BAICHE
Nguyen BALAYTRY
Michel BARANBONES
David BARE
Pierre Em. BARGE
Reda BELHAJ
Renaud BERENGUIER
Marc BIGOTTEAU
Yves BONNET
Karl BOYES
Martin BRAUN
Sebastien BRUCELLE
Olivier CANY
Franck CAVESTRO
Jo CHANCE
Kervin CHELLEN
Eric CHEN
Stephan COHEN
Francois COTTANCE
Ovidiu CRISTEA
Alain DA COSTA
Serge DAS
Bertrand DE LORIOL
Thierry DELESALLE
Nicolas DERVAUX
Thomas DESSOL
Dimitri DJUNGO
Beatrix DOBOSSY
Laetitia DOS SANTOS
Vincent DUPLOUYS
Stéphane EON
Alexandre EVE
Vincent FACQUET
José FARIA
Niels FEIJEN
Franck FENNEMA
Ellen GOUW
Mickael HADJADJ
Aziz HAMRAH
Benjamin HEIMERER
Mick HILL
Yann HOFMANN
Thorsten HOMMAN
Roman HYBLER
Abder IAOUDARENE
Katrine JENSEN
Valery KUYOLANT
Olivier LACROIX
Ioan LADANY
David LARDIER
Laurent LEBAILLIF
An LEE
Jerome LEFEVRE
Emmanuel LEMAIRE
Boris LI
Pascal LOIAL
Gilbert LOPES
Eric MARANDAZ
Gregory MARTIN
Michael MERABTENE
Nicolae MIHALACHE
Alex MONTPELLIER
Christophe MONZEIN
Steve MOORE
Serge NETO
Luis OLIVEIRA
Oliver ORTMANN
Stefan OSNABRUG
Nicolas OTTERMANN
Amine OUAHBI
Daryl PEACH
Visal PEOU
Delphine PIZZINAT
Pascal PROUST
David RAJKUMAR
Raphael RIBIS
Eric ROBAINE
Vincent ROCHEFORT
George ROSEAU
Christophe ROUSSEAU
Julien ROUX
Renald ROUZES
David SAXBY
Huidji SEE
Kem SEN
So SHAW
Jason SHAW
Sebastian STAAB
Rachad TARHINI
Michel TERCIER
Severine TITAUX
TORRES
Laurent TRAVERS
Serge TREILLE
Emmanuel UBEDA
Bas VAN DER HEIDE
Stephane VANEL
Lionel VERNEDAL
Corneliu VOLOSCIUC
Jo WEATHERO
Willy WU
Jin ZHONG ZHE

Total = 105 entrants!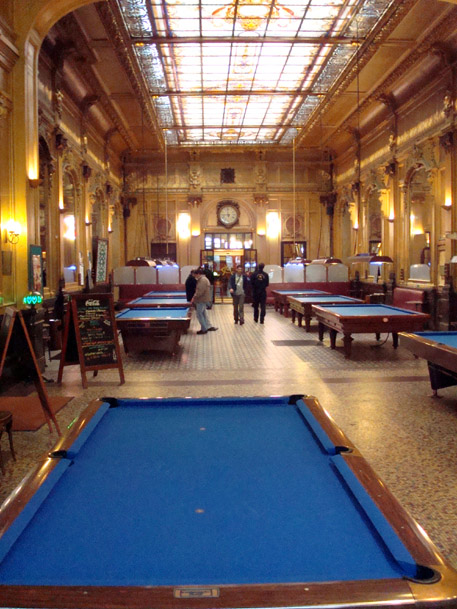 THE 2010 OPEN DE PARIS

THE LAST 16

Daryl Peach

9 : 3

Laurent Travers

Eric Chen

9 : 5

Huidji See

Vincent Facquet

9 : 6

So Shaw

Dimitri Jungo

9 : 1

Mick Hill

Stephan Cohen

9 : 8

Stevie Moore

Roman Hybler

9 : 6

Jayson Shaw

Thorsten Hohmann

9 : 6

Aziz Hamrah

Karl Boyes

9 : 2

Willy Wu
THE 2010 OPEN DE PARIS

THE QUARTER FINALS

Eric Chen

11 : 7

Daryl Peach

Vincent Facquet

11 : 9

Dimitri Jungo

Roman Hybler

11 : 10

Stephan Cohen

Karl Boyes

11 : 10

Thorsten Hohmann
THE 2010 OPEN DE PARIS

THE SEMI FINALS

Vincent Facquet

11 : 9

Eric Chen

Karl Boyes

11 : 7

Roman Hybler
THE 2010 OPEN DE PARIS

THE FINAL

Vincent Facquet

11 : 10

Karl Boyes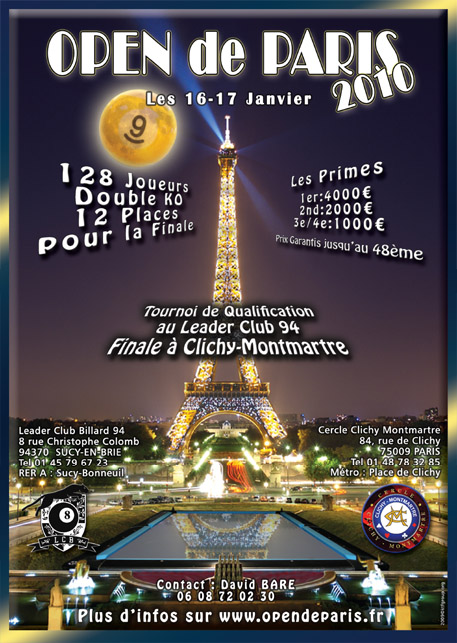 Click the image to view larger poster (use "back" to return here).
THE 2010 OPEN DE PARIS

PRIZE FUND

1st

4,000 Euros

2nd

2000 Euros

3rd

1000 Euros

4th

1000 Euros

5th to 8th

500 Euros

9th to 16th

200 Euros

17th to 24th

100 Euros

25th to 48th

60 Euros

Entry fee: 60 euros (70 euros in cash if paying the day of the event).
Check out the Pro9.co.uk calendar for details of other pool tournaments.