Predator SP2 REVO Red 2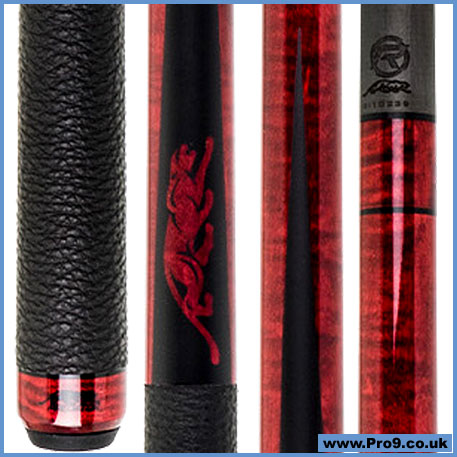 PREDATOR SP2 REVO RED 2
Red Stained Curly Maple with alternating Gloss and Matt finish
The peoples champion. Featuring Predators championship winning C4+ butt construction and the ground breaking REVO carbon fiber composite shaft, every limited production SP REVO cue was designed and developed to give your game the upper hand on the competition.
• Matte black points with Predator cat
• Uni-Loc Leather Luxe Wrap
• C4+ construction
• Predator Victory Tip (soft)
• Uni-Loc weight cartridge system
• Joint protectors
• REVO carbon fiber composite shaft
• Shaft diameter: 12.4mm or 12.9mm
• 5x REVO cleaning towelettes
• 2x Predator Patches
• 1x Predator microfiber cleaning
• Length: 148 cm
Cue Specification
• Shaft: REVO
• Standard Shaft Length: 29″
• Standard tip: Predator Victory Tip (soft)
• Joint: Uni-Loc Quick Release Joint with Balinit coating
• Standard weight: 18.5oz
• Wrap: UniLoc Leather Luxe
More about the REVO shaft's revolutionary performance & construction
REVO Shaft Technology
After the better part of a decade filled with research and development, the future of cue sports has arrived. Welcome to the revolution – introducing the Predator REVO carbon fiber composite shaft. Developed and manufactured at our research and development facility just outside of Boston, Massachusetts, Predator REVO shafts stand at the apex of accuracy and performance.
SPECS & TECH - 12.4mm
Most accurate Predator shaft at low and high speeds
• Tip Diameter: 0.49″ (12.4mm)
• Taper: Low-Rise Taper with 8% rise over the first 14 inches
• Ferrule Length: Ferrule-less construction
• Joint: Uni-Loc Quick Release
• Tip: Predator Victory Tip (soft)
• Shaft Length: 29″
SPECS & TECH - 12.9mm
Most accurate Predator shaft at low and high speeds
• Tip Diameter: 0.51″ (12.9mm)
• Taper: Low-Rise Taper with 5% rise over the first 14 inches
• Ferrule Length: Ferrule-less construction
• Joint: Uni-Loc Quick Release
• Tip: Predator Victory Tip (soft)
• Shaft Length: 29″
*Uni-Loc Weight Cartridge System sold separately
price: £1035.00
This product is no longer available