Mezz MO-610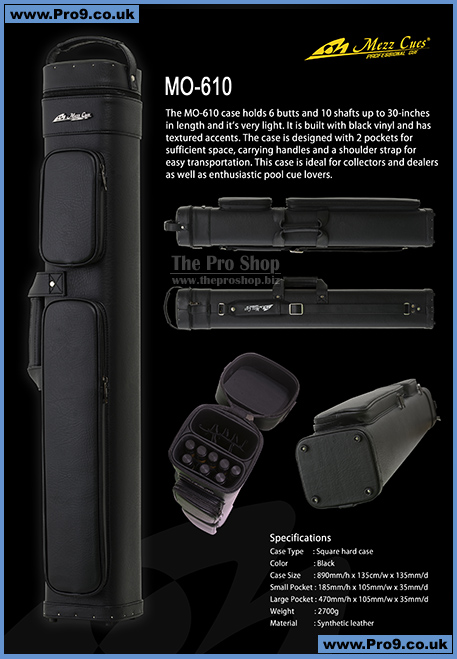 Mezz MO-610
6 Butts and 10 Shafts Cue Case

This case holds 6 butts and 10 shafts and is up to 30-inches in length and it's very light.

It is built with black vinyl and has textured accents.

The case is designed with 2 pockets for sufficient space, carrying handles and a shoulder strap for easy transportation.

The target groups for this new case are dealers, cue collectors as well as enthusiastic pool cue lovers.

This offer is a onetime offer only. THERE IS ONLY ONE OF THESE CASES LEFT. This case will not be available or stocked in the Mezz product line after this offer.

• Type: Square hard case
• Color: Black
• Case Size: 890mm/h x 135cm/w x 135mm/d
• Small Pocket: 85mm/h x 105mm/w x 35mm/d
• Large Pocket: 470mm/h x 105mm/w x 35mm/d
• Weight: 2,700g
• Material: Synthetic leather

Pre-Order Now to reserve your case.

We are pleased to deliver worldwide, but due to the weight/size of this product FREE shipping is only available ANYWHERE IN EUROPE.

price: £300.00
This product is no longer available