Phase 5 Black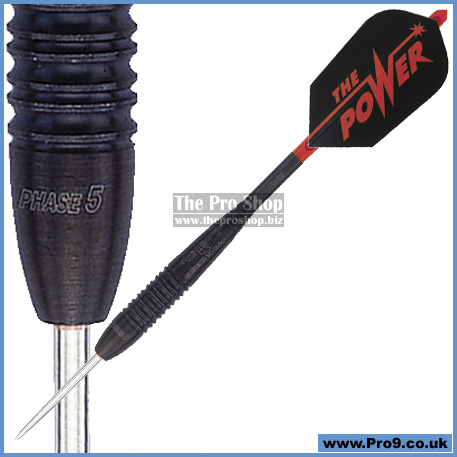 Phase 5 Black
95% Tungsten

► Available in Black, Golden Unicorn Titanium or Natural Tungsten finish
► 95% Tungsten Nickel Alloy
► Engraved Unicorn hallmark of quality
► Guaranteed Weight series
► Phase 5 side loading shafts on Titanium base
► Phil 'The Power' Taylor Phase 5 professional flights
► Phase 5 Midi wallet

Guaranteed Weight Series
Guaranteed Weight darts include a certificate guaranteeing the factory weight of each pointed dart barrel +/- 0.1 gram.

The Power Phase 5 – taking the shape from Sigma Pro and the grip from his battle proven Purists, Phil's return to form has been nothing short of astonishing culminating in winning his 14th World Championship with an unprecedented average of 110.94.

95% Tungsten, available in Natural, Golden or Black Titanium Tungsten finishes. Complete with Phase 5 Titanium shafts and exclusive Power slim flights. Phase 5 barrels and shafts are laser engraved and supplied in a unique Phase 5 superior wallet.

Phase 5 Black – the no expense spared exclusive new range. Physical vapour deposition gives an ultra hard grip, with superb feel and durability.

Phase 5 are equipped with machined 100% Titanium shafts to continue the same seamless grip further down the throw.

Try them. Because if you don't, you'll always wonder : What if?