OB Phoenix Shafts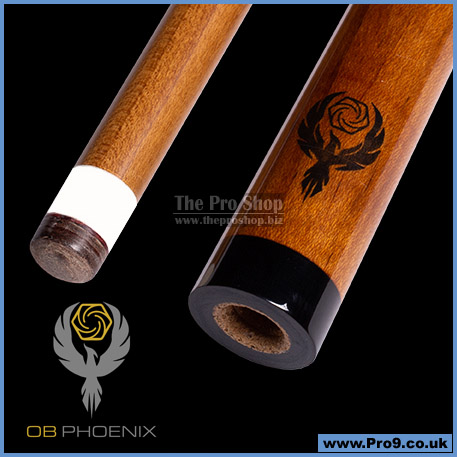 OB Phoenix Torrified Shafts
A New Era has begun with OB Plus Shafts

Pool Cue Shafts have evolved dramatically over the last 25 years and OB has always been on the cutting edge of new technologies and advancements in high performance pool cues and pool cue shaft...

Introducing: OB Phoenix Torrified Shafts!

What have we OB done?

We took a torrified AA Grade Maple Shaft, added our low deflection technology and created a new high performing shaft! Torrification is a thermal modification process that helps strengthen and stabilize wood. The other added benefit is that it makes maple a more tonal wood, giving it a nice tonal quality while playing pool.

The technology built into the inside of our shafts produces very low cueball deflection which makes aiming easier when you have to use left or right English and will make it easier to draw and follow your cueball. Whether you like a big shaft or a skinny shaft with stiff firm hit we have an OB Phoenix Torrified Shaft that will fit your style of play. All OB Phoenix Torrified Shaft are available in multiple joint options so no matter what cue you play with, we have (or can quickly build) a shaft that will fit on your cue.

If you are already serious about your pool game or plan to get serious about your game, then an OB Phoenix Torrified Shaft is the only choice.

The end result? A pool cue shaft that is as close to perfect as we can possibly make.

• TORRIFIED AA Grade Hard Maple
• White Ferrule
• 12.8mm and 12.3mm have an Extended OB Pro Taper
• 11.8mm has an OB Hybrid Taper (pro/conical)
• Stock Tiger Everest tip
• Other Tip Options Available
• Available in 12.8mm, 12.3mm and 11.8mm
• Almost every joint type offered
• Proudly Made in Texas in the USA
• Wood Ferrules are a £30 upgrade

Only available on back order.

You must pre-order now to reserve your shaft!

price: £312.00