Predator BK3 No Wrap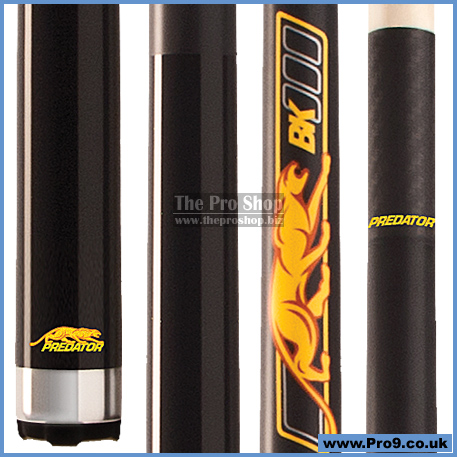 PREDATOR BK3NW BREAK CUE
No wrap.
Faster, stronger, more powerful.
Predator unwavering commitment to performance and innovation continues in the BK3 Break Cue. After years of research, development and testing, Predator has raised the bar for the worlds best break cue
– again.
• Shaft: BK3CF Shaft
• Break-Balanced weight distribution
• BK3 shaft featuring carbon fiber reinforcement
• Four-piece fused butt construction
• All new Uni-Loc Steel-Lite Quick Release Joint
• Completely tuneable Uni-Loc Weight Cartridge System
• Extended low friction matte finish
What is Break-Balanced?
The result of extensive research and testing by top pros. By increasing strength and stiffness without additional weight, the balance point of the cue was recalibrated to more effortlessly harness player power.
Stronger than ever.
The carbon fiber reinforcement inside the BK3 shaft provides increased strength without additional weight. The result, a Break-Balanced cue
Less is more.
Four-piece fused construction eliminates the need for an A-joint, while maintaining strength. This elongated reinforced construction tranfers energy seamlessly while providing a unique feel.
Uni-Loc Weight Cartridge Kit.
This one-of-a-kind tuning system provides up to 30 possible weight combinations for unmatched precision.
- Eight weights: 0.1, 0.2, 0.3, 0.4, 0.5, 0.7, 1, 2 oz.
- Detachable handle: for at-home or on-the-go tuning.
- Weight Cartridge Kit sold separately - available here.
• Shaft: BK3CF Shaft
• Standard shaft length: 29"
• Standard tip: BK Phenolic Break
• Joint: Uni-Loc Steel-Lite Quick Release
• Standard weight: 18oz, adjustable in 0.10oz increments with cartridge kit
• Wrap: No wrap
price: £466.98