www.TigerProducts.com
home | about | technology | products | contact | showroom | faqs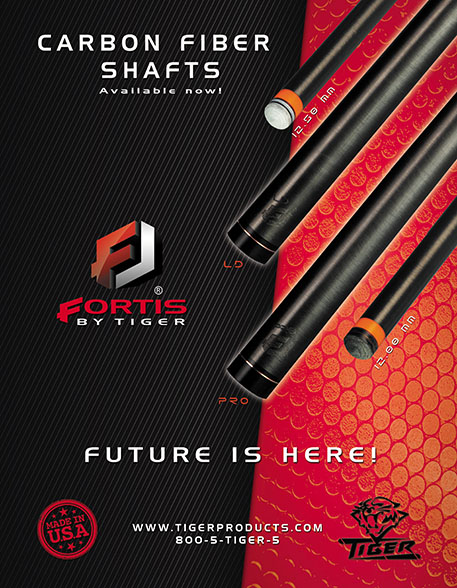 Click the picture to view the full size image (use "back" to return here)
Visit the official Tiger Products website
Fortis - by Tiger Carbon Fiber Shafts – Future is here!
Fortis by Tiger is a carbon fiber shaft unlike any other in the market. Two years in making, Fortis shafts are one of the most powerful, solid hitting and lowest deflection shafts out there. Offering great feedback, solid hit and added consistency of Carbon, Fortis makes these shafts stand out from the rest. Natural finished Fortis has a very sleek and consistent appearance. It helps the player to get a better slide on each shot. The consistency of the carbon adds confidence to your play especially on your long shots. No need to worry about the dry heat or extra moisture in the air. Fortis carbon fiber shafts come in 2 different types of taper and sizes. Fortis-LD 12.50 mm tip size 17" pro-taper, great for overall spin, accuracy and easy to control the cue ball. Comes standard with Sniper tip and IB+ ferrule. Fortis-Pro is a 12.00 mm tip size standard with Onyx, has a semi-pro taper. It's great for getting extra spin, more draw and has the lowest deflection of the two. Try one and take your game in to the future!
All Tiger shafts are proudly made in the USA.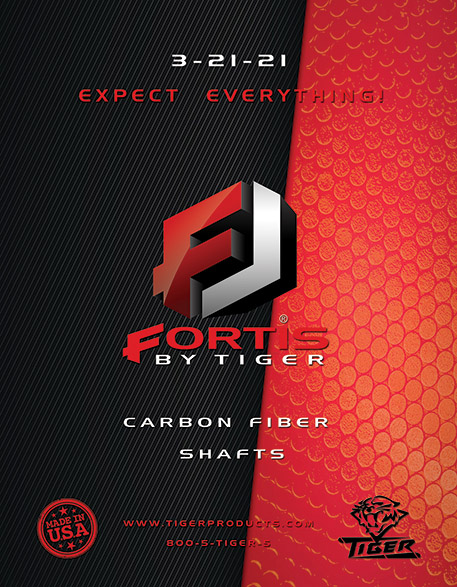 www.tigerproducts.com
Enjoy the article? Now try this...



View Pro9's front page!

Chat about this article in our forums.

Visit The Pro Shop to see new cues and gadgets.

Check out the Pro9.co.uk calendar for details of more events.