DARREN APPLETON
SPONSOR:
Yalin Billiards
SPONSOR:
Predator Cues
SPONSOR:
Nottage Design
SPONSOR:
SEE System
PLAYING CUE: Predator 5K Series
Weight: 20oz
Shaft: 314²
Tip: Kamui Soft
Chalk: Master chalk
BREAK CUE: Predator BK 2
JUMP CUE: Poison and Predator Air combined
CUE CASE: Predator soft case
ACCESSORIES: Tip tools
ACCESSORIES: Chalk
ACCESSORIES: Towel and talc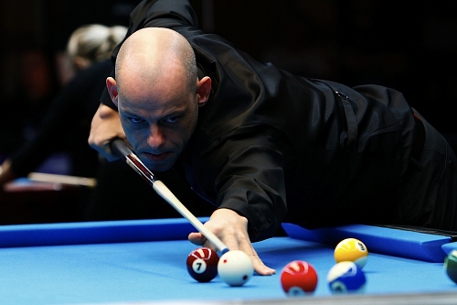 Pro9 interviewed Darren Appleton before the Mosconi Cup, here's what he had to say.

Pro9
Darren, this time last year you announced you were moving to America, so before we talk about pool, can you tell me what it was like when you first arrived, where is your new home and what is it like? How does it compare to where you lived in the UK, and did you manage to settle in quickly?

Darren
I settled in very easily to American life, mainly because of my amazing girlfriend Angie and her family making me feel so welcome. Life here is less stressful, more laid back, and it's easy to get around. Most of all, the pool is much better... there's more action and more tournaments. I am currently living in Allentown, Pennsylvania and so far, it's good. I still travel a lot so I pass and stop in England every other month. It works out great at the moment.

Pro9
What's the best thing about your new daily life in the USA? Is there anything you have missed not being in the UK, or have they got everything covered?

Darren
The main thing that I miss is my family and UK television. Besides that, everything is great and I feel happy in America. I typically go to the gym, practice, play golf, shop... the usual stuff.

Pro9
It's been a full year now, have you been "living the dream" and has it lived up to all your expectations? Are there any negative aspects to living full-time in the USA, or any surprises you weren't expecting?

Darren
There haven't really been any surprises. I have spent a lot of time in the States before. Like I said previously, I travel so much that I am not there as much as I would like. But yes, I am living the dream... the traveling can be tough but besides that, I am very happy on and off the table. I finally got my work sports visa so that's a big weight of my mind.

Pro9
I've noticed you have a new love in your life, both gorgeous and fun, please tell how and where did you meet Angie? Can she play pool? I can see she is really supportive when you are in competitions, does having a supportive partner make a big difference compared to being single? How does she react when you are playing the big money matches?

Darren
She's the love of my life and I am so lucky that she's so supportive to me at home and when I'm away. Angie does a lot of my dirty work for me, for example, if I miss a flight or need to book hotels etc., she is great with things like that. She is very calm when she watches so it helps me to be calm as well, but inside, I know she's a bag of nerves. Angie has definitely made a big difference to me on and off the table. Yes, she is a lot of fun but she's also a little shy. She plays a little bit of pool for fun, nothing serious. I first met Angie a few years ago, but at the time she was dating someone. Last year, after the 2010 US Open, we started talking and kept in touch. A few weeks later, we met for dinner and we hit it off instantly. The rest is history, we get on so well. If you're happy off the table, it makes you stronger mentally. I truly believe this, and this year it showed in my results.

Share this article on FaceBook
"Read More..." for the details.

Pro9
Let's talk some more about pool. Can you tell me the reasoning behind moving to America?

Darren
I thought about the move for a few years, but more so after the US Open last year. I thought... there is more pool, more opportunities, and it's better for present and potential sponsors and exposure. Plus, I love America, it's a great country. I love England too, but there are a lot of negatives at the moment. The pool scene is not big, there's no action for me, and there's a lack of tournaments... so it makes it difficult to make a living in the UK. Also, when I met Angie, that made my mind up for sure.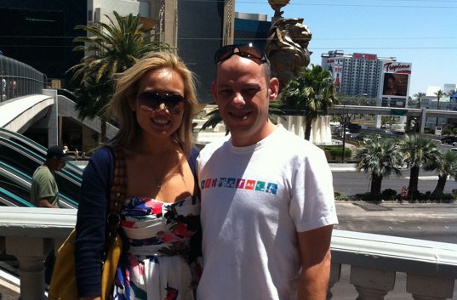 Pro9
Now let's talk about practice, how much, how long, when, and where? Do you practice alone or do you practice with a partner/opponent? What kind of practice do you do? What's the specification of the equipment you practice on?

Darren
Practice is a tough one. I travel approximately 8 months of the year, so it's difficult to practice properly at tournaments. I just keep in tune when I'm at competitions and practice with whoever wants to play, or maybe play cheap sets. When I'm in the States, I practice at Buzzy's Billiards in Allentown by myself, or I give strong local players weight or a handicap and play sets for 50-200 USD. Occasionally, I go practice at Amsterdam Billiards in New York with Mika. In the UK, I play at Barnsley Riley's with myself, Ben Finch, Elliott Sanderson, my brother Shane Appleton, or Lee Rigby. When I practice alone, I practice everything... drills, kicking, safety, banking, break. In the States, I play a lot of back pocket 9ball or 10ball and occasionally, one pocket. In the States, I play on a Brunswick, but I'm hoping to get a Diamond table next year. At Barnsley Riley's, I have my own Diamond table, which I miss a lot - it's awesome.

Pro9
What else do you do Monday to Friday in between all these major events we see you competing in? Have you been doing any coaching, or have you discovered any other non-playing opportunities that are still related to the pool business in America that you didn't have in the UK?

Darren
At the moment, I'm just so busy with tournaments that I don't have much time for anything else. I just rest in between tournaments and sharpen my game up, but I don't practice as much as I would like. I do just enough - if I practice 2 hours alone, it's as good as practicing 10 hours with a player. I take practice very seriously when I'm alone. The worst thing you can do is to keep racking the balls, break and run, break and run... we can all do that. It's the weaknesses we need to work on and all the different things to improve your game. The safety, kicking, and making big shots under pressure wins you the big tournaments. I like to work on everything, but I work a lot on my mental approach. I'm also working hard on improving my sighting and cueing. It's all coming together slowly. Next year, I will be 100% where I want to be. I am seeing the ball better than I ever have in my career and that's thanks to the See-System. Plus, I've been working a lot on kicking systems lately, which I will reveal one day when the time is right.

Pro9
Have you managed to find more sponsors and backers in the USA? What deals/contracts have you currently got, did being in the USA help you get those, and are you a salaried pool player now, or do you still have to rely on tournament winnings and other revenue streams? If you didn't win a tournament in the next 12 months, could you get by on sponsorship income, or would you have to dig into savings?

Darren
I'm a lot more sensible with money nowadays than I was in the past, let's just say that. Yes, the last few years I've been taking care of my money and building for the future. I'm 35 now, so I'm not sure how much longer I will have left at the top. I plan and hope for at least 10 more years. I would be very happy with that - anything else would be a bonus. My sponsors are all down to qsportsmanagement.com. Dave Carter has been great to me and finally the money is coming in nicely for the first time in my career. Slowly, I don't have to win prize money to be able to put food on the table. A big thanks to Dave, my sponsors: SEE-System.com based in Germany, Yalin billiards based in China, NottageDesign.com Australian based, Predator Cues American based... and in the next few weeks I will be able to announce another one. I made money the last 4 years, so I can't complain.

Pro9
Have you found more competitive playing opportunities in the States - there have been constant rumours that the pro scene is in dire trouble out there, is there any truth in those allegations?

Darren
In 2010, there were around 12-13 BCA ranking events... more than the past so I think it's doing ok. There are also a lot of local tournaments and independent tournaments. I heard there will be a few more big ones next year, so I think American Pool is back on the up, even though it could be better. But like I said, I travel so much that I don't get a chance to play many smaller events (one day or weekend events) but I get good action practice in the pool rooms.

Pro9
There was some kerfuffle between the ABP and the US Open organisers - can you tell us what that was all about? Has there been a problem in the past with players getting paid late, have you had experience of this? How was it with the US Open this year then?

Darren
In the past, Barry paid players late many times... including last year which prompted the new players' organisation ABP into action. The players are guaranteed money at the tournament and as far as I know, everyone got paid on time including me. It seems it's a happy camp all around and the ABP did the right thing for the players.

Pro9
Have you been to any of the billiard industry expo's while you've been out there? What were your impressions?

Darren
I went to a billiards expo in Las Vegas this past July. I was very impressed and it was great to meet and talk about the industry. There are products and plans for the future, myself and my manager, Dave Carter, made good business.

Pro9
I've always dreamed of attending the International Challenge of Champions event, but we've never even seen the coverage on TV over here - can you tell us what the set up is like? The host venue is the Mohegun Sun Casino, can you tell us what that's like, because I'm sure it's not like any of the casino's we have here?

Darren
The Mohegan Sun is an awesome place. It's a casino and hotel, similar to a great Vegas hotel. It's big with shopping centres, restaurants, bars and clubs, and a huge casino with nice hotel rooms. The venue is in the middle of the casino, which was perfect. It has a big, comfortable booths and some stadium seating... and it's televised on ESPN. The format is short and cut. Winner take all adds extra pressure, it's a great event and I was lucky enough to win it this year and join the amazing list of past champions over last 21 years. I look forward to defending my title next year as it's the toughest tournament to get entry into, as there are only 4 players and they are all major winners.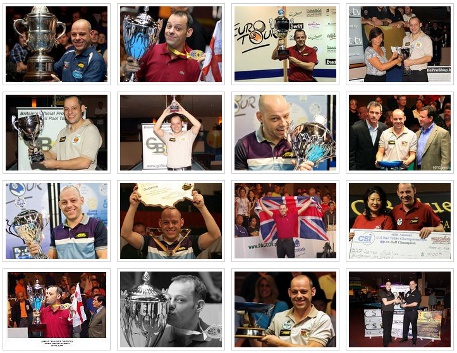 Pro9
In the ICOC final you tied one set-a-piece with Huidji See, setting up a one rack decider for the winner take all prize of $25,000 - what's it like playing a single rack for that much money, and how do you hold it together when it's all or nothing, a bumper payday, or absolutely zilch, on a mere 9 balls? That's got to be a pretty big buzz right?

Darren
The pressure in the last rack is nuts. It's just a case of not thinking about the money at the time and focus on the title for that one rack. When I did get a chance, I just told myself to keep still and focus and that was good enough. After you realise what you've achieved, it was a great feeling, especially after I blew the final against Mika two years ago. It swings around eventually if you believe in yourself.

Pro9
What do you do with the money when you win such a large amount of cash in such a small space of time, is there a lot of financial planning and investment for the future going on, or do you just hit the shops, take exotic breaks and celebrate until dawn?

Darren
I do like to celebrate. Angie shops a lot so she takes me shopping and I like buying clothes... this past year more than ever. I don't have much time for holidays, but when time allows, we take them once or twice a year. In the main, I save my money and I'm just waiting for good opportunities to invest at the moment. I'm thinking of buying a house in the States, probably in Las Vegas as property there is so cheap right now.

Pro9
You must have seen so many amazing things, what has been the biggest eye-opener for you these last 12 months?

Darren
The most amazing thing I've seen in the last 12 months was obviously meeting my girlfriend. York Hall arena packed was something amazing that made my eyes pop out. Another would have to be Dubai when we stayed at Jumeirah Beach Hotel, up close to the Burj Al Arab hotel - the world's only 7star hotel... the scenery was absolutely amazing.

Pro9
There's no denying it's been a fabulous year for you. Which felt better - winning the US Open 9 Ball Championship for the first time in 2010, or retaining the title with a second consecutive victory in 2011?

Darren
Tough question. Last year was great because it was the first and I beat so many legends along the way... my draw was sick. This year, I was more confident, at ease with myself, and I probably played better. I think last year felt better, for a few reasons. It got me into the Mosconi Cup and I've just come out of a slump. All the hard work paid off and I went on to win the Mosconi Cup MVP and got the best experience of my life at York Hall - so yes, last year felt better because this year I was already guaranteed a spot in team. Both feel great for different reasons, but last year meant more to me.

Pro9
Can you tell us a little more of what it's actually like to play in the US Open, sure we get to see the streaming from the event, but it's hard to gauge how it differs from a tournament over here?

Darren
For me, it's the best individual tournament venue in the world. Big crowds, perfect venue, great format, good playing conditions, longer races than what we're used to, and a full field of 256 players. It's the ultimate test in pool... the history of the event makes it even bigger than most world titles, or should I say more prestigious. The TV arena is perfect. I feel so happy out there, like its my venue. The second half of the week is the best time to get involved, as the crowds get bigger each day and you have time to prepare for matches. Unless you lose early and go on the losers' bracket, it's a great tournament. You're not going to win it by luck that's for sure.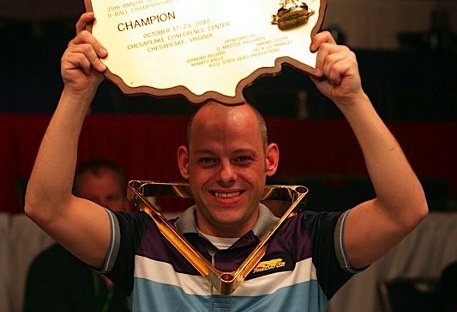 Pro9
What are some of the benefits of winning the US Open, apart from the $30,00 winner's purse of course, and what's the single best thing about being the US Open Champion?

Darren
The best thing is being part of history and seeing all the past champions. To repeat the win is amazing. I'm still pinching myself even more so because I went undefeated for two years... that's a great feeling. The other benefits are the invites you get into tournaments: Mosconi Cup, Challenge of Champions, World Pool Masters, World Cup of Pool, and other invites... also demands for me to play in other tournaments. Winning the US Open takes a lot of pressure off for the next 12 months, knowing you're going to be playing in all the big events... especially Matchroom events.

Pro9
I bet you've got a ton of stories to tell. I know you have a lot of fun playing golf, tell us something about that?

Darren
I started playing golf 12 months ago. Myself and Chris have become rivals on the course more than the pool table, so we play for a few quid. He was beating me up a lot which I didn't like. I would play ok in practice, but whenever I played with Chris and the rest of the Brits I played bad. So I went away, worked on my game, and recently I got his number. I must have been 600£ down to Chris. I beat him once at the US Open for 200, then he has the cheek to ask for a handicap lol. Meanwhile, I'm still down lol. Short memories pool players... Anyway, he's a really bad payer of debts, so myself, Karl and Jayson drove him to bank and filmed him withdrawing my money from his account. I told him I hope its in 20s... I'll show you the video one day, it's funny. Since then, I beat him few times. The banter on the course is nuts and even at tournaments we're always playing pranks on each other (myself, Karl, Jayson, Chris). At times it's pretty brutal... but it's all good fun. We need that, as at most tournaments there is nothing to do. It helps us to stay upbeat instead of being bored out of our skulls.

Pro9
You travel a lot with Chris Melling, and I heard you had a bit of fun at his expense at the airport recently, can you tell us more about that please?

Darren
We were at an airport, I think in Munich this year. When our bags arrived on the belt, we took Chris Melling's suitcase and hid it before he knew. He was waiting for ages for his bag. The rest of us got ours, so we're all waiting and watching Chris waiting for his. It was funny.. We decided to film it and we wind him up saying, "Chris, come on we got to go... your bag got lost," etc. Eventually, Scott Higgins said to Chris, "Who's that bag under this chair?" Obviously his reaction was funny... another video I saved. We played golf a lot in the last 12 months. Philippines was very tough though, as the heat is crazy and sometimes it rains hard there. The draining systems are very bad, well non-existent, so it's like playing in mud pits sometimes. Those courses are a real test, even for Tiger. The banter on tour with the Brits is great, we're a little different to the rest of the people on tour... people either love us or hate us. We bet on anything from ten pin bowling to crazy golf to darts and pool. We try to have fun. Actually, I found a cure for my ganglion I had on my hand after playing tenpin bowling at Hungarian tour. For a few days my lump went right down.. happy days, but it recently started growing back so maybe I'll go for a game of tenpin bowling again.
With all the traveling, we see some great places and some not so great. But, we're very good at keeping ourselves busy and entertained. Jayson Shaw, the funny face of the pack, is very hyper and he makes us laugh a lot. Chris, well we take advantage of him a lot for the fun factor. Karl probably gives him the most stick, but it's all fun. We all have our moments, but we all get on great. The atmosphere in the British camp all around is a lot better than a few years ago. It's fair to say we're living the dream, even though none of us are rich yet.

Pro9
You must have played in more countries than any other British pool player now, which are your favourite tournaments, and why? Which country do you most look forward to visiting, and are there any particular tournament commitments that you dread?

Darren
Yes for sure, I travel the most the past 4 years out of all Brits... around 65-70 flights per year is my average. The rest of the guys probably do 40 -50ish. I've been to so many countries, from Australia, South Africa, Thailand, Philippines, China, Brazil, USA, all over Europe, countries in the Middle East, and many more... couldn't tell you how many though.
My favourite tournament is of course the Mosconi Cup in York Hall and Las Vegas. I also like BCA in Vegas, it's a great week. My favourite country to play pool is the Philippines because it gets a lot of coverage there, as it's their national sport. My favourite individual tournament is the US Open in Chesapeake, Virginia. My favourite city is Las Vegas. My favourite country is a tough one... Thailand is a great country. My favourite tournaments overall are Matchroom events.
The worst tournaments for me that I least look forward to are the Euro Tours sadly. Not all, but most of them are a drag... Germany and Paris have bad venues, just not good enough for a Euro Tour. The prize money is poor, hopefully next year it picks up... but the Euro Tour has really lost the buzz the last 2 years and numbers have dropped rapidly. It needs freshening up and new ideas, otherwise I fear for it's future.
Other events/venue I don't care for... worst event last year by a mile was the Beijing Open. It was just wrong, from head to toe. It was a shambles what happened there, from the venue, hotel, format, and payment.
Also, the WPA needs to get some consistency with the world ranking tournaments. Some events play one ball on the spot, some 9ball on the spot, some 3 point rule, some not 3 point rule. The formats and the seedings are wrong, especially from the knockout stage single elimination rounds. The races are way too short and winner breaks in these short races is crazy. At the World 8ball Championship, the races were to 7 winner break, then in the single elimination rounds, the races were to 9 winner break. It's crazy, it's too short. This is the same with most WPA events. The ranking points per event don't make sense. Dennis Orcullo wins the World 8ball with 64 players and receives 900 points. I win the US Open with 256 players and same total prize fund if not more, and I only receive 417 points. It doesn't make sense... hence it cost me the World No. 1 spot for the end of year again. Last year, if the US Open was classed as a WPA event, which it was going to be, I would have ended 2010 as World No. 1. Because the US Open didn't add enough money, they decided not to class it as a world ranking event... unbelievable. The payment to the players is really bad sometimes. It took me months to get paid for the Philippine Open, World 10ball, and Beijing Open. It's the same for other players, it's just not good enough. Most recently, beassy.com took over 6 weeks to pay me... this is not the way forward. WPA needs to start getting their house in order and start protecting the players better. I believe for a tournament to be classed as a world ranking event, WPA should make the requirement be at least 100k added money and minimum 30k to the winner. There are too many events where there is a poor prize fund, but the players expenses are over 2-3k. We should be getting paid within 2 weeks max... not months and months. This is the job for WPA and so far, they are not acting strongly enough for the players.

Pro9
Do you feel you have genuinely benefited professionally from this relocation? Do you feel you have performed better in the majority of tournaments overall, or would you have had the same success no matter where you were based? Do you think there are other European players who could benefit from doing the same as you?

Darren
I think my game is sharper, I'm more active and I'm learning all the time. Trust me, people haven't seen the best of me yet. I'm still improving but we will see, I'm still young to American pool, but moving to the States was a great move for my career. It was also great for my private life, I met amazing people and I feel more appreciated in the States with the fans in general. I'm sure if I lived anywhere else, I would still be successful, but who knows. When I lived in England, I was successful, but I still felt my game would improve more in the States... so that was the goal. I'm sure other players would benefit if they spent more time in the States. Phil Burford, for example... his game looks strong now and he looks better mentally also. I'm sure someone like Jayson Shaw, who, for me, is an unbelievable talent in the UK, would improve so much more in the States... especially on this tougher equipment and none of the magic stuff. He would get a lot of action over here and also learn so many different games like one pocket, bank pool, straight pool, etc. It makes a big difference to your knowledge, which is the only weak part of a lot of Brits, is lack of knowledge. So I'm sure it will benefit all the guys if they spent more time in the USA.

Pro9
How do you think the European tournaments stack up against the ones in the USA? Is there anything we can learn from how they do things in America, are we missing out on anything over here? Conversely, what do you think the top Americans would make of the GB 9 Ball Tour and the EPBF Euro Tour if they were able to come over here and attend an event or two? Can we be rightly proud of what we have right here on our doorstep?

Darren
In the UK, we have so many raw talents coming through. The standard and numbers rose so much over the last few years since the 8ball lads followed me after my success. They all steam-rolled over, which is amazing. More and more have come over each year and the GB9 is growing all the time. I'm pretty proud of what I have done and got 8ball lads to see the light - that American pool is so much better and has a potentially much better future in regards to exposure, titles, money etc. With the world of Lee Rigby and his staff, it's getting bigger and bigger. There are also MMTV events that Andy Appleton runs, plus all the local events. It's a real buzz in the UK for 9ball and it's great to see. When I first started playing, there was nothing really... just a handful of players in the Yorkshire area. How things have changed, wow. It will only get better, UK pool players will dominate in Europe for sure in the future, but I suspect the likes of Jayson Shaw and other youngsters coming through will do serious damage on the world stage. It's an exciting future for Great Britain in the pool world.
I think the GB9 is great and there is not much to change there. It's the players' tour and run for the players, so it's a happy camp and will grow... especially with Lee Rigby.
European tour, the playing conditions are better than past. The huge pockets have gone, but I feel the races are too short and the prize money very poor for what it is.
The States, I like the tournaments here because it's rack your own and on Diamond tables 90% of the time. In my opinion, Diamonds are the best tables in world and most events have double elimination, which I like. The venues are much better in the States, with the arena and seating for spectators and introduction for the players gives you that buzz. They don't stop professionals from playing local tournaments. In Europe, they just handicap the players. It really is a disadvantage to be a professional in the UK, especially if you're not in the elite top 6-8 players. For example, my brother turned pro this year he hardly played any pool this year. It has nothing to do with play as 90% of the tournaments are one day tournaments. He's not quite at the top 8 level, so last year when he was amateur he was playing every week and did great. It's a shame these guys get shut out... that would never happen in the States or Asia.

Pro9
Are you ever going to return to the UK, or have we seemingly lost you to USA for the rest of your professional career like Allison Fisher and all the other female pool players who now permanently reside in the States?

Darren
Who knows what future holds? For sure, I will visit the UK a good 6-8 times a year as I pass by a lot on the way to events in Asia. I like to stop and see my family and friends for a few days. I also need to play in Euro Tours for Mosconi Cup rankings, so I'm still around a good 6-8 times a year. Just flying visits, but I love coming home for sure.
I love the States also and I want to build my future there with my girlfriend. There's a good chance in the future I will be an official resident there... but make no mistake, I will always be British and very proud to be British and will always fly the flag for us. Hopefully a few more guys will follow, but you never know if pool will get huge in Europe... I might be back, or maybe when I retire, who knows what will happen.

Pro9
Finally, what do you think of the 2011 line up for Team Europe in Matchroom Sport's Mosconi Cup? What do you think of the selection process used this year? How tough was it for you to get on the team? What do you think of Team USA? And your prediction?

Darren
Wow, well the selection was tricky in the end, Matchroom picked the top 5 off both lists... which I don't mind. Originally, they said the top 3 guaranteed and 2 wild cards, but the rankings would play a part. Does this mean if I win a world title or the US Open, but I'm not in the top 5 I don't get picked? I think the players would like some clarification with this for sure. If it's the top 5 every year, then I have to play in Euro Tours if they include this as part of Mosconi rankings. Then, it becomes a problem for the likes of Mika and Thorsten who don't play in Europe. It would be virtually impossible for those guys to make the team, unless they decide to play Euro Tour also.
I don't know if I would have made the team if I finished No. 6, even though I won the MVP award last year. Every other year whoever got the MVP got invited back, even after having a bad year. Tony Drago and Dennis Hatch... but it looks like it changed, I like the top 5 as long as it's 100% the top 5... then it's down to the player if he wants to play all the Mosconi Cup ranking events. If not, then that's his own doing if he doesn't make the team. I'm fine with the top 5, that way we all know where we stand from start to finish and there can be no arguments as we all have an equal chance.
The top 5 this year have earned the right and we have a great team for sure. 5 of the best players in Europe, so I'm very happy with the team indeed. We're all friends and we respect each other. Chris makes his debut this year, it will be great for him and I'm sure he'll do good for the team. To make the team si always tough, especially in Europe with so many players in contention now as the level gets stronger every year. If you don't play good, you're not in... simple as that. I've been in the top 4 all year, so in the end, I made the team comfortably and finished No 2. I'm delighted to make my 3rd consecutive appearance. I said before, I don't want to play once then wait another 5 years to play again. I want to be in the team every year, it's too important to miss...
We have a great team and an amazing coach. I have no doubt we will win, but it's going to be close as the Americans are very strong and home advantage is key. I think we have the confidence and team spirit to take us over the line, but it will be tough as we will have sticky moments. We are prepared for them and no matter, we will win or lose as a team. We will be ready and I know the guys on the team are preparing for battle weeks before. I practiced very hard this week and mentally, I feel very sharp. I'm ready to go, I just want to get there and hang with Team Europe, get ready and do battle. This is going to be pretty special.
Prediction: 11-9 Europe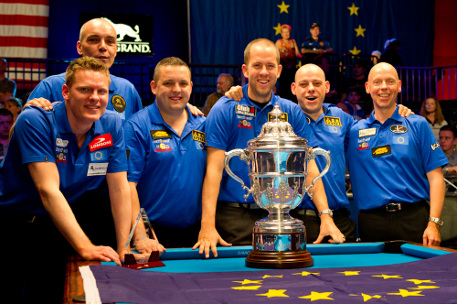 Of course, we now know that Team Europe won 11-7 - not bad Darren!

Darren
Thanks Dave, this is probably the longest interview ever.
On the last note, I'd just like to thank all my fans, friends, and family for their support on a great year and good luck to Pro9, best pool website on the internet in the UK.
Don't forget to check out my sponsors and my website
www.DarrenAppleton.com



Darren Appleton was talking to Big Dave Knight
Enjoy the article? Now try this...
View Pro9's front page!
Chat about this article in our forums.
Visit The Pro Shop to see new cues and gadgets.
Check out the Pro9.co.uk calendar for details of more events.