Full Name - Karl Boyes
Date of Birth - 4th November 1982
Born - Bradford, England
Lives - Blackpool, England
Titles/Achievements - 2007 World 9 Ball Championships Bronze Medallist
- 2004 World Cup Champion, English 8 Ball
- 2009 US Open, 7th Place
Playing Cue - Predator 5K2, 314(2) Shaft, Le Pro Tip
Break Cue - No Break Cue currently
Jump Cue - Mezz Air Shooter
Three words to describe me away from Pool - Funny, Handsome, Modest.
Three words to describe me at the table - Dangerous, Unpredictable, Explosive.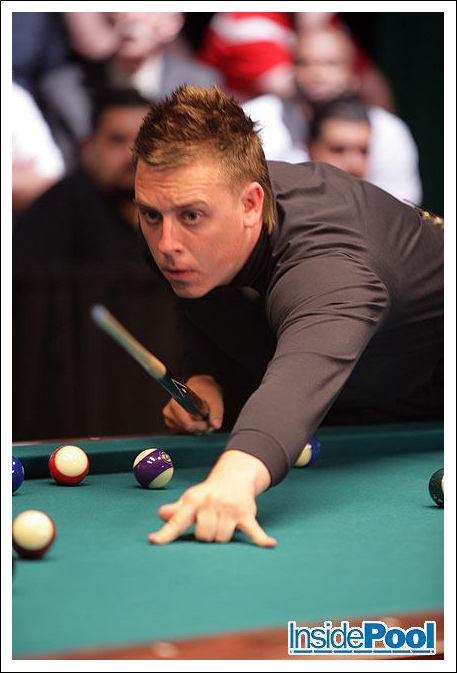 Photo © JR Calvert/InsidePOOL - & used by Pro9 with express permission.
Karl Boyes - The Changing Face of Pool
Working late nights in pool halls, both on and off the table, 6am is an hour more likely to be seen pre-sleep than post. Today is an exception to that fact. Today, five alarm calls (four mechanical and one useless-before-now early rising housemate) drag me up and away from my duvet to make the 114 mile trip from Leicester to Blackpool. Today, I am interviewing Karl Boyes.
Being 'environmentally aware', or as certain people like to call it, 'someone who can't drive', car sharing is of utmost importance. So after the short train ride to the sleepy village of Oakham, seeing David Carter smiling in his driveway ready to ferry me the rest of the journey was of some relief on this record breakingly cold January morning. Conversation on the road dipped into weighty issues such as the new and improved GB9 season, which sees hotels hosting British 9 Ball events for the first time; and the finer points of Jason Manford's stand-up routine, until talk naturally drifts on to the topic of the day, Mr Boyes. David Carter has been Karl's agent since May 2009 and by the 27 year old cueist's own admission, a major factor in his resurgence back to the business end of big time pocket billiards. A young man seemingly poised to ride the big waves of success following his 'on-debut' Bronze medal at the 2007 World 9 Ball Championships, Karl mysteriously dropped off the radar. Two years on and following a handful of superb results in recent months including, 7th place in the US Open, finishing as the highest placed British entrant; a Eurotour Runner-Up in Spain; and a member of the successful Great British team at the EPBF Nations Cup; I decided there was no better time to talk to Karl.
After travelling along the famous Blackpool Prom and arriving at Karl's house he shares with partner and fellow Pool star, 2008 Ladies World English 8 Ball Champion, Lynette Horsburgh, we exchanged greetings and got straight down to business; lunch. A lesser reporter, or maybe one with a schedule planned might have been put out by the news that they were accompanying messrs Boyes and Carter into town for food and shopping. I, unsurprisingly, had no such schedule planned and was more than happy to allow Karl to play tour guide and play it well. Full-bellied and with Karl and myself in agreement that David's new cap didn't suit him, we returned to base and I was introduced to Karl's immaculate Dynamic II table, sat proudly in a professional double-garage conversion off of the main hall. The break marks weigh heavily in the favour of Ten Ball, possibly 80 / 20 over 9 Ball. The lighting rig is ideal. The cushions play perfect. It was with a heavy heart that I declared time on the play just an hour in however, the clock was was ticking and there was lots to get through. Over the next two hours, Karl talked fluently, positively and with refreshing honesty on topics ranging from his life changing fitness regime to the frustrations of being a professional pool player in modern times.

"Read More..." for our exclusive interview with Karl Boyes.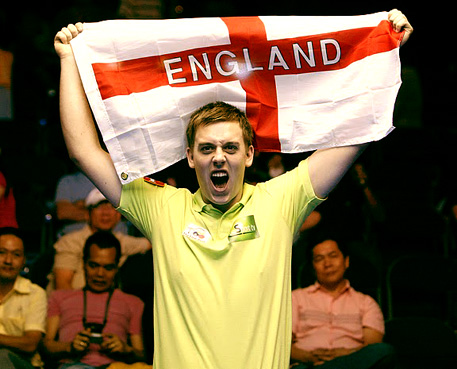 Photo © Matchroom Sport - & used by Pro9 with express permission.

Pro9
Karl, firstly, thanks for inviting us to your house today. Let's start with a look back at last year, was 2009 a good year for Karl Boyes?

Karl
"I would say from May onwards I started taking pool serious again, before then I was still at college and lost the plot with the game a little bit. Luckily, my manager, Dave Carter came along and agreed to work with me; without people like that you're not able to play in these tournaments and world tours. When that happened in May, I'd say even though I've not won a major I have knocked on the door at every one. I've had a 5th at the Predator 10 Ball, 5th in China, 9th in Doha, 7th US Open, the World 10 Ball I got beat in the Last 64 and that turned out to be my worst result in the majors. I've also so had a second and a third on the Eurotour, it has been consistent but I'm just waiting to get that first major win. I won a GB9 last year although I don't really class that as a major, winning's winning at the end of the day though."

Pro9
Well I was going to touch on the subject later but as you brought it up now let's go with it. You say you 'lost the plot', what causes a World Bronze Medallist to suddenly go into such disarray with, what I'm guessing, were serious doubts about playing the game again?

Karl
"It was never doubts about myself because obviously I know what I can do, it was more doubts about people who run tournaments, you never know where you stand. After coming third in Manilla in '07, I just presumed I might get in the World Masters and because I'd lost so much weight leading up to it I felt that this could be a sign of things to come, you know? As it turned out, I didn't get an invite to the World Pool Masters, I was never expecting the Mosconi spot because I don't really think you deserve to get into the Mosconi Cup for just making the semi-finals of a tournament. But when you look through the archives, Pat Holtz, for example, got in the Masters after a Last 16 finish, when I didn't get the invite I just thought, 'what's the point?'. It was probably a bit naive on my part. Throughout '08 and to May '09 I just couldn't be bothered and had the wrong attitude but now I've got it right and I'm putting a lot of effort in, on and off the table to make me a better player and person. This season I really want to do well and show exactly what I'm capable of."

Pro9
Did Darren Appleton's attitude after losing out on a Mosconi Cup spot last year following his World Title have an effect or ring any bells maybe?

Karl
"Not really because he'd just won sixty grand English and a World Title so 'whoopie-do' (laughs)."

Pro9
So do you now feel you have to be winning these major events in order to progress?

Karl
"No. Putting pressure on yourself, that's not what it should be about. The nature of the game itself means you can't go into every tournament telling yourself, 'you need to win this'. All you can do is prepare correctly and if it's meant to be it will happen"

Pro9
Ok, let's move onto the Eurotour and the staggering fact that no less than seven British players are currently sitting pretty in the top 16. What do you put this down to?

Karl
"I think it all started when myself, Darren Appleton, Mick Hill, Chris Melling and the rest of the English 8 Ball players started playing American. The original UK 9 Ball players like Imran (Majid), Daryl (Peach), Mark Gray, Raj (Hundal), knew it was going to get tougher, thought, 'we need to start being a bit more professional',and basically put more hours in because they knew the bar was raising. All of a sudden there are six or eight players rather than four so I think that's what's happened. Right now, because we're pushing each other the gap between that top tier and second tier of players is so big that head-to-head, out of ten games the top tier would beat the second tier eight times."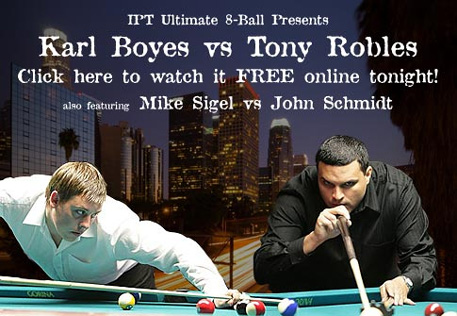 Image © Intenational Pool Tour - & used by Pro9 with express permission.

Pro9
What made you stay with American Pool after that first event?

Karl
"Obviously the IPT was coming up at the time which was lucrative but it was the razzmatazz and buzz about the game, I never felt the game of 8 Ball produces that. The game of 8 Ball doesn't really make any sense to me, there's too much luck involved. People think it's the other way around but I think it's the opposite."

Pro9
Why do you think that is?

Karl
"At 8 Ball, you break off, pot a ball and you can shoot any ball on the table so the amount of matches you lose where you've done nothing wrong is unreal. Whereas when you play a rotation game like 9 Ball you're both going for the same ball, so there's much more you can do. You can manipulate your opponent a lot more than you can at 8 Ball."

Pro9
So what is your game of choice right now?

Karl
"Ten Ball (without hesitation). Obviously there's the 9 or Ten Ball debate but they're the same game apart from the call shot. I've heard people say that 9 Ball's better for TV but it's not in my opinion. I don't know how somebody fluking balls on TV is good. People say pool can't produce drama but I know, as a sports fan, that it can, I watched Daryl Peach play Bustamante at the World Championships and the buzz and the drama was immense, the Mosconi Cup's the same."

Pro9
It's fair to say your Ten Ball break is a massive quality of yours. For anyone reading and looking to improve their own break at the game, what advice would you give?

Karl
I've modelled my break on Shane Van Boening, when I watched him break the balls at Ten Ball I thought, 'that's how you've gotta break!'. My advice would be to cue high on the white ball. You see people break and white go in the side pocket - that's because their bridge hand is too low. You don't always hit the white cleanly so if you cue high, the cue ball arcs and avoids that side pocket. People may look and think, 'that's a bad break', but it's not, it's the method in case you don't park it.

Pro9
What is your opinion on the 3-point rule?

Karl
"It's a terrible rule. Before I got into 9 Ball, I remember the World Pool Championships were on in July at the same time as the English Pool World Championships, me and a few of the other players used to sit in the bar between matches and watch the likes of Bustamante hitting them as hard as he can and parking the white and we'd just think, 'wow'. It's actually a good thing in that sense because since the tables were tapped and players mastered the soft break, you've got to hit them harder. But we're surely meant to be attracting non-pool fans. Take my Mum for instance, she doesn't know anything to do with Pool, she could watch 9 Ball on TV and the commentator could spend three hours explaining the 3-point rule but after those three hours, she still isn't going to have a clue what's going on. It's just too complicated, I've even seen referees make mistakes with it. That's why I like Ten Ball because you just rack 'em in a triangle and whack 'em. In an ideal world we'd just play Ten Ball."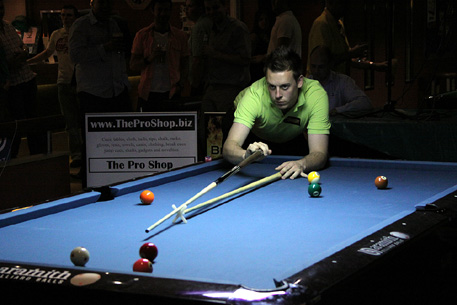 Photo © A Warden/BelezzaPhotography - & used by Pro9 with express permission.

Pro9
Right, let's move onto the big news at home; the new GB9 season. For the first time, British events will be played away from pool halls as Barcelo hotels are now on board and will be hosting our events as of March. This is a massive step forward for American Pool in Britain, are you looking forward to the new season?

Karl
"Yeah I'm really looking forward to seeing the set up and particularly the new tables which I've heard play really nice; not too tight but not ridiculously big. It will also be nice to see some old faces that have qualified this year, like Andy Barnett and Andy Richardson. What the team at GB9 have achieved in such a short space of time just shows you what is possible, they have done a great job."

Pro9
For the benefit of the players that haven't experienced playing in hotel venues, what can they expect from the different surroundings?

Karl
"More pressure. They'll feel like they're in a proper tournament and there will definatly be an advantage to the players that are used to the hotel set up. There's no hiding place now."

Pro9
Are there any bragging rights involved for the player finishing the season as Great Britain's Number 1?

Karl
"No not really, I don't think the person who finishes as number 1 will be running around bragging. It happened last year when Imran Majid was number 1 in the UK but Darren Appleton was number 1 on the world rankings so I don't think rankings are all that important. Maybe that's my down-fall (laughs)."

Pro9
Let's move onto the your fitness and training regime then. I know it's something you're hugely passionate about and actively promoting. What triggered you into action in the first instance?

Karl
"Throughout my school years I always been pretty slim until 15 years old when I put a bit of weight on, I started to get some name-calling, not in a bullying sense, more a wind-up between mates. I left school and obviously was travelling around the pubs playing pool, drinking, clubbing...the weight ballooned and at my peak I think I got up to 18 stones (252lb). I'd always fancied myself as a bit of a 'looker' and there was always this wind-up where people would call me fat and I'd say, 'it's a good job because if I was slim, your missus wouldn't be with you', (laughs). The turning point came leading up to the 2007 World 9 Ball Championships where I just thought 'give it a go'. Around the same time, Scott Higgins and Mick Hill were starting to lose weight so we were kind of spurring each other on. I joined Bannatyne's gym up the road and was down there five days a week, within four and a half months I'd lost 4 stones (56lb). Because I'd changed my life and diet so drastically the weight just fell off and I probably lost it too quickly as I ended up putting some back on for a short while. I stuck with it though and I'm full-time body-building now."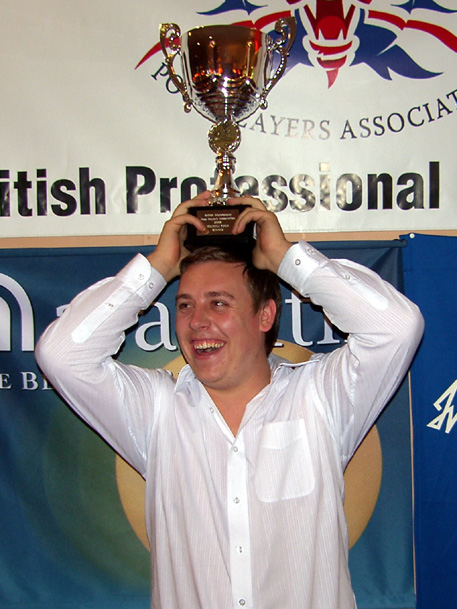 Photo © Big Dave Knight - & used by Pro9 with express permission.

Pro9
What was your goal when you set off on your weight loss plan?

Karl
"I didn't really have a set target because throughout my late teens and early twenties I'd always been overweight so I never thought, 'do I need to be 13 stones or 14 stones?', because I just didn't know. I just thought 'I'm gonna get in that gym and do my best', and then after a while you start loving the gym and the people there are so positive, it really has changed my life. Once you've been overweight, you never want to go back and when people say, 'you don't know what your missing', in terms of food; well I've been through the stage of thinking it was clever to eat as many cheeseburgers as I could, I know exactly what I'm missing and as a result I've cut my body fat down from 28.2% to 13.4%."

Pro9
Do you genuinely believe it has helped your pool in a tangible, physical sense or does it come down to pure confidence?

Karl
"It's not helped me play a certain shot better for instance because the talent's always been there regardless. But I've certainly regained the arrogance I lost a few years back and feeling good in the clothes I'm wearing is a big thing for me, it's the type of character I am."

Pro9
Onto a different type of training; pool training. Are you one for sparring sessions with other top players?

Karl
"I'm going to take my pool practise to a new level this year. I wont practise with any other top players anymore because I don't really see what that achieves, I don't see how you can practise together and still have an edge when it comes to competition. I've spoken to Johan Ruysink, the Dutch coach, and he's going to send me some drills across so my practise can become more professional. In the past I've just relied on the fact that I'm a 'feel-good', 'confidence' type of player and been happy to just throw balls on the table."

Pro9
So you and Daryl Peach (fellow Blackpool resident) never hook up for a set?

Karl
"(laughs) Everone always asks me that. I think we've practised once and that was in America when I first came on the scene, American 8 Ball in Atlanta. That's the only time I can recall."

Pro9
Daryl and yourself, along with Mark Gray, Imran Majid and Darren Appleton, make up the 5-man Great British Team at next month's World Team Championships in Hannover, Germany. How do you rate our chances?

Karl
"We're certainly one of the favourites. I've not seen the line-ups but I'd say Phillipines, Taiwan and then maybe USA, who I've heard are sending their Mosconi Cup team, as the big threats to us. I'm really looking forward to it and I actually think this could be one of the biggest tournaments ever."

Pro9
Individually, what are your team mate's strengths and attributes? Let's start with Darren Appleton.

Karl
"Darren's strength is his will to win. It doesn't matter whether he's practising or playing in the World Championship final, he always wants to win, no matter what. He lives for pool. Imran Majid - Temperament. It doesn't matter if he's 5-0 up or 5-0 down, you wouldn't know because he never looks flustered. I think that's down to experience, he's seen everything that can happen on an American table whereas I'm still surprised at some of the stuff. Daryl Peach - Years of experience and table knowledge, he knows how everything's going to react. Obviously he's a World Champion too. Mark Gray - A lot of bottle and a good potter. He's never needed to change his game from snooker and his confidence in sticking to what he does best is a huge quality. "

Pro9
You were part of the successful Great British team that took down the 4-man EPBF Nations Cup last year with the same team as above minus Mark Gray. There was a lot of controversy, particularly on the PRO9 forums, surrounding your selection over Mark. What were your thoughts?

Karl
"The pool world struck again with that one. It should never have been about me and Mark. If you'd have gone from the European rankings at the time, Daz (Appleton) was actually 5th highest out of the 5 of us, I just think people got a bit carried away with it. We all get on and we'll be cheering each other on in Germany for sure."

Pro9
I'm sure I can speak for the whole of the Pool playing nation when I wish all five of you guys the best of luck in Hannover. Moving onto another passion of yours and that's Darts. As a sportsman, what attracts you to the game?

Karl
"It's the way the sport has grown and what Barry Hearn has done with the PDC. I like the buzz and tension when you get to the end of the leg, is the guy going to hit the double or twitch it? I like the fact that you can have a 160 checkout and go treble 20, treble 20, double top and when you hit it you can go mental on stage. There's that sort of 'ave it' attitude towards your opponent whereas you can't really do that with Pool which is a shame because when you knock a big finish in at Pool to go 7-7, that's the highlight of Pool isn't it? Seeing the emotion is what it's about in all sports, Pool should be no different in my opinion."

Pro9
Finally, a question that I'm sure we all want to know the answer to. Do you and Lynette ever have a race-to-3 to decide who does the washing up?

Karl
"No (laughs) - I do it!"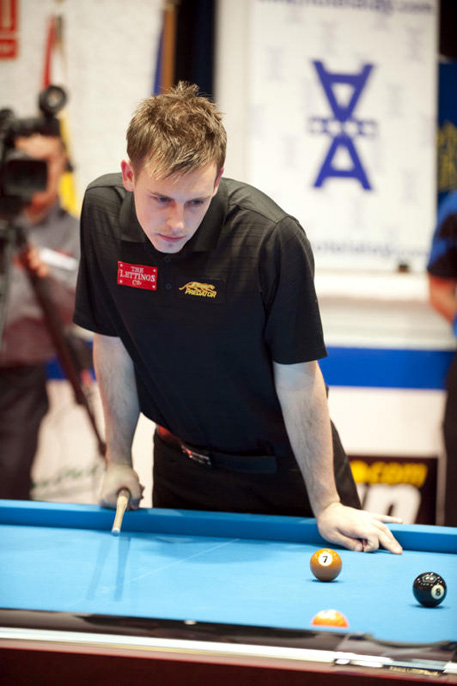 Photo © Bethan Louise Sage - & used by Pro9 with express permission.
Thanks again to Karl for inviting us to his house for the day. His dedication to improving not only his game but himself in general is bordering inspirational. In the week since this interview took place and a clear sign of his intentions for the year, Karl came within a rack of winning the Paris 9 Ball Open, losing on the hill in the final match to home favourite, Vincent Facquet 11-10. In a time when American Pool in the UK has looked at itself in the mirror and decided upon a change for the better, who better than Karl Boyes to be reaping the rewards? A man who himself has done exactly that.
Karl Boyes was talking to Ben Moore, 12th January 2010.




Check out the Pro9.co.uk Calendar for more tournament dates.