Ultimate Breakmaster*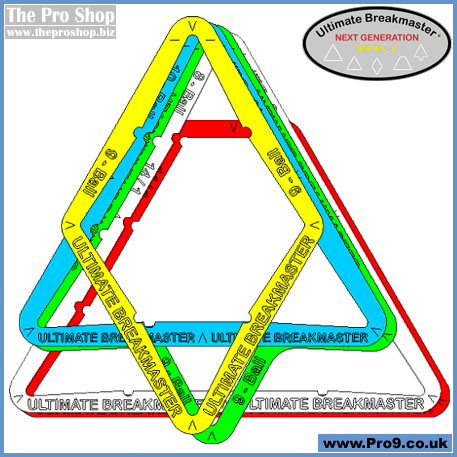 ULTIMATE BREAKMASTER - 5 PACK
Next Generation - Series C

Templates included in 5 pack are:
• 14.1 - red
• 9 ball - yellow
• 10 Ball - blue
• 9 / 10 Ball - green
• 8 Ball / 14.1 - white

Instructions
• Position ULTIMATE BREAKMASTER face down on cloth
• Slide ULTIMATE BREAKMASTER into required racking location
• Add balls from front to back of ULTIMATE BREAKMASTER
• Place all balls inside ULTIMATE BREAKMASTER
• ULTIMATE BREAKMASTER remains on table during the break shot
• Once the break is performed, remove the ULTIMATE BREAKMASTER

Key Benefits
• All balls will be touching and frozen to each other
• Created and optimised for maximum possible ball grip on cloth
• Provides consistent racking quality again and again
• Optimised for maximum uninterrupted ball runs
• Balls spread in all directions without impediment

Manufacture
• Produced with special film material
• Long-life product utilising best design and material
• Accurate production and manufacturing - made in Germany
• Professional Pool Players prefer natural characteristics of ball play.

The evolution of international professional Pool Billiards Sports has now begun, with the Next Generation - Series C version of the ULTIMATE BREAKMASTER.

The Pro Shop is proud to be a fully authorised reseller and wholesaler of the entire product range of superb ULTIMATE BREAKMASTER racking templates.
price: £5.99