The CueShark P.U.P.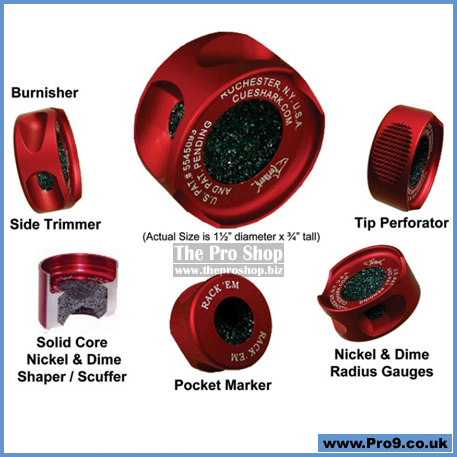 The CueShark P.U.P.
All in One Cue Tip Maintenance Tool
The P.U.P. is an 8 in 1 multipurpose cue tip tool in a convenient pocket size! Just like the Original CueShark, the P.U.P. has the same patented shaper, perforator and side trimmer designs. It is also guaranteed to never wear out, and there is nothing to replace - ever!
Nickel Radius Shaper/Scuffer.
Dime Radius Shaper/Scuffer.
Side Trimmer.
Tip Perforator.
Burnisher (10mm - 14mm).
Nickel & Dime Radius Gauges.
Pocket Marker.
The Players Ultimate Pocket-tool is the perfect pocket size cue tip maintenance tool for serious, professional and amateur pool and billiards players. The CueShark PUP provides players with nickel and dime shapers, a mushroom trimmer, cue tip perforator, nickel and dime radius gauges, tip side burnisher and serves as a stylish pocket marker.
price: £35.00