Pro9.co.uk news
Pro9.co.uk news is not available today
Information
Action
Loctite Super Glue Ultra Gel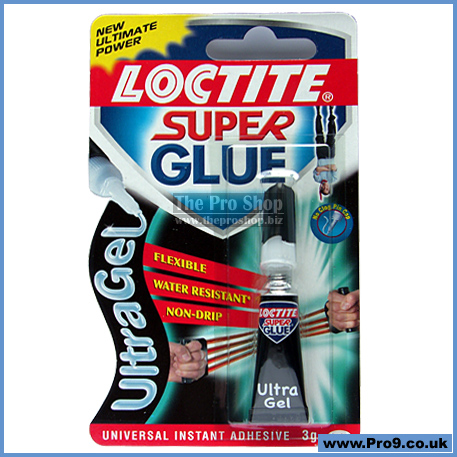 Loctite Super Glue Ultra Gel

Loctite Super Glue ULTRA Gel is a specially formulated rubber toughened instant adhesive that resists impact, shock, vibration and temperature extremes. It is ideal for bonds subject to daily use and harsh conditions. The Rubber Toughened Formula is also Outdoor Safe and gives more time to align pieces before the glue takes hold. Loctite Super Glue ULTRA Gel dries clear and sets without clamping, and is resistant to moisture and freezing temperatures.

Recommended For
• Repairing figurines, costume jewelry, cameras, toys, metal car parts, wiper blades, rubber seals and O-rings
• Ideal for vertical surfaces and for applications requiring flexibility
• Bonding leather, cork, paper, cardboard, wood, chipboard, fabric, metal, ceramic, rubber and hard plastics such as Plexiglas™, polycarbonate, polystyrene and PVC

Not Recommended For
• Polyethylene, polypropylene, PTFE, silicone rubber, styrene foams or glass
• Bonding assemblies which will hold hot liquids
• Use in dishwasher, oven or microwave

Properties
• Rubber toughened formula - Great for applications requiring high flexibility.
• Gel formulation - No mess, no drip formula; Ideal for vertical applications.
• Dries transparent - Invisible repairs.
• Sets in seconds - No clamping required.

Safety Precautions
Wear gloves. Protect work area.

Preparation
Surfaces to be bonded must be close fitting, clean, dry and free from oil, wax and paint. For best results, lightly roughen smooth surfaces. Pre-fit parts to be joined.

Application
To puncture the nozzle, screw the cap clockwise continuously into the base until the clicking sound stops. Unscrew the cap counter clockwise to open the bottle. Squeeze the blue side grips to dispense the adhesive. Only one drop of adhesive per square inch of surface is required. Press surfaces together immediately and hold for 60 seconds. Do not attempt to reposition the parts. Immediately after use, clean tip with tissue and replace cap. For increased strength, leave the parts undisturbed for at least 10 minutes. Full cure in 24 hours. Note: Cure time is dependent upon temperature, humidity, porosity of surfaces and amount of adhesive applied.

Cleanup
Cured adhesive may be cut away with caution using a sharp blade, removed with mineral spirits or with boiling water.

Please note this will only be sold to over 18's only

Special Introductory Offer!
Half price if purchased at the same time with any cue tip.
price: £3.40