Diamond 9ft Pro-Am Pooltable
Diamond 9 foot Pro-Am Pooltable
New and *Tournament Played Pro-Am Table Pricing Available (*when available)
DIAMOND BILLIARD PRODUCTS INC. is excited to introduce the new DIAMOND PRO-AM for the finest billiard halls and homes around the world. The PRO-AM is our highest grade commercial model table. It is an extremely quiet ball return table that includes all the same features and playability of our DIAMOND PROFESSIONAL.
The PRO-AM is superior in terms of construction, quality, and materials, but most importantly, the playability is second to none. The main difference is the one-piece slate design featured in 7ft, 8ft, and 9ft models. The PRO-AM has rapidly gained the respect of the professional, amateur, and casual players everywhere.
• The DIAMOND PRO-AM is the perfect table for "League Players" to enjoy and improve their game
• The DIAMOND PRO-AM is shipped from the factory fully assembled
• This one-piece slate table must be installed on the ground level. Three-piece slate is available for upstairs installation
Dymondwood Options
Dymondwood : Golden Oak Dymondwood : Walnut Dymondwood : Rosewood Dymondwood : Charcoal
Select hardwood veneers are impregnated with advanced dyes and resins through our state-of-the-art processes. The result: rich colors and optimum strength and durability that allows precise and efficient crafting. This beautiful, highly engineered material provides endless possibilities for fine, high quality products.
DymondWood is burn and dent resistant!
Massive 7" rail construction utilizing six pieces of solid Oak or Ash hardwood butcher-blocked together. One piece of poplar is used in the front portion of rail. This construction prevents warping.
Poplar wood is used in the front of the rail to glue the cushion rubber directly to the sub-rail. Poplar accepts staples easier than other wood types, when covering cushions with cloth. 1/4" feather strip channel is cut into the top of rail for securing cloth over the top side of the cushion then stapled to the bottom side of the poplar wood.
Burn and dent resistant Dymondwood – (5/8" thickness) is glued on the top and side of the butcher-block rail system for extreme durability. K-55 profile cushions are "glued" (not bolted) directly to the rail system for consistent rebound and optimum playability.
Simonis Cloth Colors
Available in Black, Marine Blue, Electric Blue, Tournament Blue, Powder Blue, Grey, Spruce, Dark Green, Simonis Green, Blue Green, Olive, Camel, Gold, Wine, Burgundy or Red.
New and Tournament Played Pro-Am Table Pricing
Call 07821 125 582 or multiple table discounts with or without matching light units and special pricing on Tournament Used Commercial tables (when available).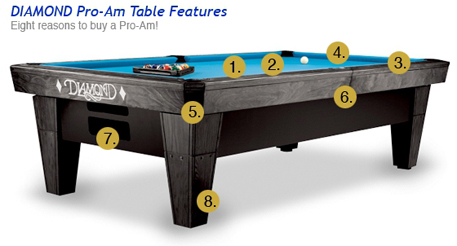 1. Slate
7ft, 8ft, and 9ft table are equipped with 1" 1-piece slate.
2. Cloth
Simonis 860 Cloth.
3. Rails
Unique Dymondwood that is burn and dent resistant. Phenolic resin pressed into the material gives the wood its durability and luster. Dymondwood is available in 4 different colors; Rosewood, Charcoal, Walnut, and Golden Oak.
4. Cushions
Tour specified K-55 profile offers quick response. An additional 1/4" top rail backing wood has been engineered between the cushion and the feather strip channel to provide consistent rail speed.
5. Pockets
Patent pending bi-level design is flush to the rail. Shooting out of the pocket is just as easy as shooting off the rail.
6. Wedge Leveling System
Matchless wedge leveling system built right into the slate bed. Allows the slate to be leveled without removing the rail system.
7. Ball Return
Extremely quiet and efficient ball return. Pocketed balls are collected in the center of the table, then gravity fed to tail end of table. Access doors allow for entry into ball return to remove any foreign objects effortlessly.
8. Feet
Leveling block is built right into the leg of the Pro-Am. As the 3/4" nut is turned, each leg can be raised or lowered with ease for precise leveling.
Diamond Pro-Am FEATURES
• DYMONDWOOD rails are burn and dent resistant
• Bi-Level Pocket Design
• 22 Leveling Points for Perfect Leveling
• Unique "No Lift" Leveling System
• One Piece, 1 inch thick Premium Grade Slate
• Extremely Quiet and Fast Ball Return
*Price is for a single table.
**Price excludes delivery.
***Discounts are available for multiple table orders.
****Tournament Played Pro-Am Table Pricing - When Available.
price: £7499.00