Predator Sport 2 Playing Cue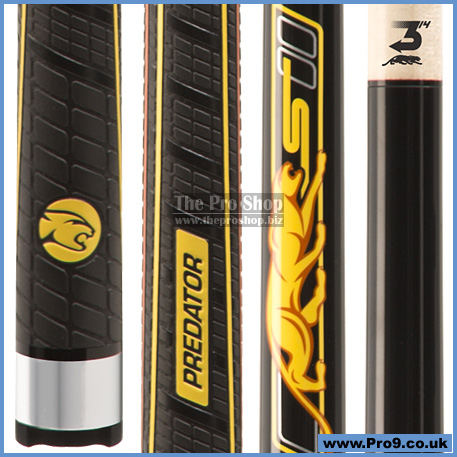 Predator Sport II Playing Cue
EFFORTLESS GRIP, PRECISION PERFORMANCE
Introducing the all new Predator Sport II high-performance playing cue. Engineered to exacting standards, the all new Sport II features a four-piece hard maple butt construction, the tuneable Uni-Loc Weight Cartridge System, and the all new Sport II grip featuring five different traction zones. Each Sport II comes paired with a world renowned Predator 3143 or Z3 low-defection shaft. Kick your game into high-gear.
• 4 Piece Hard Maple Construction
• Five Zone Sport2 Grip
• Gloss Finish
• Shaft: 314-3, Z-3, or Vantage
• Standard shaft length: 29"
• Standard tip: Victory Tip
• Joint: Uni-Loc Quick Release™ Joint
• Standard Weight: 19oz (18.5-20.5 available)*
• Wrap: Sport2 Grip
*adjustable in .10 oz increments via Uni-Loc Weight Cartridge System - sold separately
here
.
Spliced Shaft Technology
The variables involved in creating the most accurate shafts in the world are numerous. The unique relationships between front-end mass, material strength, wood grain density, and stiffness all play a role in how a shaft performs. Starting with the all-new Vantage and now in the third generation 314 and Z, we've refined that equation even further, creating the most dynamic and accurate shafts we've ever produced.
What's new in the Vantage and third-generation 314 and Z?
Every component, ranging from each of their ten splices to the tip has been enhanced, modified and re-engineered to be more accurate and more consistent than ever. The entire front-end construction of each Vantage, 314-3, and Z-3 shaft is new and features Predator's patent pending V-Tek components and build. This all new construction provides the shafts increased strength and stiffness with less front-end mass. These components paired with Predator's iMatch splice selection process insures the density and weight of each splice corresponds perfectly with the other splices, further increasing both radial consistency and hit consistency.
price: £579.00