Predator Exclusive LTD No Wrap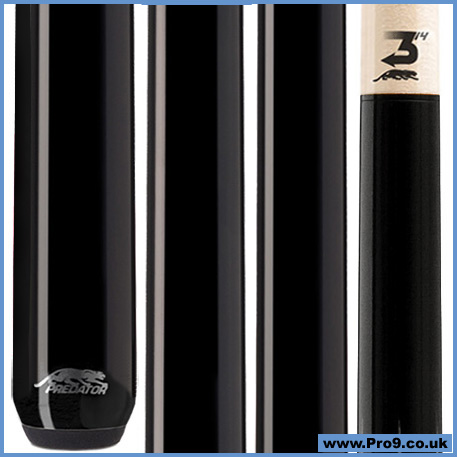 Predator Exclusive Limited Edition Cue
LTD - No Wrap
• Glossy black finish with subtle metallic flecks
• Solid maple butt construction
• UniLoc joint pin
• Phenolic joint collar
• Uni-Loc Weight Cartridge System
Predator – Engineered for Maximum Accuracy and Power
Predator scientifically engineered cues and shafts have been proven to provide increased power and accuracy over standard cues. The key to Predator cue accuracy and power is in the way its shaft flexes when the cue hits the ball. This unique flex reduces deflection, improving your accuracy by a mile! Predator shafts also provide increased spin for more precise ball placement.
Flex is certainly a great thing, but the feature that impresses players the most the first time they use a Predator technology shaft is the incredibly solid feel and hit — it is a unique feel you can not get from a traditional shaft.
All Predator cues feature a Predator technology shaft and Uni-Loc® quick release joint, giving you even more power and accuracy — and an even better hit. Predator technology shafts feature 360° radial consistency, meaning each shaft shoots the same no matter how you hold the cue. In other words, you get a 360° sweet spot, so you do not waste time aligning the cue in your hands.
All this technology results in a high quality, top-performing cue — a cue that will help you play your best game of pool.
• Shaft: 314-3 only
• Standard Shaft Length: 29″
• Standard tip: Predator Victory Tip
• Joint: Uni-Loc joint
*Uni-Loc Weight Cartridge System
sold separately here
*Predator QR Mini 3 Inch Extension
sold separately here
*Predator QR2 9 Inch Extension
sold separately here
*Predator Revo Wipes
sold separately here
***This cue cannot be sold without a Predator shaft.
price: £549.00
This product is no longer available