Poison™ Strychnine™ 4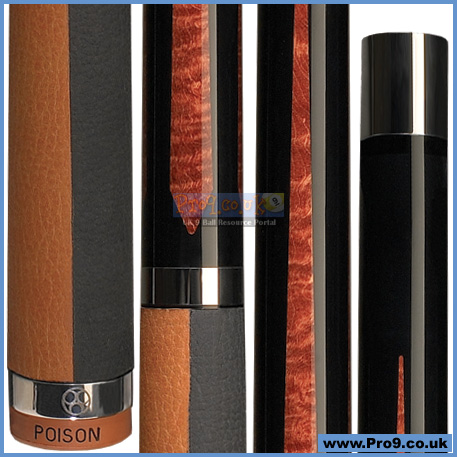 Poison™ Strychnine™ 4
Elegance that takes no prisoners.
Ghost™ Joint.

Forearm Cloaked in Black .

Golden Oak Curly Maple Inlays.

Stainless Steel Ring.

Black and Brown Cushioned HI™ Leather Grip.

Stainless Steel Butt Cap.

Flat Poison Stamped Bumper.


Fatal attraction. Sporty, fast, fierce... With a grip that clings obsessively to your hand and not the other way around. All while radiating a level of class that belies truly whiplash performance. Born of the latest technology and bred to win, Strychnine is for the aggressive player who prefers a refined look in battle.

Venom™ Shaft
Every Poison™ Cue comes with a Venom™ Shaft with DD technology built-in.



Ferrule: 0.6"

Ferrule Material: Thermax™

Shaft Length: 29"

Taper: Pro

Tip: Sarin™ Layered Tip by Tiger® Products

Tip Diameter: 13mm

Wood: Canadian Hard Rock Maple

No competitor in it's class comes close to the quality and performance of the Venom™ Shaft on every Poison™ Cue. Venom™ Shafts benefit for a wealth of experience in shaft technology and design, including the Poison™ "Double Density (DD) Technology™ for accuracy that will make you believe that the pockets are wider!!!
price: £307.45