Poison Bolt 1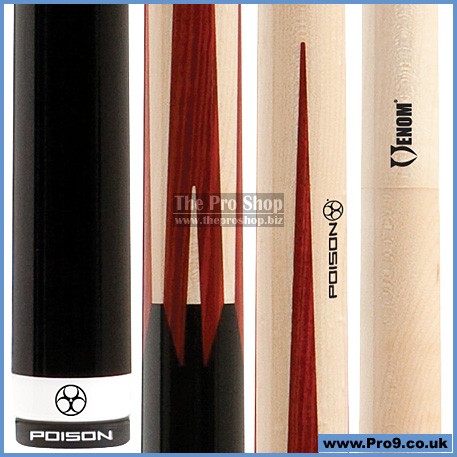 Poison Bolt 1
Move in and out of the shadows.

• Joint: Wood-to-wood Uni-Loc Bullet Joint
• Rengas points intersect Black Maple butt and Birdseye forearm
• White ring butt cap with Poison logo
• Wrap: No wrap
• Weight: 19oz

Configured to cripple the opposition, Poisons new stealth inspired line stands ready to challenge all that stand in the path to victory. Honed to give operators an edge with sharp floating Rengas points and figured Birdseye Maple, Bolt is locked and loaded.

Venom Shaft
Every Poison Cue comes with a Venom Shaft with DD technology built-in.

• Ferrule: 0.6"
• Ferrule Material: Thermax
• Shaft Length: 29"
• Taper: Pro
• Tip: Sarin Layered Tip by Tiger Products
• Tip Diameter: 13mm
• Wood: Canadian Hard Rock Maple

No competitor in its class comes close to the quality and performance of the Venom Shaft on every Poison Cue. Venom Shafts benefit for a wealth of experience in shaft technology and design, including the Poison "Double Density (DD) Technology for accuracy that will make you believe that the pockets are wider!!!
price: £239.00
This product is no longer available