Pro9.co.uk news
Pro9.co.uk news is not available today
Information
Action
P3 Onyx P3CBN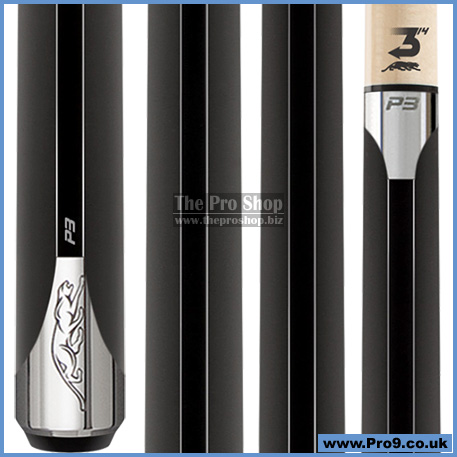 Predator P3 Onyx P3CBN
GAME CHANGING TECHNOLOGY
Introducing the all-new P3 Onyx limited edition cues. Cloaked in matte black and accented by highly polished stainless steel along with a high-gloss black and silver stripe, P3 Onyx cues are ready to pounce. Each Onyx limited edition features our P3 30-piece construction, Uni-Loc weight cartridge system, and your choice of Predator world renowned 3143, Z3, and Vantage low-deflection shafts. Only 500 of these individually numbered beauties will ever be released, making it a race against the clock before all of them are gone.
Cue Materials
• Matte finish
• Gloss and silver stripe
• Individually etched and numbered
• 30-piece construction
• Uni-Loc weight cartridge system
Meticulously engineered, obsessively forward-thinking and with unprecedented P3 technology, these cues have changed the game forever. The customizable Uni-Loc Weight Cartridge system means the P3 can be fine-tuned to within a tenth of an ounce, while the 30-piece hard Maple and dense Ash construction combines an astonishingly solid feel, with unparalleled straightness for dead-on accuracy. It is simply the most consistent playing cue we have ever engineered.
Shaft Construction:
• Shaft: 314-3, Z-3, or Vantage
• Standard Shaft Length: 29″
• Standard tip: Predator Victory Tip (Medium)
• Joint: Stainless Steel Uni-Loc Radial
• Standard weight: 19oz (18.5-20.5 available) adjustable in .10 oz increments
• Weight system: Uni-Loc Weight Cartridge System
• Wrap: No Wrap
*Uni-Loc Weight Cartridge System
sold separately here
- adjustable in .10 oz increments
price: £890.59