Miki 3/8 Joint Ring Weight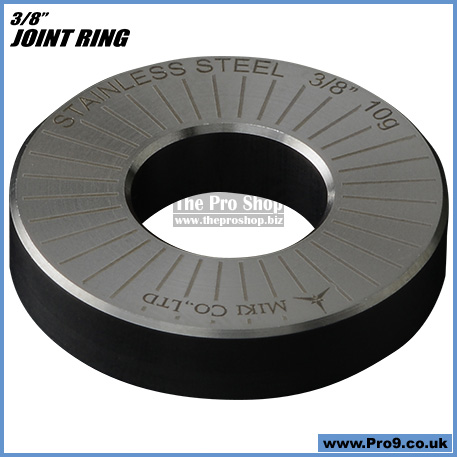 Miki Joint Ring Weight

With a unique laser processing method, the surface of the ring has been engraved preventing any loosening of the cue during play.

Suitable for joint types:

• Mezz Wavy joint
• 3/8-10 Flat joint
• 3/8-11 Flat joint
• 3/8-14 Flat joint
• Radial joint

* But please make sure to check your cue joint size before using.

Specifications:

• Material: Stainless steel
• Weight: 10g
• Inner diameter: 9.5mm
• Outer diameter: 21.3mm

Attach the Joint Ring between the shaft and butt of the joint to give your cue forward balance and feel.

Please make sure to clean the surface of both ring and joints before and after use.

*** Warnings ***
• Only use this product for its intended purpose.
• Please do not attach more than one ring to the joint.
• Please ensure to clean the surface of both ring and joints, also ensure to have nothing obstructing the joints when attaching the ring.
• After use, please keep it in a clean container or leave it on the butt joint with the joint protector for safe keeping.
• Keep out of reach of children and pets.


price: £23.00
This product is no longer available