Mezz GMC-35 Cue Case*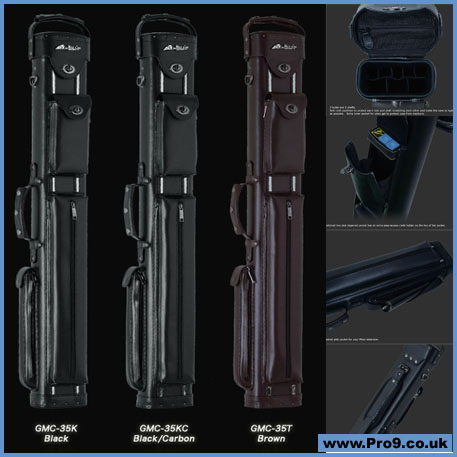 Mezz GMC-35 Cue Case

THE ULTIMATE FEATURED CASE

The new 3 butt x 5 shaft GMC-35 features an innovative top case cover with an inner pocket and two side zipper pockets to hold chalk. This case is spacious enough to carry a number of accessories, a jump cue butt and even has a separate zip pocket for an extension. With a padded non-slip shoulder strap for carrying comfort and ease, the GMC-35 is the ultimate feature-packed case!!!

• Size: 880mm/H x 140mm/W x85mm/D
• Weight: 2300g
• Small Pocket: 190mm/H x 100mm/W x 30mm/D
• Large Pocket: 440mm/H x 100mm/W x 30mm/D
• Extension Pocket: 280mm/H x 33mm/W x 33mm/D
• Materials: Synthetic leather

Order Now for delivery in 3 - 4 weeks

GMC-35K (Black)
GMC-35KC (Black/Carbon)
GMC-35T (Brown)

We are pleased to deliver worldwide, but due to the weight/size of this product free shipping is only available within the UK.

price: £326.00