McDermott - G503 (SOLD)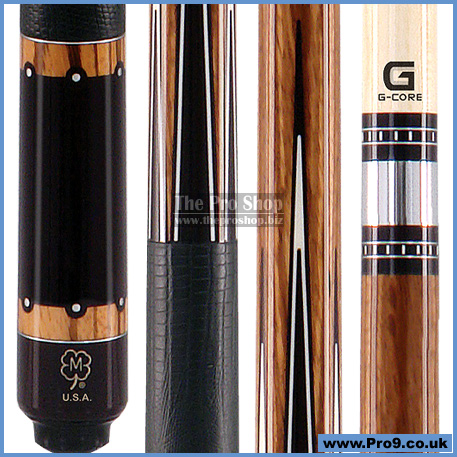 MCDERMOTT G503 - Starting at $540
G-Series - with i2 shaft upgrade
McDermott cues and performance shafts are some of the most recognized products in the billiard industry. Manufactured in Menomonee Falls, WI, McDermott cues are known for quality construction, exotic woods, intricate inlays and limitless custom options. Leading the industry in technology and craftsmanship with over 100 new models ranging from $199-$6500, McDermott remains the top choice for all players.
McDermott cues are proudly made in the U.S.A. and include a lifetime warranty against warpage.
(Source: mcdermottcue.com/g503)
Features:
* Zebrawood forearm
* Recon Ebony sleeve
* Upgraded shaft - McDermott i-2 shaft
* 3/8"-10 joint with stainless steel collar
* 6 Recon Ebony points
* 12 Pewter dot inlays
* Zebrawood rings
* Lizard-embossed Italian leather wrap
INTIMIDATOR i-2 SHAFT - Starting at $249
High-Performance Shaft
The i-2 is the most popular shaft in the Intimidator series. Known for its incredible control and consistency, the i-2 is the perfect all-around performance shaft. It is designed for players that want maximum control without sacrificing power and finesse.
(Source: mcdermottcue.com_ishafts)
• 3/8"-10 joint (standard)
• 12.75mm Kamui Black Soft Tip
• Pro Taper
• Matching ring-work on collar
• Total cue weight 19.3oz
Triple-Layer Carbon Fiber Core
1. Unidirectional fibers
2. High-strength composite fibers for exceptional durability and hoop-strength
3. Ultra-small diameter and unidirectional carbon fiber core
i-Shaft Construction
McDermott's Intimidator shafts give players the freedom to change power and spin-rate to maximize the speed and accuracy of their shot. The patented i-Shaft system has identified the variable characteristics required in your game (Power, Control and Feel). Utilizing their proprietary Intimidator Carbon Energy (ICE) technology, they have designed the industry's most radial consistent shaft to help maintain accuracy at all speeds.
Tenon Tip Technology
The i-Shaft's Tenon Tip technology transfers energy from the tip into the carbon fiber core producing a solid hit that maximizes the speed and accuracy of your shot.
Radial Consistency
The i-Shaft utilizes McDermott's proprietary triple-layer carbon fiber core technology to create the most radial consistent shafts on the market. Radial consistency is the ability to reproduce the same results regardless of the shaft's orientation. This means the shaft will perform the same way on every shot. McDermott's high-performance shafts consistently provide a straighter cue ball path, minimizing the need to compensate for spin and throw. The carbon fiber core's stability combined with McDermott's tri-core butt construction gives every cue a solid, consistent feel known throughout the industry as the "McDermott Hit."
This cue is sold "as is" (no further customisation is available) and has had test hits only, and is in our Europe based shop stock now. If accepted, the total price you offer will be the total price you pay, including postage to anywhere inside the European Union, and including insurance and taxes already paid.

Please use the "Make enquiry" button to make an offer now!
Update - SOLD!