Lucasi Hybrid Fusion LHF66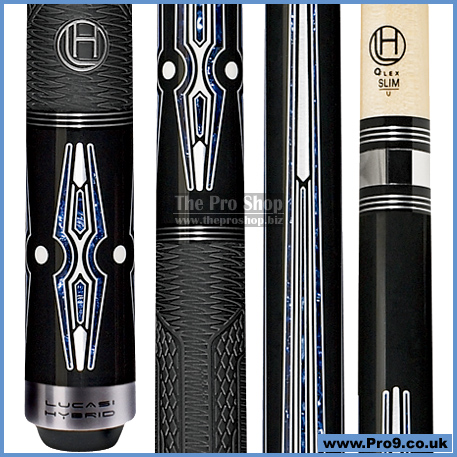 Lucasi Hybrid Fusion LHF66
Lucasi Hybrid pool cues combine unprecedented designs and quality workmanship with cutting-edge technologies to create the highest performance pool cues in billiards. Through exhaustive testing, Lucasi has identified the best features to bring you more accuracy, greater ball control, a more solid hit, less vibration, reduced deflection and a smoother stroke with every shot.
Tip:11.75mm Moori Medium tip
Ferrule: Zero Flex Point Ferrule with Lightweight Core
Shaft: Zero Flex Slim performance shaft, 29in hard rock maple with total sweet spot construction
Joint: Stainless Steel
Collar: Black with triple silver ring
Pin:Uni-Loc
Forearm: Mystic black with intricate cyber-style crushed blue velvet and metal inlays
Rings: Triple Silver Rings
Wrap: G5 Grip with X-Shox Dampening Technology
Sleeve: Mystic black with intricate cyber-style crushed blue velvet and metal inlays
Plate: Engraved Stainless Steel with Lucasi Logo
Bumper: Black rubber


Cue Butt Technology
Lucasi Hybrid cues feature a four-piece butt construction that brings increased durability and consistency and reduces vibration to give you a true feel for the shot and solid hit.

G5 Grip Technology
Golf style grip technology provides unprecedented traction and stability for increased ball control.

X-Shox Dampening System
Lucasi Hybrid's patent pending shock-absorbing memory foam integrated in the wrap reduces vibration by more than 27% giving you a truer feel on every shot and decreases shot distortion.

Total Sweet Spot Construction (TSC)
Each Lucasi Hybrid shaft is assembled using an eight-piece radial construction extending the sweet spot throughout the entire shaft which transfers the energy more efficiently for unmatched power, consistency and ultimate control.

Moori Medium 9-Layered Leather Tip
Using only the highest-quality pigskin leather, each layer is pressed and vacuum-sealed to create a tip with a uniform response that dramatically reduces deflection and maximizes cue ball control.
price: £955.00