Lucasi Hybrid Big Beulah 2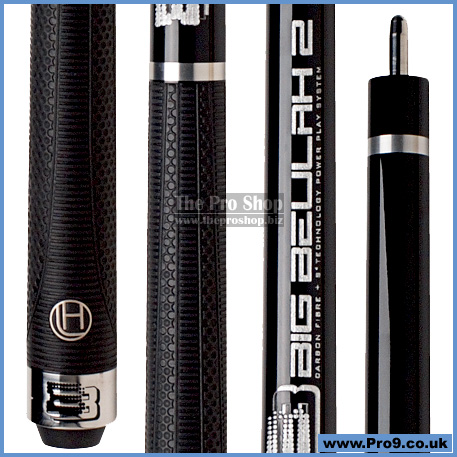 Lucasi Hybrid Big Beulah 2 Break Cue
Ultimate power and control on every break
Tip: 12.75mm Bakelite tip
Ferrule: 1/2 Carbon fiber
Shaft: 29in Big Beulah hard rock maple shaft
Construction: 8 piece radial consistent TSC construction
Collar: Black with silver ring
Joint: wood to wood
Pin: Uni-loc
Forearm: Four piece constructions with Big Beulah laser-engraved graphics
Wrap: X-Shox dampening system and G5 grip technology
Plate: Engraved Black implex
Bumper: Black rubber
Warranty: Lifetime Manufacturers Warranty


SO EXPLOSIVE IT FINISHES THE GAME
Who says Big Is not Beautiful? Big Beulah is Here!!! Don no let her sneak up on you. Big Beulah was engineered to give you an explosive break that will send shockwaves through your opponent. Power packed with so much technology you will just smile every time you break. Big Beulah proves that big is beautiful!

S4 SUPER SIZED SWEET SPOT TECHNOLOGY FOR AN EXPLOSIVE BREAK
New S4 technology (Super Sized Sweet Spot) was engineered to give you an explosive reaction when your tip hits the cue ball. The massive tip size allows for ultimate control and reduces unwanted spin. But that is not all — the super hard tip is a composite of special polymers and bakelite formulated for an intense break every time.

VIRTUALLY INDESTRUCTIBLE CARBON FIBRE FERRULE
Even your most powerful break will not damage this amazingly strong high-impact ferrule. It is light weight, virtually indestructible and will hold up to almost anything.

TSC CONSTRUCTION FOR A SHAFT THAT IS VIRTUALLY INDESTRUCTIBLE
The Lucasi eight-piece radial shaft construction (TSC)makes it solid to the core. The ultimate machine to convert your energy into an explosive break.

CUE BUTT TECHNOLOGY
Big Beulah has a unique four-piece butt construction that brings increased durability to your cue, reduces vibration, and gives you a solid hit for a straighter and more accurate shot every time.

G5 GRIP TECHNOLOGY FOR SUPERIOR STABILITY
G5 Grip Technology™ boasts a distinctive "S" pattern that provides unprecedented traction and stability for increased ball control. This allows for a more stable shot, translating into controlled "English" on the ball.

DAMPENING SYSTEM FOR MORE COMFORT
The X-Shox Dampening System features patentpending shock-absorbing memory foam integrated into the wrap. X-Shox significantly reduces impact shock vibration by more than 27% compared to other cues on the market, making even your most powerful break easy on the arm.
price: £429.87