Delta-13 (24k Gold)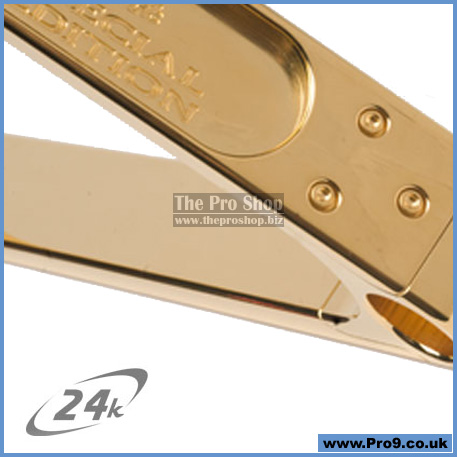 The Delta-13 (24k Gold) Billiard Ball Rack
The True Triangle
This ball rack is Precision Machined for a Better Break. Your Delta-13 Elite aluminium rack has been plated with 24-karat gold. It is 99% pure gold with 1% nickel to improve the strength. The gold is .00012´┐Ż thick and can easily scratch and wear off with improper usage. To clean the rack, only use cloth used for jewelry or eye-wear cleaning.
If necessary, use window cleaner to remove finger prints and dirt. While gold jewellery cleaner may help remove scratches, too much buffing could remove some of the gold plating. Extra caution should be taken. The Delta-13 carries a lifetime guarantee against warping, bending, and splintering. It does not have a guarantee on the plating. This rack is fully functional and is held to the same tolerances and standards as the racks used by the professional pool players. The ergonomic grip helps to remove the rack from the balls. This rack has a LIFETIME GUARANTEE against warping, bending, or splintering.
Lifetime Guarantee to never warp, bend, or splinter.
price: £1299.95