Eclipse® Pro Trainer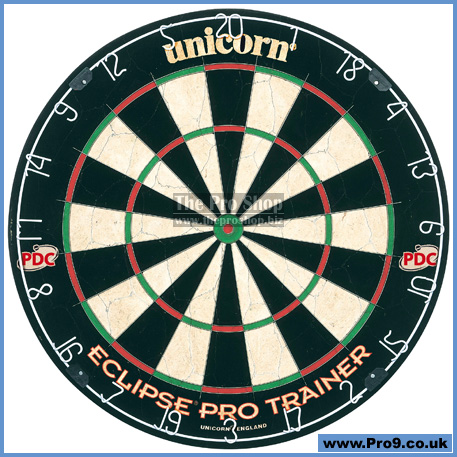 Eclipse® Pro Trainer
Bristle dartboard

Features:
► Dedicated practise board with specially designed Spider
► Championship quality bristle board
► PDC endorsed
► World Champions endorsements
► Designed to maximise averages
► Unicorn high technology wiring design
► Completely staple-free construction
► Ultra-slim segmentation system
► Ultra high visibility number ring and spider
► Staple-free Bullseye
► Free 'Checkout Chart'
► Free measuring tape

As used by Team Unicorn Members, the Eclipse Pro Trainer features ultra-slim doubles and trebles some 40% narrower than the Eclipse Pro match board. Ultra slim targets step up a player's game in practise, requiring astonishing accuracy, consistency and control. Eclipse Pro Trainer also features a new Micro Bull for training torture.

Phil Taylor Says: "I practice now on an Eclipse Pro Trainer. If you're serious about your game, this is a must-have."