Eclipse® HD Dartboard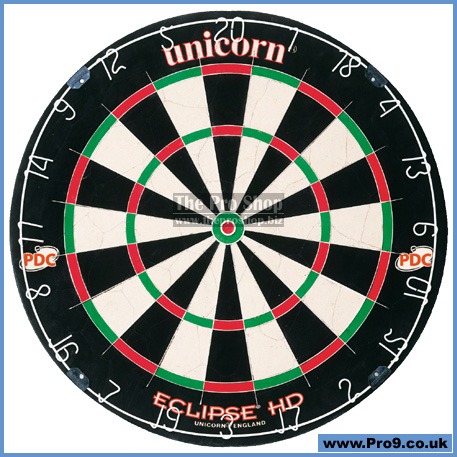 Eclipse® HD Dartboard
Bristle Dartboard - New for 2010

Special Features:
► Selected elite first grade sisal
► PDC endorsed
► World Champions endorsements
► Designed to maximise averages
► Unicorn high technology wiring design
► Completely staple-free construction
► Ultra-slim segmentation system
► 30% thinner than conventional round wire boards
► Increased target area, especially in Doubles and Trebles
► Ultra high visibility number ring and spider
► Staple-free Bullseye
► Free 'Checkout Chart'
► Free measuring tape

The brand new Unicorn Eclipse HD dartboard will be phased into PDC televised play during 2009. Only the very best selection of elite, first grade sisal can be used to craft limited edition Eclipse HD boards.

TV cameras are unforgiving and the superlative live performance of Eclipse boards is visible and known to millions of viewers around the World.

All Eclipse boards use Minimum Metal for Maximum Target, actively improving scoring averages and checkout ratios and minimising bounceouts.

At the highest level of the professional sport of darts, Unicorn Eclipse boards give you that vital edge to maximise scores in an ultra-low bounceout environment.

Players and surveys around the World consistently rate the Unicorn Eclipse Pro as the finest board available from any manufacturer, bar none.