Cynergy SVB GEN 1*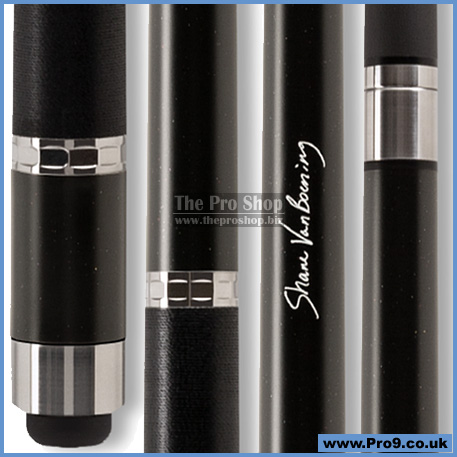 Cynergy SVB GEN 1 Black Starlight
PLAY LIKE A CHAMPION.
Take your game to the next level with the same cue fielded by five-time U.S. Open Champion Shane Van Boening. Crafted with A+ grade kiln-dried Canadian Maple and topped with the Cynergy 15K high-performance carbon fiber composite shaft, each SVB Gen One cue features stainless steel 3D rings, collars and butt cap. Designed for the champ himself, every SVB cue is built to Shane's butt diameter and balance point preference, making them a true champion's cue.
• Cynergy 15K carbon fiber composite shaft
• A+ grade kiln-dried Canadian Maple
• 3D stainless steel rings
• Irish linen wrap
• Satin Starlight finish
• Cuetec Acueweight System
• Dakota Edition Starlight Smart Extension
• Dakota Edition Black Bow-Tie Tip Tool
• CT joint protectors
• Cynergy cleaning wipes
Cynergy SVB GEN ONE cues are constructed of A+ grade kiln dried Canadian maple and are paired with the new Cynergy 15K carbon fiber composite shaft. Each cue features stainless steel 3D rings, joint collars and butt caps, a black Irish linen wrap and the signature of Cuetec Pro and five-time U.S. Open Champion Shane Van Boening.
CUE INFORMATION:
• Standard Butt Length 29"
• Standard Shaft Length: 29"
• Standard Tip: Tiger® Sniper Laminated (soft)
• Joint: 3/8×14 Cuetec Joint (21.30mm)
• Shaft Collar: Stainless Steel
• Standard Cue & Shaft Weight: 19oz (available in 18oz, 20oz, & 21oz)
• Standard Shaft Weight: 3.8oz
• Wrap: Black Irish Linen
SHAFT SPECIFICATIONS:
Multi-directional Carbon Fiber Filaments
All Cuetec Cynergy carbon composite shafts are constructed with multi-plies of resin-impregnated military grade unidirectional carbon fiber filaments. The diameter of each filament is 7 um(0.007 mm), or about one twelfth of a human hair. The orientation of these carbon fiber filaments is crucial to achieving optimal durability, strength, and performance. During the heat curing process each of these specifically oriented filaments works together to ensure there is zero net displacement. The result is a perfectly straight and ultra-strong shaft.
Polyurethane Foam Core
At the heart of each Cynergy carbon composite shaft is its ultra-high-density polyurethane foam core. This Cuetec proprietary poly-foam core ads stability to the shaft, allowing for prescribed flex and creating a more wood-like sound upon contact with increased feel and feedback.
Flyweight Front-End Construction
Less weight means less deflection. Benefitting from their ultra-strong carbon composite construction, each Cynergy shaft features Cuetec's flyweight front-end build. This construction allows the Cynergy poly-foam to stop five inches below the tip, creating a rigid cavity with less mass and therefore less deflection on contact.
SST (Super Slim Taper)
Developed to provide the most comfortable playing experience, each Cuetec Cynergy shaft features the all-new Super Slim Taper. Measuring 15.5 inches in length from the tip, each Cynergy shaft has virtually zero rise, allowing for a more level and precise stroke, regardless or the player's stroke length.
Thin White Sighting Ferrule
At only .25 inches long, the light-weight, thin white sighting ferrule on each Cynergy shaft not only aids in aim contrast and depth perception, but it also provides a more familiar and stable platform for tip maintenance and replacement over the life of the shaft.
12.5mm Tiger Sniper Tip
Selected for its high-performance and neutral hit attributes, each Cynergy shaft is paired with a Sniper tip. Naturally cured for more than a year, each Sniper tip is meticulously honed, utilizing a unique vacuum lamination process that insures the elimination of air between the tip's ten layers.
• Standard Shaft Length: 29"
• Standard Tip: 12.5mm Tiger Sniper Laminated (soft)
• Joint: Fits Uni-Loc QR Joint or 5/16x18 Joint
• Shaft Collar: Black Phenolic
• Standard Weight: 3.8oz
How to care for your Cuetec Cynergy shaft
DAKOTA VERSION INCLUDES...

• Dakota Edition Starlight Smart Extension
• Dakota Edition Black Bow-Tie Tip Tool
price: £679.00