Predator Arcadia Reserve Cloth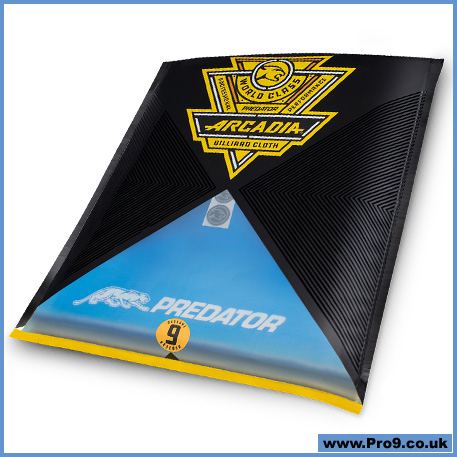 Predator Arcadia Reserve Professional Pool Table Cloth
Competition Worsted Tournament Blue
Introducing the Predator Arcadia Reserve high-performance worsted pool table cloth designed for high-performance and for the ultimate playing experience. If you are looking to recover your pool table and want the best billiard cloth, the competition RESERVE tournament blue cloth is available in tournament blue, available precut for 9FT table size.
The ARCADIA RESERVE pool table cloth is the official cloth of many WPA professional events, including the World 10-Ball Championship Men and Women, the Juniors World 9-Ball Championship and the new US Pro Billiard Series.
THE CHOICE OF CHAMPIONS
Arcadia Reserve is a worsted vibrant billiard cloth made from the finest Australian Merino Wool and is crafted in perfect balance with the most consistent high-performance Japanese Nylon+ technology. The result: superior accuracy, durability and stability for a professional experience and high speed action.
If you seek the fastest play, the most accurate roll and the highest durability, Arcadia Reserve is the right replacement pool table cloth for you.
Worsted Blend: 70% Australian Merino Wool / 30% Japanese Nylon+
KEY BENEFITS
• Superior Durability
• Most Consistent
• High Speed Action
• Best Pool Table Cloth Choice for Home or Commercial Use
EXCITING HIGH SPEED ACTION
► PLAY LIKE THE PROS
Predator Arcadia Reserve billiard cloth is made of a worsted blend with a smooth nap-free surface finish. Thanks to the use of high-tech Japanese Nylon+, it delivers the fastest playing speed with accuracy for a true roll and the ultimate playing experience.
EXCLUSIVE PREDATOR LOGO RAIL
► MAKE A STATEMENT
Choosing the best performance equipment is the first step to enjoying the ultimate playing conditions. Now you can also make a statement about the quality of your playing conditions.
PREMIUM AUSTRALIAN WORSTED WOOL
► FOR A FAST ROLL AND INCREASED DURABILITY
Predator Arcadia Reserve cloth is weaved using high-end production equipment with the finest quality of worsted Merino wool, sourced from Australia. Tight worsted weaving promotes a faster ball roll and extends the lifespan of the cloth by minimizing piling and nap. If you want professional playability from your table and want to ensure quality conditions that last longer, Predator Arcadia worsted cloth is your best choice.
TOURNAMENT BLUE COLOR
► OPTIMIZED TO GIVE THE BEST VISIBILITY ON VIDEO
The Predator Arcadia Reserve billiard cloth Tournament Blue color has been optimized to give the best contrast and visibility on video and on screen, as well as to be pleasant to the eye in real life play. Combined with Predator Arena lighting you will get the best playing experience on the table. Watch it in action during the Predator World Pro Billiard Series events.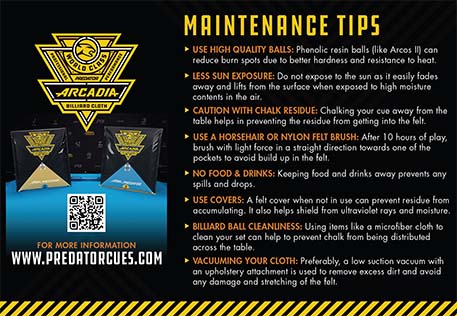 Click the image to view the larger picture - use "back" to return here.
INCLUDES
• 1 Precut Pool Table Bed Cloth for 9FT table
• 6 pcs of Precut Rail Cloth, Including 1 Official Predator Logo Rail
• 2 Predator Spot Stickers
Note! Heavy Item... Free shipping is only available within the UK.
price: £360.00