Z9 - Yellow Green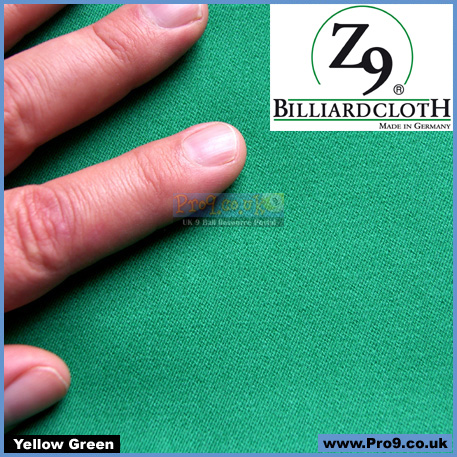 Z9 Billiard Cloth
Launched after three years of intensive development, and an extensive testing period, using the best selection of raw materials, with the application of only the most modern fibre technologies.
Fits 9ft table - Bed and Rails.

Outstanding durability.

High resistance to holes - and nodule formation.

Optimal grip.

Consistent and even run qualities.

Reduced maintenance time and effort.

Trusted colour rendering.
Produced in Germany under the most modern "Webtechniken" (DIN 9001) quality control, "Z9" Billiard Cloth is a superior quality product with an unbeatable price!
Cloth that will enhance your enjoyment by allowing you to play your best, Z9Billiardcloth looks and feels very different than other billiard cloth. Z9 cloth is incredibly smooth with no felt-like fuzziness. The "worsted" construction means that there are no short fibers that can release from the cloth to form "pills" or fuzz-balls that have to be removed from the playfield in order to allow the ball to roll straight and true. In addition, worsted construction does not allow the cloth to wear like nappy woolen cloth which eventually develops tracks or grooves in the cloth. With Z9, ball spin is consistent, and the roll stays straight and true on every shot.
Smooth, even threads assure a consistent speed, English and cushion rebound. High wool content worsted thread construction takes ball spin more consistently and helps reduce ball burns. Z9 Billiard Cloth is so smooth and flat that you never need to overpower a shot to get the distance.
Z9 Zobrekis Billiard Cloth starts with very fine combed wool yarn. This long-fiber wool is then tightly-twisted and woven (the worsted wool process) into cloth, and the result is a beautiful precision cloth that achieves the smoothest, most accurate and most consistent play surface available.
Z9 Zobrekis Billiard Cloth, tight weave naturally repels liquid spills and stains. The tight weave prevents penetration of dirt and chalk dust, and the twist of the worsted threads allow the fabric to naturally resist liquid spills and stains, thus greatly increasing the fabric life as well as making it easy to clean. Tough enough for professionals and amateurs like.
Professional players prefer Z9 Billiard Cloth from Klaus Zobrekis, for the same reasons that make it great for commercial use or family play - strong worsted thread construction and high thread count resists tearing, scuffing and spills, and Z9 Cloth blend resists ball burns better due to its high wool content.
The superior value Z9 Billiard Cloth plays better, longer. Because it plays better, it allows you to more fully enjoy the game. An investment in Z9 Product is an investment in your enjoyment.
The moment of truth...
After your table is installed and leveled, it is just you, the ball and the cloth. Z9 cloth is specially woven and sheared so the direction of the ball is not affected by the cloth. Whether you play for sport or reward, whether you spend $200, $20000 for your table, insist on accuracy. Insist on Z9 Billiard Cloth the Best Product for your Business.
Due to the weight of this product free shipping is only available within the UK.

price: £199.00
This product is no longer available