Instroke Southwest*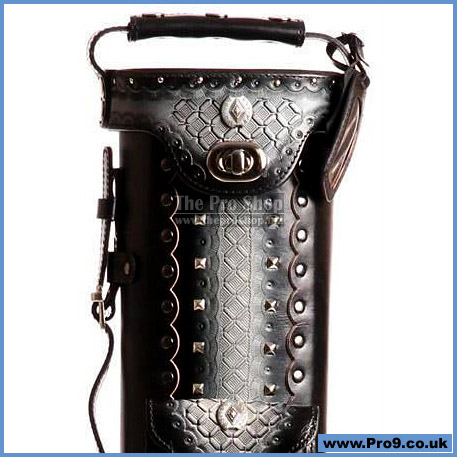 Instroke Southwest Series

• Extensive Hand Tooling
• Silver studs up and down front of case
• Real American Southwest Indian Gauchos.

3 sizes: 2 butt / 4 shafts
3 butt / 5 shafts
3 butt / 7 shafts

Available in 2 colors:
*Black (BK)
*Dark Brown (DB)

The Goal for Instroke
To build the finest cue case in the world. To this end we dedicate much of our time and resources to perfecting new and improved methods for building Instroke Custom cue cases. For most of the last 8 years we have set the standard for custom cue cases. A testimonial to how well we've succeeded can be seen in the many copycat designs in the market place. Following is the "Total" package of benefits you receive as an owner of an "Instroke"TM Custom Cue Case.

Interior Protection
• Lightweight, unbreakable oversized PVC tubing for butts and shafts.
• Tubes are completely lined with a non-abrasive, moisture resistant fabric.
• Shock absorbing, form-fitting foam rubber.
• Moisture protection through individually sealed tubes
• Fully insulated interior allowing for slow acclimatization to temperature changes

Quality Exterior Protection
• Top grain, oil tanned leathers on our leather cases.
• Use only the best quality vinyl on our vinyl cases.
• Reinforced stress points.
• Industrial strength rivets
• Diamond Latches.

Outstanding Value
More case for less money! Point for point Instroke Custom cue cases out perform the competition. Instroke cases out last many other brands by years, making Instroke the least expensive case to own. Our Instroke interiors and exteriors provide maximum protection day in and day out.

Total Design Features
• Large pockets with easy access.
• Side and top handles.
• Fully adjustable shoulder strap.
• Butt and shafts may be stored joint up or down.
• Easy access jump-handle pouch on selected models.
• Able to accommodate cues up to 62 inches over-all length.(shaft & butt of equal length)

Outstanding selection
• Over 100 models to choose from. Sizes range from 1 butt/ 1 shaft to 4 butt/ 8 shaft models.
• "Limited" Custom cases available with unlimited color combination.
• Hand selected" Exotic" leathers available.
• Price ranges to fit anyone's budget.

Newest Design Feature - DiamondLatch
As part of our constant improvement of Instroke cases we have developed the strongest upper lid closure latch in the industry. So revolutionary and strong is the Diamond latch we have the patent pending in the USA and more patents are pending.
price: £445.00