Aramith Case Plus Balls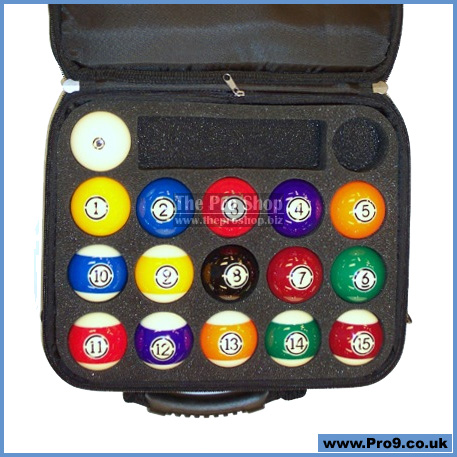 Aramith Case Plus Balls
Complete with Super Aramith Pro Cup TV / Aramith Tournament Edition Balls.
Officially endorsed by Saluc in Belgium

Rugged nylon fabric case

Individual foam cavities for each ball

Spare cavity for ball cleaner/cloth

Zip pocket on front

Sturdy rubber handle

Strong web shoulder strap

Suitable for Aramith 2.25" American pool balls
Select your preferred balls...
Super Aramith Pro Cup / TV Balls (SAPC/TV)
or
Aramith Tournament Edition Balls "Duramith" / TV Balls (ATEB/TV)
(pictured)
Due to weight, this product only ships free inside the UK.
TV Balls have spotted cueball with pink 4 and 12 balls, and brown 7 and 15.
price: £219.00