Talisman PRO Cue Tips (x1)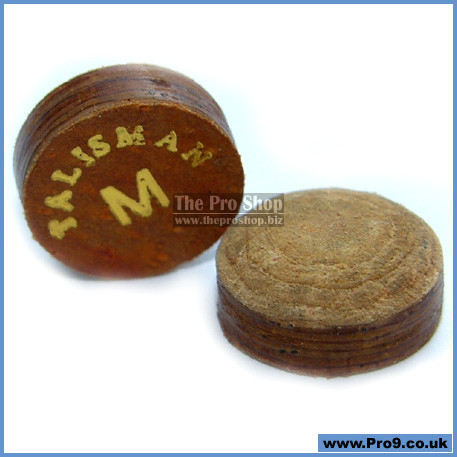 Talisman PRO Cue Tips
Made in Thailand by Tony Jones - Talisman Billiards Accessories.
Last one in stock - no more available after this
If you want to play your next league match and start getting astonishing, immediate results in the level and consistency of your game... or even just want hold your own for your team -- then shut down your email, lock the door, unplug the phone and devour this information.
14mm diametre tips.

High grade Pig Skin.

Medium Hardness.

Made in Thailand.

Pre-domed top.
Nothing is more important than the cue tip you use!! If it doesn't feel right - its not right! Talisman Cue Tips can give your game new dimensions, give You new confidence and make those league nights much more fun.
That's a pretty wild claim you may think, but read on until the end of this page and I will tell why I can say this with authority.
Talisman Billiards has over five years of experience in making layered cue tips. In that time we have learned a heck of a lot. We have experimented with so many different glue mixtures and production techniques. (you wouldn't believe it.!!) From all of this we have perfected the process and have made a substantial investment in the latest technological machinery.
The results, the Talisman PRO and Talisman WB cue tips. These cue tips are a large step forward in comparison with what is available elsewhere on the market today. Our tips are consistent in quality and hardness, both between the hardness grades and from tip to tip. So many of the single layer tips currently on the market are so inconsistent, in some cases a percentage can�t even be used. Talisman consistency is the basis of our business and very strict quality control standards ensure that all products meet the rigid standards imposed. Our secret glue formula used with only the very highest quality raw materials have created cue tips that are just a dream to play with. You will notice this from the very first game you play, after having installed a Talisman. They may take an hour or two to initially settle down, during which time you may have to reshape a little. After that they should require very little maintenance.
It�s so important to find a cue tip that "FEELS" right for you and that can complement the character of your fine custom cue. Once that happens, things just click and your confidence begins to rise. No more letting down the team on league games, difficult shots become effortless, and your game begins to take on a new dimension. No one knows this better than the cue makers themselves, and that is why slowly but surely many are now beginning to use Talisman cue tips as standard on their custom cues. They say other tips just do not do their cues justice.
No Mushrooming.

Require little maintenance.

Superior ball control.

Precise english + masse.

Increased personal confidence.

Greater consistency.

Holds the chalk much longer.

Far outlasts single layer tips.

Latest technology - Highest Quality Standards.

100% Satisfaction guarantee.
The difference between these two ranges is the raw material used. The Talisman PRO is made from selected high quality pigskin and the Talisman WB from local bred, high grade buffalo hides, again only the very best material is selected from each hide. The other difference is in the feel of the tips, which is very, very difficult to explain in words. Overall the WB tips are a little firmer and they also last a little longer than the PRO tips. Both play really well, offer effortless english and masse with great control.
Talisman cue tips are very affordable, just think about the money you spend on your equipment and table time, the cost of a Talisman is so little in comparison with what you will receive in consistency and confidence, but not only that, our tips far outlast most other tips on the market by 200 - 300%. Many player report using the same tip for over two years and poolhalls tell me that my tips are lasting nearly a year on house cues. Remember also that all prices here are inclusive of shipping anywhere in Europe.
14mm only!
price: £4.49
This product is no longer available