Delta-13 (Select)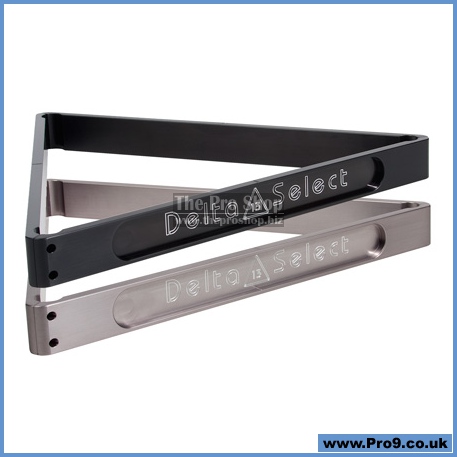 The Delta-13 (Select) Billiard Ball Rack
The True Triangle

This Delta-13 Select ball rack is Precision Machined for a Better Break. The 16oz ball rack is made from three aluminum anodized rails and held together by stainless steel screws. This ball rack comes in two colors; Pitch Black and Silver Grey. This ball rack is used by trick shot artist Florian Kohler, featured on professional tours including; NAPA Delta-13 8-Ball Tour, Predator Tour, Seyberts Great Lakes Tour, Lonestar Billiards Tour, Great Southern Billiards Tour, Wisconsin Pool Players Society Tour, National Amateur Pool League (NAPL), and several amateur leagues including the North American Poolshooters Association (NAPA). Made in the U.S.A.

Patents: US D 595.383 | Europe: RCD 000920608-0001

NOTE: Actual product engraving and color may vary from online picture

- See more at: http://delta-13.com/delta-13-select#sthash.7rwEth4j.dpuf

Lifetime Guarantee to never warp, bend, or splinter.
price: £85.75