Magic Ball Rack Pro 9 & 10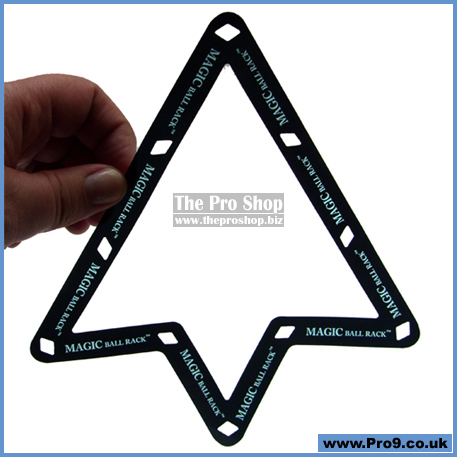 2 x Magic Ball Rack Pro 9 & 10

*Product update: Each pack now contains 2 identical black coloured Magic Ball Racks of the dual purpose, 9 and 10 ball shape, with Magic Ball Rack printed around the edge of the rack. (The single diamond shape Magic Ball Rack is no longer available - do not panic, a good thing just got better!)

- Magic Ball Rack Pro is the elite racking system.
- It gives a consistent tight rack even on old cloth.
- Suitable for full size 2.25 inch American Pool Ball sets.
- Magic Ball Rack Pro gives a perfect rack every time.
- You can rack in 10 seconds or less.
- Saves table wear on the cloth from using other triangles
- No need to Tap the table and damage the table
- No need to carry your own triangle with you when you play
- Worn and used balls can be used with a tolerance level of 0.1mm
- Material is water proof.
- It can be rolled up to carry around.
- Pool Hall owners can eliminate triangles altogether using the Magic Ball Rack.

Magic Ball Rack has been created to add a level of consistency to an inconsistent game, the game of billiards is a fantastic game and the aim of Magic Ball Rack is to create products which even out the playing conditions. Magic Ball Rack strive to produce quality products at affordable prices allowing everyone who plays billiards to enjoy the game more.

Since 2006 Magic Ball Rack has been developing products related to racking, whilst the game has moved forward in terms of technology, racking has been left behind, Magic Ball Rack aim to change this.

Quality, Durability and Affordability - 3 key factors for Magic Ball Rack products.

FAQS

- How long does the Magic Ball Rack Pro last.
Magic Ball Rack is made from a durable grade plastic the life expectancy of the product is 1 year with constant use. The material is strong enough and tear resistant for commercial use.

- Does the rack affect the balls when rolling over the rack?
The rack is 0.14mm thick and has been made to affect the balls to a minimum. In most cases due to the rack giving a tight rack balls rarely stay within the rack area after the break.

- Why is it important to get a perfect rack?
A perfect rack allows for the balls to spread naturally after the break, Magic Ball rack gives the same rack to every player; this eliminates cheating by players giving bad racks to the opponent.

- Can the Magic Ball Rack be rolled up to carry?
Yes, you will need to place the rack inside a plastic folder first, and then you can roll it up. The material is strong enough to hold its shape and return to its original form. However, if rolled for a long period of time (4 Weeks) without use the rack will return to its original shape by 95%.



price: £13.99