Delta-13 (Leather Inserts)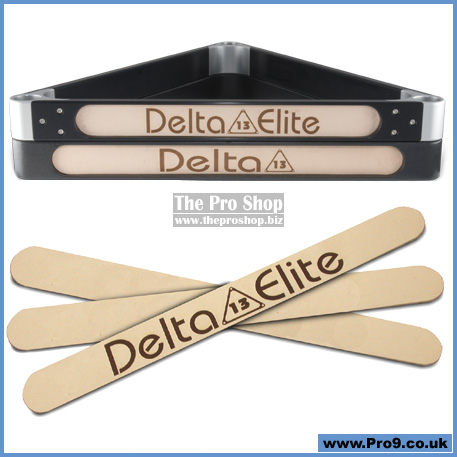 The Delta-13 Leather Inserts
(Elite or Regular size)
100% fine leather grip for easy rack removal. Enhance your racks elegance with the Delta Insert which easily fits into rails. Weighs under 2 ounces. The Delta Insert can be dyed any color and used for your favorite players autographs. Select the proper size for the Delta-13 or the Delta-13 Elite racks.
Please note: Adding these inserts to your Delta-13 or Delta-13 Elite ball racks will dramatically change the sound of racking the balls.
This product includes the 3 leather strips with adhesive. It does not include a ball rack.
More quiet than a wooden rack!
Easily inserts into the rails.
2 designs/sizes available to suit Elite or Regular.
price: £39.99