OB-160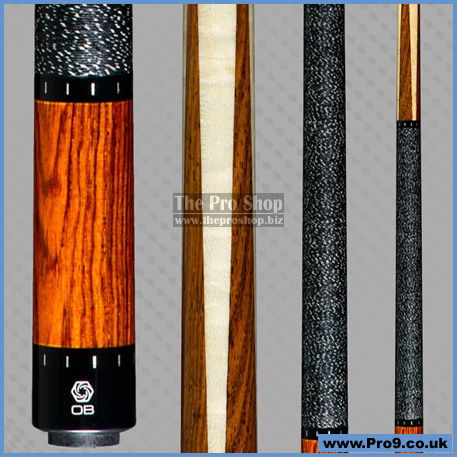 OB-160
Early release 2016 series
The OB-160 "As of yet unnamed" pool cue features a birdseye maple forearm with 4 cocobolo points, irish linen wrap and a cocobolo sleeve. This cue also has a Straight Line Core (SLC). The SLC construction guarantees a cue that is straighter, stronger, more stable and stiffer. This means that your cue will be built straight, stay straight and hit great.
This cue also has a Centralized Balance System. This means that weight has been placed in very specific locations throughout the butt of the cue to create an evenly balanced cue with feedback that is both crisp and lively. It really has to be felt to be appreciated. Custom feel in a production cue!
Every New OB Cue comes with your choice of either an OB-1, OB-2, OB Classic or OB Pro shaft. If you are not sure which shaft to choose then you can find out more about our shafts and the differences between each one
HERE
• Joint: Modified 3/8x10 wood to wood
• Forearm: Birdseye maple with 4 cocobolo points
• Handle: Black and white spec. irish linen wrap
• Sleeve: Cocobolo
• Standard Tip: Everest
• Standard Cue length: 58 inches
• Weight Options: 18oz to 21oz in 1/2oz increments

Only a limited quantity of these cues will be available before Christmas so order now to avoid disappointment.
price: £599.99